The latest data from S&P Capital IQ suggests that investors are still taking a defensive stance, evidenced by the particular exchange traded funds they are choosing. The most popular ETFs are dividend-focused, which helps create an income stream and protect against some downside risk.
"Dividend income ETFs tend to have higher exposure to the five defensive sectors than an S&P 500 Index-based ETF such as SPDR S&P 500 Index (NYSEARCA:SPY). However, the collective and individual weightings for these sectors are different depending on which ETF you are investing in," S&P Capital wrote in a note.
During the first quarter of 2012, investors put $6.1 billion into dividend-income ETFs. This is a trend that started in 2012, with $12 billion added to these products, according to the ratings company. The most popular dividend ETFs focus on defensive sectors such as consumer staples, utilities and healthcare, which include companies that pay above-average yields.
The following five ETFs have a dividend yield over 2.5%, and are ranked "Overweight" by S&P Capital IQ.
SPDR S&P Dividend ETF (NYSEARCA:SDY) has one of the lower yields of the featured funds, at 2.8%. SDY was up 13.1% year-to-date. The sectors represented are consumer staples, healthcare, utilities, financials and industrials, respectively.
Vanguard High Dividend Yield Index Fund (NYSEARCA:VYM) has a 3% dividend yield, which beats the broad market. VYM has the worst performance of the five funds, but is still in positive territory, up 11.4% year-to-date. Consumer staples, healthcare and energy are the top sectors represented.
Schwab US Dividend Equity Fund (NYSEARCA:SCHD) has a yield of 2.7%, with a 12.2% year-to-date return. Consumer staples, industrials and healthcare have the highest portfolio allocation.
iShares High Dividend Equity Fund (NYSEARCA:HDV) has a 3.2% dividend yield, and is up 12.5% year-to-date. Healthcare, consumer staples and telecom have the highest weighting, with financials and industrials sharing 3%. HDV is up 12.5% in 2013.
WisdomTree Equity Income Fund (NYSEARCA:DHS) has a higher dividend yield of 3.6%, and is up 12.8% year-to-date. This is the longest-trading ETF of the bunch. Companies represented are based on dividends per share, rather than market-cap. Consumer staples, healthcare and utilities have the highest weightings.
There are a variety of other dividend-themed ETFs trading. Every fund is composed differently, so investors should consider sector weighting before choosing a focused ETF.
WisdomTree Equity Income Fund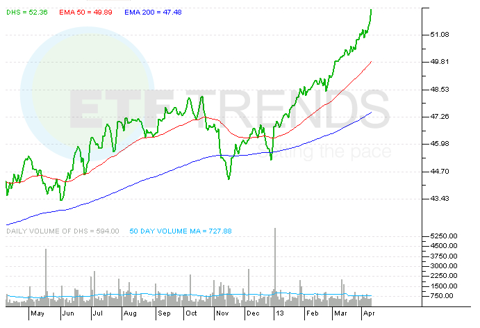 Click to enlarge
Tisha Guerrero contributed to this article.
Full disclosure: Tom Lydon's clients own SPY.
Disclosure: I am long SPY. I wrote this article myself, and it expresses my own opinions. I am not receiving compensation for it. I have no business relationship with any company whose stock is mentioned in this article.