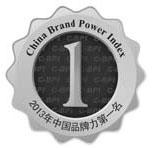 Have you ever wondered what kind of influence a company's brand name has on its customers? Luckily for investors, The 2013 China Brand Power Index (C-BPI) gives investors in the Chinese equities market a better insight into their investments. The survey is one of the most-trusted brand evaluating systems in China, which is chosen by consumers and companies. So where does your investment in a particular company stand against all the rest? Let's take a look.
The C-BPI is in its third year as an independent research and survey group that looks at the attitudes of Chinese consumers toward products they own or have used. The goal of the report is to help consumers make better decisions about their purchases and for companies to improve on weaknesses in order to build better systems of brand management.
How Are The Companies Graded?
Companies are graded based off of a number of things. Companies are graded on how they've performed against their competitors in their respected industries and sectors, as well as the direction of improving overall brand strength to strengthen the competitiveness of the basis of strategic brand management.
So What Does This Mean For Investors?
The survey helps companies learn more about what consumers really think about them. Isn't that what every company's dream is? Probably so, but what does this mean for investors? Investors should know that these surveys help companies to better understand their strengths and weaknesses. Because of this, companies will be able to improve on areas of weakness so that customers have a better experience and will return to use their services. With better experiences means better business and better business means a lot more money. More money means higher stock prices, and that's the reason you invested in the first place right?
The mainland of China accounted for many of the top brands listed on the latest China Brand Power Index for 2013. The survey found that more than half of the top brands from the different sectors were local companies within the Hong Kong and Taiwan area. The survey shows that companies that have consistently been among the top award winners have been able to adapt to changes in customer demand to win the continued loyalty and trust of its customers. However, creating and keeping the top brands is a tough business no matter where you're at in the world. Take a look at the Chinese markets, where loyalty is fairly weak between customers because of the on-going price wars (some companies even selling at cost) that influence the factors of buying decisions. Creating customer loyalty as well as keeping your brand top quality is a what makes great companies.
The Surprises
The fact that Dangdang (NYSE:DANG) as well as Nokia (NYSE:NOK) are still considered one of the top brands in 2013 can be quite surprising. I say that because the stock prices of these companies have faded and seemed to have lost touch with investors. In a moment I will look at these companies more closely, but for now here is the list of the top brands as well as the runners up in each category.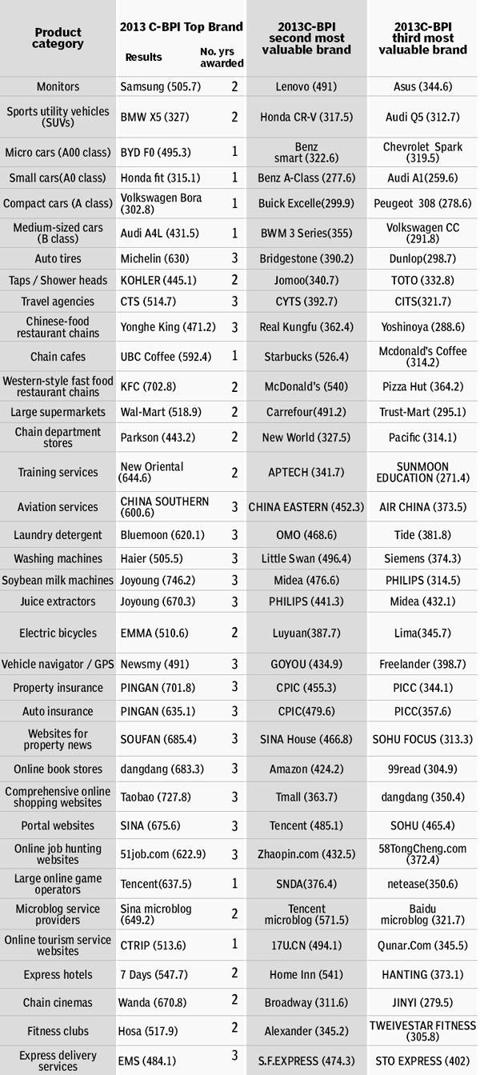 Tencent (OTCPK:TCEHY) was the clear leader among Internet companies, winning recognition as the top brand in online games and coming in second for its microblogging website. Alibaba also did very well in the awards space by taking home first and second places in comprehensive online shopping websites.
Online Shopping
Like I said earlier, in a surprising result Dangdang managed to take third place in the shopping website category, beating out bigger funded companies and rivals in Jingdong Mall (360Buy), Suning.com and Walmart (NYSE:WMT). Dangdang (DANG) also took the top spot for online bookstores beating out online giants such as Amazon (NASDAQ:AMZN), showing that it still has its mojo going within its original business area. This is Dangdang's third straight time winning the online bookstore award.
Even though Dangdang scored very well with its customers, its stock price has scored very poorly with investors with its declining price. For the full year of 2012, Dangdang reported a loss of $71 million in order to compete and to acquire market share against its rivals. These survey results show that despite Dangdang's declining stock price, Dangdang's name still clearly has some great value in the minds of Chinese consumers. However, if Dangdang cannot reverse its course of losses, it's possible that the market could punish the stock even further.
Portal Websites
Sina (NASDAQ:SINA) has been king in this area and it looks like it will continue that way. Sina took home the top spot once again in this category, making it a clean sweep of beating other popular sites in Tencent and Sohu (NASDAQ:SOHU) the last three years.
Microblogs
The microblog evolution has begun in China. What started out as a small playing field in the microblogging space just a couple of years ago has since exploded into hundreds of millions of users. Sina has been capitalizing on this movement which is why it took home the top spot in the microblog service category beating out other popular microblogging companies in Tencent and Baidu (NASDAQ:BIDU).
Large Online Game Operators
This year Tencent was the top dog as it came in first place as the largest online games operator, while NetEase (NTES), another Chinese online games giant, came in third place. Online gaming has continued to gain strength as it climbs in both desktop and mobile areas. China has been a sweet spot for online gaming and game developers. Take at look at Renren (NYSE:RENN) which is currently growing its gaming revenue over 100% the last couple of quarters. Renren expects that its gaming revenue will continue that way at least for another year which is quite impressive.
Apple Who?
What also caught my attention while looking through the awards list was seeing Nokia named the second most valuable mobile phone brand in China, behind leader Samsung (OTC:SSNLF). What surprised me the most was that Nokia beat out the iPhone giant in Apple (NASDAQ:AAPL). Is Apple losing its touch in the Chinese market?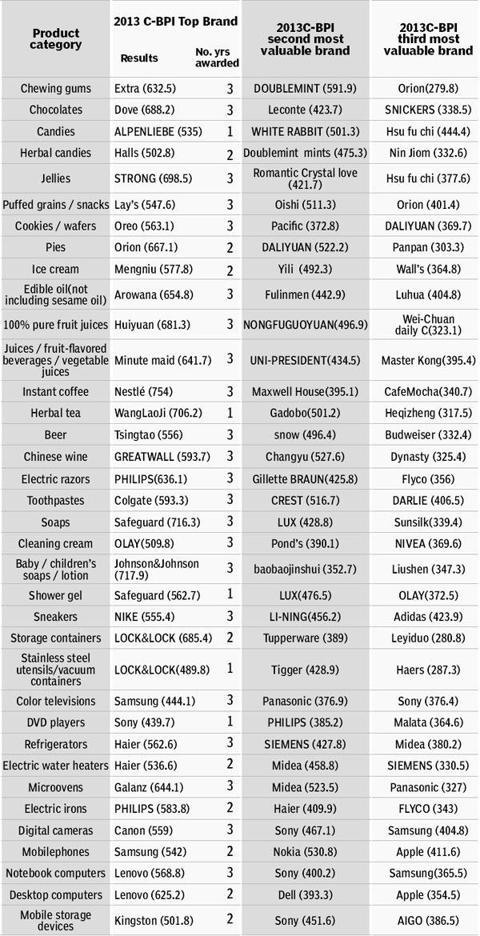 First off, Apple investors should not be heading for the exits. The results of the study were based off of last year's survey. With how fast technology is improving year over year, a year can certainly make a huge difference for companies. Nokia was at the top of the cell phone business for years in China, that is of course until Samsung came along and took over. It's still possible for Nokia to make a comeback, but it will be hard to break the grips of Samsung and Apple which lead the way in smartphone devices.
Conclusion
If you didn't find your company on top of the brands list, it's not all doom and gloom. Depending on what companies do throughout the year to improve the quality of service and overall customer satisfaction, we could see a big change with next year's survey report. I must say though that making the top three in any category is a hard thing to do, so kudos to the companies who have made the list.
Both Dangdang and Nokia are still important assets in China because of their strong brand recognition. However, with so much competition they could also easily lose that advantage if they fail to continue to meet customer's expectations as well as turning profits.
Sina, with its massive blogging community in Sina Weibo, is still under pressure to find a way to maximize its revenues. With ad revenue weakening due to China's "economic slowdown" monetizing its popular websites will be a must. Will Sina's streak continue when next year's results come out? We will have to see what changes, if any, Sina plans to do this year.
Baidu, often called the Google of China, has seen its stock price tumble over the last couple of months. Will Baidu be able to recapture the magic it once had or will rival Qihoo 360 (NYSE:QIHU) continue to take that away? With many users logging in via mobile, will Baidu be able to capitalize from its stronghold of online desktop users to mobile users? It will be interesting to see what happens in 2013 and to see what companies do in order to keep their brands in favor with customers and to meet the expectations that users have for them.
Investors are always reminded that before making any investment, you should do your own proper diligence on any stock mentioned in this article. Any material in this article should be considered general information, and not relied on as a formal investment recommendation. I hope this article was helpful to you and I look forward to all of your comments and insight.
Disclosure: I am long RENN. I wrote this article myself, and it expresses my own opinions. I am not receiving compensation for it (other than from Seeking Alpha). I have no business relationship with any company whose stock is mentioned in this article.