Sulliden Gold (SDDDF.PK) is a development-stage company focusing on the exploration of gold prospects in Northern Peru with a market capitalisation of just over $200M. They are presently bringing the low-cost gold and silver Shahuindo project into production and have delivered on several milestones in the past half year. We would like to recap these mile stones briefly:
At an annual output of around 90,000 gold-equivalent ounces per year the project outlined in the feasibility study is smaller than analysts originally expected. The projected 10 year mine life is substantial and the study also indicates intentions for a mine extension that utilizes the remaining resource and could be funded from cash flow once the initial operation is online. We believe that this approach shows the prudence of management minimizing shareholder dilution due to mine financing by keeping pre-production capital expenditure low. This impression is further underpinned by the large portion of non-dilutive debt financing for the Shahuido mine that has been foreshadowed in the abovementioned project finance mandate.
The deposit is still open near surface and there is a strong possibility for further near-mine discoveries through exploration. The deposit is also open at depth with further drilling necessary before a possible underground extension can be evaluated.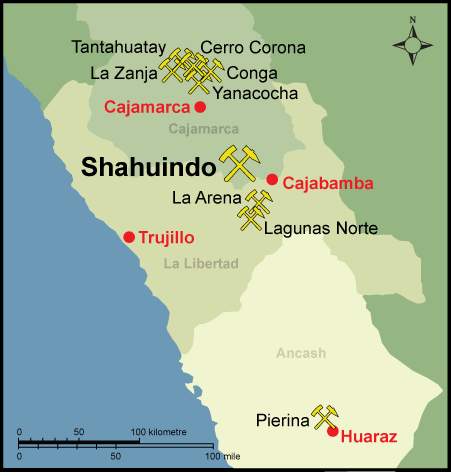 (source: company website)
The geographical position of the Shahuindo project is compelling: Barrick Gold's (NYSE:ABX) Lagunas Norte mine is less than 30km to the South, and Newmont's (NYSE:NEM) Yanacocha mine is 80km to the North. While large gold mines in the proximity are strong indicators for the endowment of the area, they also bring to mind the trouble with local opposition that Newmont is facing with its Conga mine, also in the general vicinity. Barrick Gold has experienced even worse issues with their Pierina mine another 100km to the South.
By all accounts, Sulliden has made a viable effort to convince their neighbours at the proposed mine site of their intentions to look after all stake holders of the project, including local communities and the environment. The last step required by the Peruvian permitting process is the Environmental and Social Impact Assessment ("ESIA") requiring a community meeting upon completion and submission of this study. This meeting took place in mid-March and was attended by over 2000 individuals. Barring unexpected hold-ups the ESIA should be approved by Q3 2013 and a construction permit issued within another 60 days. The current time line as published by Sulliden indicates first production within less than a year. Peru in general, however, is a country with a reasonably low level of country risk.
Agnico Eagle has just made a significant investment in Sulliden, and we believe that this is another important tick of approval. Agnico Eaglo take pride in investing in secure jurisdictions and so far they have not operated in Peru. Judging from their track record one would assume that a lot of due diligence has been done before creating this exposure to Peru through an investment into Sulliden. For Agnico Eagle this represents the third investment into a junior company this year. The other two are described in this article. Having the backing of this senior mining company provides a certain amount of additional security for Sulliden and also puts them into a strong position when finalising project financing.
As evidenced by Sulliden's performance in moving the Shahuindo towards production the management team headed by Peter Tagliamonte has shown its mettle and can be expected to continue to deliver. Peter Tagliamonte has a track record of bringing South-American mines into production for various mining companies including the Jacobina mine which is presently operated by Yamana Gold (NYSE:AUY).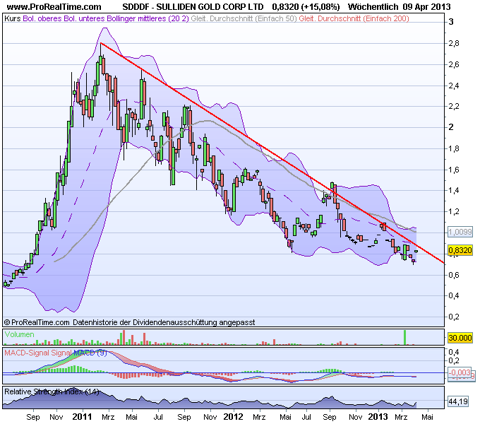 The weekly chart above shows the steady down trend of the share price since the high of $2.81 in February 2011. There are some tentative indications of a bottom forming but this inkling will need clear confirmation before we will contemplate a commitment of funds. Presumably there will be plenty of time during the coming summer months to arrive at a final decision.
Potential investors should keep in mind that development companies are often the most vulnerable during mine construction and commissioning. This period of time period also often represents the last chance for buying the stock for pennies on the dollar. We believe that there is a strong case to be made for a high risk/reward investment into Sulliden Gold and recommend further research for those interested in such an endeavour.
Disclosure: I am long AEM. I wrote this article myself, and it expresses my own opinions. I am not receiving compensation for it (other than from Seeking Alpha). I have no business relationship with any company whose stock is mentioned in this article.