Shares of Phillips 66 (NYSE:PSX) have recently come under pressure due to concerns about new environmental regulations and possible margin declines. After briefly reaching $70 in late March, Phillips has since seen its share price decline about 11%. This decline may be an opportunity to buy Phillips at an attractive price.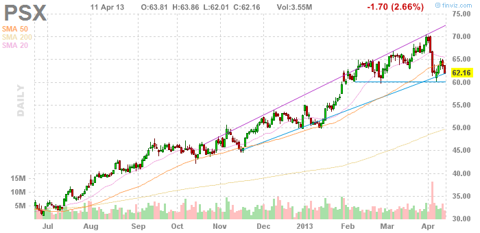 On April 2, 2013, the Environmental Protection Agency, or EPA, proposed some tougher standards on gasoline. The EPA is proposing the so-called Tier 3 rules that will require refiners to reduce the sulfur content of gasoline to 10 ppm by 2017 from 30 ppm. The new rules could cost refiners dearly, with some estimates approaching hundreds of millions of dollars for upgrades and optimizations.
A few of Phillips' competitors have already provided estimates as to the costs associated with the new EPA proposals:
Phillips has not yet announced its estimated costs related to the EPA proposals. I would imagine that the company may provide some guidance on this issue with its Q1 2013 earnings or conference call, which is slated for May 1.
Adding to the refiners woes has been a decline in crack spreads. Crack spreads have fallen recently, with the May crack spread versus WTI at $28.92 a barrel, down from $33 a few weeks ago. However, keep in mind that the spread is still at or near its historical highs.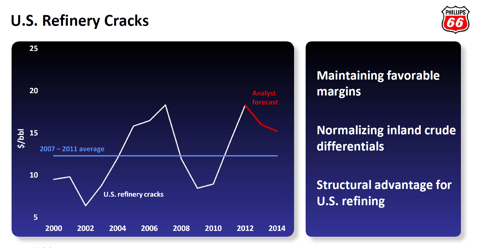 In the midst of this negative news, there was a positive development for Phillips. On March 20, Phillips and Enbridge Energy Partners (NYSE:EEP) announced a three-year agreement for unit train loading of Bakken shale crude oil at the Enbridge Berthold, North Dakota, terminal beginning in May 2013. Volumes are expected to ramp up to 35,000 to 40,000 barrels per day by November 2013. This continues a trend of Phillips benefiting from cheap and plentiful Bakken crude.
Phillips has also announced that it has filed a registration statement with the U.S. Securities and Exchange Commission, or SEC, related to its proposed initial public offering of some midstream assets. The new company will be organized as an Master Limited Partnership, or MLP, with Phillips as the General Partner. The IPO is expected to occur during the second half of 2013. Phillips anticipates net proceeds of between $300M to $400M from the IPO.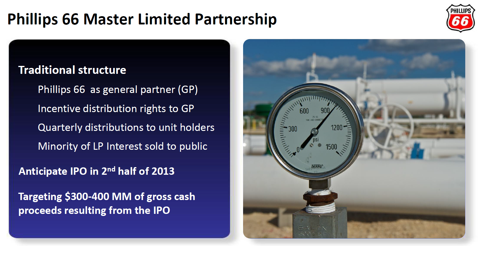 Conclusion
Phillips is indeed facing some challenges. However, the decline may be overdone. Phillips has had a stellar performance YTD, with the stock up over 12%.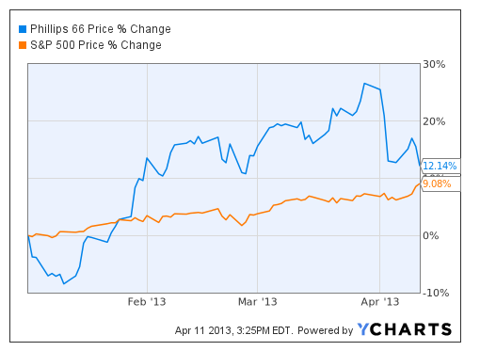 IMO, this is just a healthy decline. No stock should go up in a straight line. This is not to say that the stock could not fall some more, however Phillips has many positive catalysts and 2013 is projected to be an insanely profitable year for it. Since its spin off, Phillips has nearly doubled in price and has given its shareholders two dividend increases. Along with its former parent ConocoPhillips (NYSE:COP), Phillips 66 is one of my long-term holds.
Disclaimer: The opinions in this article are for informational purposes only and should not be construed as a recommendation to buy or sell the stocks mentioned. Please do your own due diligence before making any investment decision.
Disclosure: I am long COP, PSX, NTI. I wrote this article myself, and it expresses my own opinions. I am not receiving compensation for it (other than from Seeking Alpha). I have no business relationship with any company whose stock is mentioned in this article.