With all the recent good news in the housing market, we thought it would be a good time to look at exchange-traded product (ETP) flow data in this sector to see what trends are emerging among investors. There are various ways to invest in the housing recovery, each with a different exposure and risk profile. We've seen notable inflows into U.S.-listed ETPs that give access to mortgage bonds, homebuilders, equity REITs, and mortgage REITs.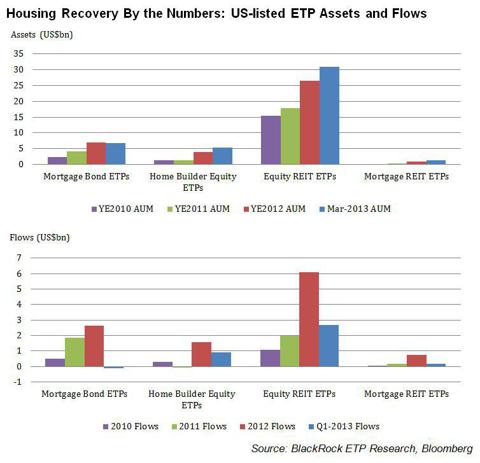 Mortgage-backed securities (MBS). Starting on the fixed-income side of things, MBS are bonds that get their cash flow from loans on homes. Because they're bonds, they fall on the lower side of the risk spectrum, buffered by the fact that U.S. government agencies like Freddie Mac and Fannie Mae guarantee the timely payment of principal and interest. They are, however, subject to prepayment risk, and movements in interest rates may quickly and significantly reduce the value of certain mortgage-backed securities. While MBS ETPs actually experienced small outflows in Q1 2013 (-$97.6 million), their assets have been steadily rising over the past two years - in 2012 alone they grew 62% in assets with inflows of $2.6 billion.
Homebuilders. This sector contains the common stock of companies that develop residential and commercial real estate, such as D.R. Horton (NYSE:DHI) and Toll Brothers (NYSE:TOL). It can also include home improvement suppliers such as Lowe's (NYSE:LOW) and Home Depot (NYSE:HD). We've seen a lot of investor interest in this category of late -- Q1 inflows of $927 million are already more than half what the sector pulled in last year, which totaled $1.6 billion. But a word to the wise: Russ Koesterich actually thinks homebuilder stocks are experiencing a bubble right now.
Equity REITs. This has been far and away the most popular way to play the recovery, according to ETP flows. And in an environment of persistently low interest rates, it's no surprise investors are showing interest in a category that has the potential to add yield to a portfolio. Equity REITs own and operate income-producing properties, passing along 90% of annual income to shareholders. There are several different types of equity REITS -- including residential, industrial, and retail, among others. Equity REIT ETPs have significantly more assets than the other categories listed here (assets at $31 billion as of Q1 2013), and have also seen notable inflows in the first quarter (inflows of $2.7 billion -- almost half of the $6.1 billion in inflows they attracted last year).
Mortgage REITs. Last but not least, we have the smallest ETP category on this list. Mortgage REITs lend money to real estate owners or buy mortgage-backed securities. Like equity REITs, they must pass 90% of their income to shareholders. While the assets in mortgage REIT ETPs are small, with $1.3 billion as of Q1 2013, we noticed an uptick in flows to the tune of $179 million this quarter.
As always, it's important to look at the risk and return profile of your chosen investments. This post has a great description of the risk spectrum of these products. But no matter how you choose to play the recovery, ETPs can be a great way to get the precise exposure you're looking for.
Disclaimer: Bonds and bond funds generally decrease in value as interest rates rise. Mortgage-backed securities are subject to prepayment and extension risk and therefore react differently to changes in interest rates than other bonds. Real estate investment trusts ("REITs") are subject to changes in economic conditions, credit risk and interest rate fluctuations. Narrowly focused investments typically exhibit higher volatility. Small movements in interest rates may quickly and significantly reduce the value of certain mortgage-backed securities. The home construction industry may be significantly affected by general factors affecting the real estate market such as zoning, interest rates, taxation and real estate values. Industry segments may be affected by natural disasters and environmental clean-up costs.