MAKO Surgical Corp. (NASDAQ:MAKO) is a medical device company that markets its advanced robotic arm solution, joint specific applications for the knee and hip, and orthopedic implants for orthopedic procedures called MAKOplasty. MAKOplasty is a surgical solution, enabling orthopedic surgeons to treat patient specific, osteoarthritic disease.
Positive Trial Result for Robotic Arm System
MAKO announced the first results from a ten-year, prospective, randomized controlled trial evaluating the accuracy of unicompartmental knee arthroplasty [UKA] implant positioning, with and without robotic arm surgical assistance. Early results are compelling, as they showed that robotic arm-assisted UKA enhanced the accuracy of implant placement and decreased the levels of pain. Dr. Mark Blyth said:
The early results suggest that robotic arm assisted UKA with the RIO system greatly enhances the accuracy of implant placement, which can be achieved with only minimal deviation from the pre-operative plan.
Management is encouraged as the result demonstrates the effectiveness of MAKO's RIO system and MAKOplasty Partial Knee Resurfacing as a minimally invasive surgical option for patients with early to mid-stage osteoarthritis. The results also underscore the importance of accuracy and precision in UKA surgeries.
Analysts' Calls and Estimates
On April 9, 2013, Mizuho Securities upgraded MAKO from neutral to buy with a price target of $14.00 (from $12.00). Analysts current have a mean target price of $15.88 for MAKO, suggesting 40.91% upside potential based on the closing price of $11.27 on April 10, 2013. Analysts, on average, are estimating an EPS of -$0.19 with revenue of $24.94M for the current quarter ending in March, 2013. For 2013, analysts are projecting an EPS of -$0.52 with revenue of $127.19M, which is 23.80% higher than 2012.
MAKO is expected to release its Q1, 2013 earnings on May 7, 2013. In the last 4 quarters, MAKO had 2 positive and 2 negative earnings surprises.
Fundamentally, MAKO's key stats will be compared to other companies in the industry of medical devices, including Medtronic, Inc. (NYSE:MDT), Stryker Corporation (NYSE:SYK), and Intuitive Surgical, Inc. (NASDAQ:ISRG).
| | | | | |
| --- | --- | --- | --- | --- |
| | MAKO Surgical | Medtronic | Stryker | Intuitive Surgical |
| Market Cap | $532.13M | $47.89B | $25.40B | $20.02B |
| Revenue Growth (3 Year Avg.) | 44.3 | 3.5 | 8.8 | 27.5 |
| Operating Margins, %, ttm | -34.6% | 28.2% | 20.1% | 40.3% |
| Net Margin, %, ttm | -31.7% | 21.2% | 15.0% | 30.1% |
| ROE | -27.0 | 19.9 | 16.0 | 21.1 |
| Debt/Equity | 0 | 0.4 | 0.2 | 0.0 |
| P/E | -14.6 | 14.3 | 19.6 | 31.1 |
Source: Morningstar
MAKO is not profitable, but it has strong revenue growth compared to other large medical device providers. MAKO has a healthy balance sheet with a total cash of $73.27M and zero total debt. MAKO's loss is expected to narrow and reached -$0.23 EPS by the end of 2014.
Competition
ISRG, with high margins, ROE, and revenue growth, remains a hotspot for its debated da Vinci surgical system. Short-term turbulence is expected for ISRG. On the other hand, MDT is well-positioned to leverage the new trends in disease management and continues to generate increasing cash flow with solid fundamentals. Lastly, SYK had recently completed the acquisition of Trauson Holdings Company Limited, a leading trauma manufacturer in China and a major competitor in the spine segment. SYK is well-positioned to broaden its presence in China and to expand into the fast growing value segment of the emerging markets.
Technically, the MACD (12, 26, 9) indicator is turning neutral. The momentum indicator, RSI (14), is picking up and is becoming neutral. MAKO is advancing and approaching its 50-day MA of $11.63, as seen from the chart below.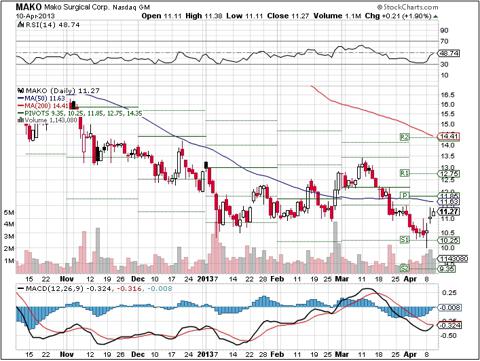 Source: StockCharts.com
In Short, MAKO remains a growth story supported with a healthy balance sheet. Although MAKO is not profitable yet, the recent positive result for MAKO's robotic arm system is encouraging. In the near-term, MAKO may be due for a rebound if it can close above its 50-day Moving Average. Nonetheless, for investors seeking for stability and income, MDT and SYK are better alternatives. Investors may also want to follow on ISRG to see how industrial experts and analysts evaluate the highly debated da Vinci system to gain a better understanding of medical device industry.
Note: Investors and traders are recommended to do their own due diligence and research before making any trading/investing decisions.
Disclosure: I have no positions in any stocks mentioned, but may initiate a long position in ISRG over the next 72 hours. I wrote this article myself, and it expresses my own opinions. I am not receiving compensation for it (other than from Seeking Alpha). I have no business relationship with any company whose stock is mentioned in this article.