Bio-Reference Laboratories (NASDAQ:BRLI) offers a range of laboratory testing services. It is profitable, has over 2,000 employees, has traded for 20 years, and performed strongly in 2012. Such a stock may appear to be a fairly safe bet. But BRLI is now suffering from some major selling pressure as a new lawsuit is causing many investors to panic sell. This lawsuit, together with some other disconcerting reports on BRLI from the past, leads me to believe that BRLI is a dangerous stock to invest in.
On Wednesday April 10th, the well known group Infitialis (which has published many research reports on questionable stocks) posted this to their twitter feed:

Approximately eight minutes later, Citron Research (another very powerful group) followed suit, linking to the same document:

The effect of these tweets can be seen in BRLI's stock price on April 10th, as the stock fell over 7% on strong volume: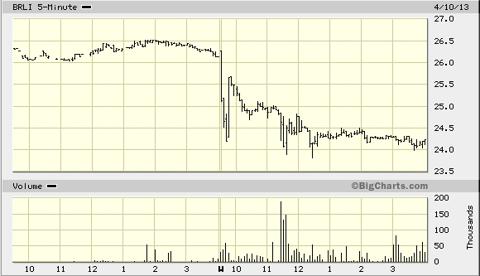 The lawsuit in question ("Bio-Reference Laboratories Whistle-Blower Complaint") alleges that BRLI is involved in phantom billing, which can loosely be defined as follows:
The medical provider bills Medicare for unnecessary procedures, or procedures that are never performed; for unnecessary medical tests or tests never performed; for unnecessary equipment; or equipment that is billed as new but is, in fact, used.
The plaintiff of this lawsuit is Valerie Greco, who worked as a Phlebotomist for BRLI from December 26, 2008 to April 29, 2011. During this time BRLI had acquired an account, Fair Haven Internal Medicine, which employs four doctors. Greco was to work at Fair Haven, expecting to work as an in-office Phlebotomist where she would draw blood from patients. But instead of performing blood draws, Greco was merely processing paperwork on a computer, as Fair Haven's assistants were already performing the necessary blood draws.
It was in early January 2011 that Greco discovered that BRLI and Fair Haven were "double billing," essentially billing for blood draws from BRLI that were never performed (only Fair Haven was performing blood draws, and patients were being billed twice over):

Both Medicare and non-Medicare patients were being billed for venipuncture's from BRLI that were not performed. Upon raising concerns about these unlawful practices, Greco was apparently told to "keep her mouth shut." Later in January 2011 she approached the principal physician of the Fair Haven practice (Jan Glowacki), who "remained silent, did not deny anything, and angrily walked away."
Shortly afterwards, Greco ceased working for BRLI, and was never given another assignment. Reportedly BRLI did not want Greco to continue working for them due to her concerns and allegations regarding illegal doubling billing. Not surprisingly, under New Jersey common law, discharging an employee for raising concerns about an illegal activity is not permitted, and thus BRLI now faces two major violations.
Lawsuit Validity
This case will go to trial and at this stage BRLI shareholders can only sit and wait for a verdict, but I believe there is a very high chance that this lawsuit is credible. As Medicare is based on the honor system, Medicare fraud like the kind BRLI is accused of is very common. The most famous example is the Columbia/HCA fraud case. For a well-established NASDAQ listed stock such as BRLI, engaging in Medicare fraud and double billing seems extremely foolish. Not only is there a high likelihood of these practices being eventually brought to light, but the subsequent consequences (as is happening here) could be devastating for the company and its stock price. I believe BRLI committed a further mistake by ignoring Greco's concerns and (allegedly) wrongfully discharging her.
Other Concerns For BRLI
Following Greco's lawsuit, Infitialis and Citron Research are not the only research groups that believe BRLI is engaging in fraudulent practices. Another group, The Street Sweeper, has published extensive research since 2011 (see here and here) detailing BRLI's unethical practices. Even in 2011 BRLI was heavily suspected of engaging in Medicare fraud, as over 25% of their claims "failed to comply with mandatory state guidelines" (according to experts an error rate of even 10% should set off alarms). It is also attacked for pushing excessive specialty tests, overcharging for its GenPap test (merely an expensive version of the standard Pap Smear) and bribing healthcare providers in order to land new business. Perhaps most interestingly, BRLI also has numerous links to organized crime, as the second half of this article (2011) explains. The Street Sweeper recently resumed posting its research on BRLI in 2013, with this new article raising numerous more concerns.
Outlook
I believe there are far too many red flags on BRLI for anyone to feel comfortable holding it as a long-term investment, and that it's quite possible that we'll see the stock drop significantly in the following months.
Disclosure: I have no positions in any stocks mentioned, and no plans to initiate any positions within the next 72 hours. I wrote this article myself, and it expresses my own opinions. I am not receiving compensation for it (other than from Seeking Alpha). I have no business relationship with any company whose stock is mentioned in this article.