I'm writing this column from the Ace Hotel in Palm Springs, California. Like the other Ace Hotels around the country (Seattle, Portland, New York City), it is well curated with choice furniture and art.
And, with a piping hot cup of Stumptown Coffee, the scene is buzzing. Word on the street is that Jack White is performing a secret show in the lounge this week.
Outdoor music festival and concert season is upon us in North America.
On Friday, April 12, the Coachella Valley Arts and Music Festival kicks off in Indio, California, about 25 miles up the road from Palm Springs. The event will bring concertgoers from around the world, with over 80,000 people expected on each day of the event. With the emerging festival scene, the value of music, arts and entertainment is evident. People pay for good music.
As we enter into festival season in North America, Live Nation (NYSE:LYV) is ripe for an analysis, since it derives a substantial portion of its revenue in Q2 and Q3, due to seasonality.
Currently priced at $12.85/share, Live Nation sports a market capitalization of $2.42 billion. But, it has seen significant price appreciation since late 2012, so investors should be cautious when investing in or trading shares of Live Nation. The shares, which lagged the market for much of the past two years, are now outperforming the S&P 500 (NYSEARCA:SPY).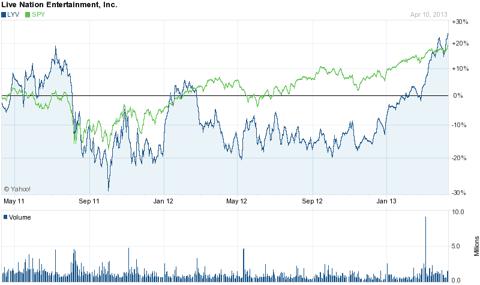 The Business:
Live Nation is developing a moat around the promotion and distribution of live music. It operates as a vertically integrated, live entertainment company, comprised of five segments: (1) live music events; (2) venue operations; (3) ticketing services; (4) sponsorship; and (5) advertising sales and artist management and services. It's a market leader in all segments.
In Q4 2012, Live Nation grew sales 21% year-over-year, driven by growth in all its segments. According to its earnings release, Live Nation had already sold 9 million concert tickets for 2013 events by the end of 2012, representing a 58% growth rate year-over-year. With increased popularity in music festivals across the United States, I expect the trend to continue. Live Nation also generated $275 million in free cash flow in 2012, on the back of cost control and expense reductions at the music venues it owns and operates.
Catalysts:
In addition to growing demand and appetite to pay for live events, Live Nation is also undergoing a number of operational improvements to strengthen its brand and value.
First, management indicated in recent investor conferences that its integration with Ticket Master is almost complete, and the company is now benefiting from synergies between the two businesses. Management has reworked the Ticket Master booking platform to allow its 12,000 customers to manage the platform with important concert updates. This reduces the back end work required by Live Nation, and puts the power of its platform into the hands of its network of customers by allowing customers to control inventory and pricing strategies. This affords its customers the chance to manage their venues more effectively.
The Ticket Master website has effectively become an open, web-based platform which will reduce Live Set's expenses, as they no longer have to control the information, instead giving their customers access.
Second, adjusted operating income is projected to increase 30 to 35% over the next couple of years as Live Nation realizes the benefits of its (1) investment in the improved Ticket Master platform; (2) price increases for its concerts as demand rebounds; (3) launch of new products, including a secondary-ticket offering, which the company believes is a $4 billion industry; and (4) cost reduction activities. If Live Nation can capture a meaningful portion of the $4 billion secondary ticket market (up from its current 5% share), that could serve as a significant boon to its top line growth and, combined with cost control, meaningful operating leverage could be unleashed in this model.
Management has indicated, and this analyst agrees, that event operators, artists, sports teams, etc., won't allow $4 billion to exist outside the ticket ecosystem. Surely, those entities would like a piece of the action, and a more transparent secondary market will lead to additional price discovery with respect to the value of each ticket. And, by leveraging Live Nation's strong brand name, the company can help alleviate any uncertainty as to the validity of second-hand tickets, and help reduce counterfeit tickets sold on the secondary market.
Third, international expansion represents additional growth opportunities. Live Nation now operates in 41 countries and is looking to expand its reach into other markets. Prior to the Internet allowing for broad dissemination of music content, artists used to generally only tour North America and Europe, places where the record label expended resources to raise consumer awareness. Now artists can go to Latin America, Asia and other places and sell out venues since listenership has broadened as a result of a number of internet-based, music distribution channels.
Fourth, Live Nation is using smartphone technology to push notifications in the mobile environment to its customers. Live Nation is now able to locate users based on their location and musical interests, and suggest nearby concerts. This service helps manage excess capacity and fill additional seats for minimal cost.
Other Matters:
For those investors who like to follow what institutional investors are doing with a particular security, they should note that Madison Square Garden (NASDAQ:MSG) sold its 3.2% stake in March 2013. The company didn't provide a comment, but it appears MSG's relatively small stake, and therefore, lack of control of Live Nation, and the run up in the share price since December 2012 were the impetus to sell. The Live Nation shares MSG owned were from stock consideration received in exchange for the sale of Frontline to Live Nation in 2011.
In addition, Liberty Media (LMCA) owns a significant 27% stake in the share capital. Liberty Media is a sophisticated media investor. Live Nation appears to be an avenue for expanding its reach in the global live music and entertainment business.
Conclusion:
After a significant run up in Live Nation's share price since December 2012, the price to value gap has narrowed considerably. However, Live Nation appears to be positioning itself for robust future revenue and earnings growth by leveraging its vertically integrated live music production and distribution model. For $2.42 billion, investors are getting a global business with considerable clout and a promising future.
Because most artists generally make their living from touring rather than record sales these days, I expect the trend for bands to tour extensively to continue and Live Nation should be a benefactor of that trend.
Like with anything, though, investors should be wary of chasing a stock at higher levels, especially considering the US indices are at all time highs.
For now, forget about investing in Live Nation. Music lovers have something better to do: go pick up your Coachella ticket and enjoy the show.
Disclosure: I have no positions in any stocks mentioned, and no plans to initiate any positions within the next 72 hours. I wrote this article myself, and it expresses my own opinions. I am not receiving compensation for it (other than from Seeking Alpha). I have no business relationship with any company whose stock is mentioned in this article.