Abstract: Short sellers -- investors who believe a stock's price will go down -- can get caught in the market equivalent of a horror movie if the price rises. So what's a good method for possibly avoiding the terror of a short squeeze? We find that volatility is a key measure (rather than the usual indicators) and we offer five stocks that may warrant a closer look.
With the market marching to newer highs by the day -- the S&P 500 index hitting another all-time high as of April 10, 2013 -- there's more buzz about a possible market correction. It's an attractive scenario for short sellers looking for overvalued stocks, but the downside can be steep.
A short squeeze occurs when short sellers quickly buy back shares, causing a rapid price rise that in turn prompts more short investors to buy back their own shares. Short term traders may get long along the way, throwing even more gasoline on the fire.
For this analysis, we used StarMine's Short Squeeze Indicator, which helped us predict the probability of a single stock "melt up." It also helped us avoid some popular ratios that are not good predictors on their own.
Standard Analysis Tools
Currently, popular tools for analyzing potential short sale candidates include:
changes in share volume,
number of days to cover shares sold short,
shares sold short as percent of shares outstanding (see chart below).
The success ('hit rate') of these indicators for the most part is no more accurate than a random number generator (which would generate a 0.10 hit rate in the chart below).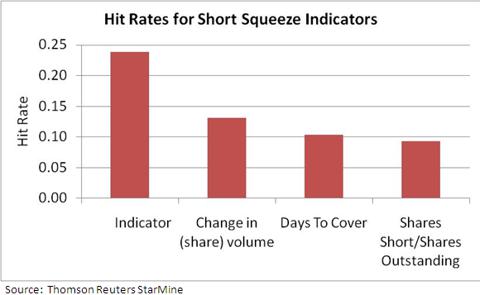 The Indicator shows a success rate that is almost 2.5 times more predictive, and uses a combination of longer term (12-month) and medium term (3-month) volatility, plus short interest adjusted by the percentage of shares held by institutions.
The conclusion? There's a higher probability that a stock will be squeezed if it's very volatile - and upward volatility is likely to trigger a short squeeze. When companies are less volatile, there's less chance of a sudden upward move.
Looking for candidates
We screened U.S. stocks with these characteristics:
Market capitalization of $5 billion or higher (good size)
Average trading volume of 400,000 shares or higher (liquidity)
Analyst revisions rating in the bottom third of all U.S. companies (more negative revisions than most other companies)
Relative Valuation Rank in the lower half of all U.S. companies (not as much of a "value" or "bargain")
Short Squeeze Indicator rank in the lower third of all U.S. companies (likely less volatile and therefore a lower probability of a short squeeze)
Search results
These five stocks emerged:
Virgin Media (NASDAQ:VMED) April 9, 2013 closing price: $49.71 (+35% year-to-date)
Primarily listed in London, this ADR is among the strongest U.S. gainers on a year-to-date basis. In the U.K., only two of nine analysts rate the stock a "buy," with the other seven rating VMED a 'hold." That stock run has pushed up valuation ratios. Compared to all global companies, Virgin scores in the bottom quartile for both Enterprise Value/Sales (3.4X in the forward 12 month 'F12M' period) and also Price/Book (F12M of 3.0).
MeadWestvaco (MWV) April 9, 2013 closing price: $36.11 (+13% year-to-date)
While asset turnover has held steady the past few quarters (latest report is for December 2012), operating margins have declined to 8.9% from 9.2% (see chart - blue line). Of the 12 analysts that follow the stock, two recommendations have moved from "buy" to "hold" in the past 30 days (currently four "strong buy", two "buy" and six "hold" ratings).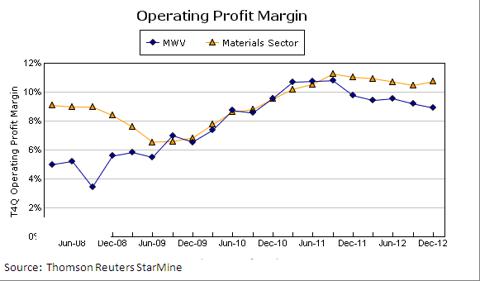 McCormick & Co (NYSE:MKC) April 9, 2013 closing price: $71.37 (+12% year-to-date)
This spice maker represents a combination of high relative valuation, low analyst enthusiasm in the form of earnings revisions as well as low recommendations ranks (see table below). Notice also that the recent price of $71.37 is near the $71.55 mean price target, which may gain the attention of more participants in the stock. Although the company came in slightly ahead of earnings estimates on April 2, analysts dropped their current quarter mean value from over $0.65 to about $0.62. The StarMine SmartEstimate, which places more weight on the more accurate analysts, shows a value more than 2% lower than the current mean. Historically, seven out of ten times one should expect to see future revisions in this (lower) direction, as well as potential earnings surprises with a negative bias. Indeed, in the past several days, the I/B/E/S consensus estimate has moved toward the lower SmartEstimate.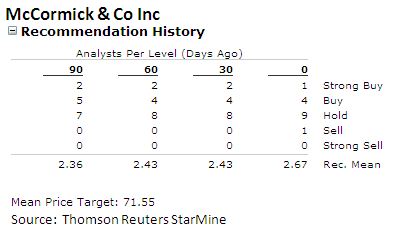 Sigma-Aldrich Corp. (NASDAQ:SIAL) April 9, 2013 closing price: $76.25 (+4% year-to-date)
The chemicals company is seeing weakness in multiple areas: high valuations and low analyst enthusiasm compared to other U.S. stocks. EPS and revenue estimates have come down 4.4% and 1.8% respectively in the 30 days prior to April 7, 2013.
Bunge Limited (NYSE:BG) April 9, 2013 closing price: $68.04 (-6% year-to-date)
Analysts dropped both earnings and revenue estimates for the global agribusiness giant after its February 7 report where reported earnings of $0.57 fell 76% short of the $2.36 mean estimate. StarMine's SmartEstimate for March quarter's earnings stands at $0.91, six percent below the Thomson Reuters I/B/E/S mean estimate of $0.97. Deviations of plus or minus 2% or more between the SmartEstimate and the mean typically result in analysts moving the mean estimate in the direction of the SmartEstimate, or in an earnings surprise in the direction of the SmartEstimate. In this case, the odds are in favor of other analysts lowering their estimates as the current quarter's earnings report date approaches, as was the case with McCormick, above.
Disclosure: I have no positions in any stocks mentioned, and no plans to initiate any positions within the next 72 hours. I wrote this article myself, and it expresses my own opinions. I am not receiving compensation for it. I have no business relationship with any company whose stock is mentioned in this article.