Social gaming is a relatively new industry that has already generated substantial revenue for many early adopters. When hearing of social gaming stocks, many people think of Zynga (NASDAQ:ZNGA) as the primary example, which has made hundreds of millions of dollars through simple Facebook games (their best known one is Farmville). Some very large companies also involved in online social gaming are Electronic Arts (NASDAQ:EA) and Activision Blizzard (NASDAQ:ATVI), which developed World of Warcraft. Revenue tends to come in either through players purchasing in-game currency (as is the case with Zynga games), in-game advertising, or from monthly subscriptions or one-time costs for games that players are willing to pay for (as is the case with EA and ATVI).
I had recently received a request to look into Shanda Games Limited (NASDAQ:GAME), a Chinese-based social gaming stock. Currently GAME is a relatively low-volume stock, trading around $100,000 in volume per day. GAME is one of the largest China-based social gaming stocks besides Giant Interactive Group (NYSE:GA) and Changyou.Com Ltd (NASDAQ:CYOU), which each have current market caps of around $1.5 billion. GAME was founded back in November 1999 but only went public in 2009 when it had already developed numerous games.
In its Q4 2012 results (which according to management were in line with expectations) it is shown that the vast majority of revenue (over 90%) is derived from Chinese players, with less than 10% of revenue coming from overseas players. Nevertheless, the Chinese online gaming market is massive, and mostly ignored by American investors who prefer to invest in local companies.
For 2012 GAME reported total net revenues of $744.9 million USD (4,682.1 million RMB), a slight decrease from its 2011 total net revenues of 5,281.9 million RMB. Cost of revenues for 2012 (which were mostly comprised of game development costs and marketing expenses) were $253.4 million USD. As of December 31st 2012, GAME had $334.2 million USD in cash and cash equivalents. Clearly GAME has reasonable financials, but unlike the far healthier CYOU, its revenues have been declining and the stock has suffered more of a beating than other social gaming stocks. Refer to the 2 year chart of GAME below: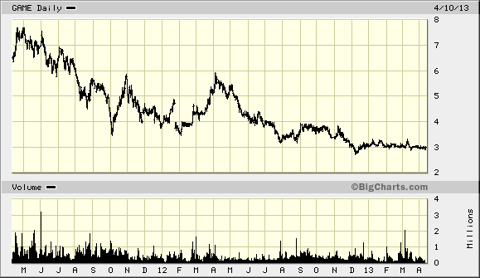 Part of the reason why GAME has had declining revenues (and continues to develop more games) is that internet users are fickle, and social games like the one GAME develops can have a low lifespan. Depending on the quality of the game and its addictiveness, players may continue to play for several years, or move on to something else in a matter of days or weeks. I do not believe that GAME will be able to improve its revenue in 2013 with its existing titles alone. In order for 2013 to be a record year, GAME would need to develop at least one new extremely popular game to give itself a boost in revenues. In their Q4 report, the CEO of GAME (Xiangdong Zhang) says the following:
"AION 4.0" expansion pack, "World Zero," "Final Fantasy XIV" and "Dungeon Striker" are all on track and progressing through the various stages of development. We look forward to the launch of these games as we believe they will help us expand our user base and diversify revenue streams."
At this stage, it's impossible to know how successful these games will become, and there is of course a high degree of uncertainty present for GAME investors. It would not surprise me if GAME stock rebounds, but if GAME is unable to develop some highly successful new games in 2013 it's likely their revenue will continue declining.
Disclosure: I have no positions in any stocks mentioned, and no plans to initiate any positions within the next 72 hours. I wrote this article myself, and it expresses my own opinions. I am not receiving compensation for it (other than from Seeking Alpha). I have no business relationship with any company whose stock is mentioned in this article.