After the bell on Thursday, shares of Netflix (NASDAQ:NFLX) popped nearly three percent on the news that Netflix subscribers watched more than four billion hours of content in the past three months. The problem here is that this number of hours is meaningless in itself, for a couple of reasons. Today, I'll explain why the latest number from Netflix is misleading, and why investors should not throw all their money into the stock on this news.
Thursday's news:
Early on Thursday, Netflix disclosed that it may use Twitter or Facebook to disseminate corporate information. The company noted the public Facebook page of CEO Reed Hastings will be one of its potential channels of material information. Now that Reed Hastings wasn't punished for doing this back in July, Netflix will use social media to spout out information.
So now onto the 4 billion hours viewed number. Why is this completely ridiculous? Well, think of it this way. If 100 people watch one hour in a month, or one person watched 100 hours in a month, you still have 100 total hours watched. The only difference here is that in the second scenario, you get a fraction of the revenues.
Back in July, the original issue was that Reed Hastings posted on his Facebook page that Netflix had surpassed 1 billion viewing hours in June. So now that Netflix surpassed 4 billion viewing hours in 3 months, you can estimate that viewing hours are up about one-third, roughly 33.3% (the exact number may vary by a couple of percentage points here or there).
So here's the issue. Look at the table below, comparing the end of Q2 2012 subscriber counts to the company's Q1 guidance provided in the fourth quarter investor letter, both at the midpoint and high end of guidance. Q2 numbers are actual.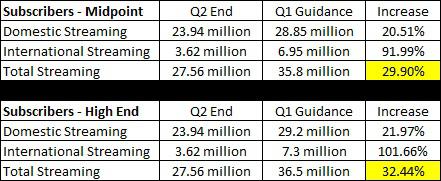 Look at the two highlighted numbers. Netflix roughly guided to a 30% to 32% increase in subscribers at the end of Q1 versus the end of Q2 last year. So to say that viewing hours are up 33% roughly when subscribers are up roughly that much doesn't prove much. If they were only guiding to say 10% or 20% subscriber growth, I'd be more interested. Yes, I understand that Netflix would have started the quarter with less than that 30% growth in subscribers, but think about these two issues.
First, Netflix released their blockbuster "House of Cards" during the quarter. The bump from that show could easily have offset the lower subscriber base at the beginning of the quarter. The second item to consider is that it was a fairly cold winter in the US, much colder than the previous one. With a fair amount of winter storms as well, I wouldn't be surprised if people stayed home and watched Netflix. Again, don't forget, just because viewing hours are up X percent doesn't mean that subscribers are up X percent, which is why I provided both the midpoint and upper end of guidance. But if you think viewing hours up 33% or so is a big deal when Netflix guided to subscriber growth in that range, you are sadly mistaken.
Some interesting analyst notes:
Interestingly enough, there have been some positive analyst notes to come out right before these "viewing hours" announcements. Just two days prior (one trading day due to July 4th holiday) to Reed's original Facebook announcement, Netflix received a positive note from Citi's Mark Mahaney. That caused Netflix stock to spike, and with a large short count, some shorts started to cover. Once we got the news from Reed, shares rose more.
The reason why Netflix shares jumped on Thursday was a positive note from Goldman Sachs. Goldman reiterated a Neutral rating, but raised their price target from $125 to $184, which isn't exactly a ton of upside from here. Analyst Heath Terry thinks Netflix's domestic streaming sub base will grow to 53 million in 5 years from a current 22.8 million, which is a bit optimistic in my view. Terry is lowering his 2013 EPS estimate, but significantly raising his 2014 and 2015 estimates. I'm guessing he thinks that Netflix will launch into another international market in the second half of this year, which will hurt profitability then but should help over the next year or two.
Why this did not help last time:
Netflix shares jumped on the Citi note, then popped even more on the news from Reed. The following chart below shows Netflix's share price from July 2nd, 2012 to July 27th, 2012. The first two days of the chart are the day that Citi's note came out, and the day containing the 1 billion plus hours viewed post from Reed.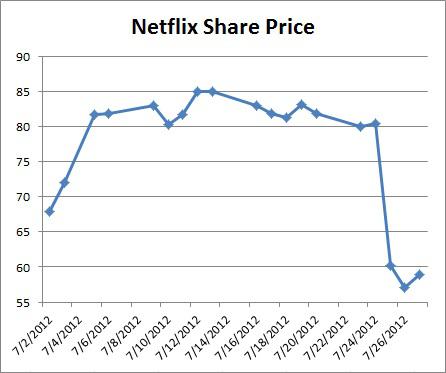 The problem is the right side of the chart. While those two pieces of news initially popped up the stock, the stock was basically flat for the next three weeks until earnings. Then, when Netflix did report Q2, they issued poor guidance, blaming the Olympics, and the stock tanked. I'm not saying this will happen again this time around, but those that bought on the news in the $80s saw their stock drop more than 25%.
An update on short covering:
Part of the reason why Netflix popped so much in July 2012 and after Q1 earnings in January 2013 is that so many shorts were forced to cover. Netflix short interest was over 12 million at the end of June 2012 and hit a high of more than 17 million in October. As we started to get content deals and the news of Icahn's position, shorts started covering. They have continued to do so in a large way, as you can see from the chart below.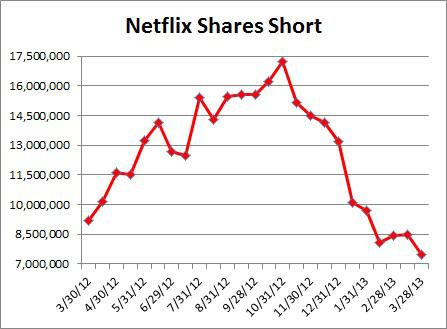 I mentioned in a recent article that Netflix short interest is at its lowest point in more than a year. Thus, investors looking at the upcoming earnings report (on the 22nd) need to realize that there aren't as many shorts out there, so another move of 90% is unlikely this time around.
Recap / Recommendation:
Another quarter, another statement from Netflix that doesn't really mean much. Sure, 4 billion hours viewed in 3 months may be impressive, and it may be up 30% or so, but when you're expecting 30% subscriber growth over that time, you're really not saying much.
This latest "news" from Netflix has pushed shares higher in Thursday's after-hours session. At the last trade of $177.94, Netflix has now rallied almost $20 off the recent low a few days ago. We've seen this story before, and it didn't end well last time in July. If you're buying Netflix, don't buy it because of this news. In fact, this might be a decent opportunity to short Netflix again if the stock jumps too much on this news over the next few days. I'm not recommending that you short through earnings, unless you hedge with options. But if Netflix jumps back to $190 in the next few days, you might be able to short for a quick profit.
Again, when Netflix gives you a number, there's a story behind that number, and you have to figure out the entire picture. I've argued that Netflix uses a lot of numbers to make themselves look better than they really are, and this is the latest one in my opinion.
Disclosure: I have no positions in any stocks mentioned, but may initiate a short position in NFLX over the next 72 hours. I wrote this article myself, and it expresses my own opinions. I am not receiving compensation for it (other than from Seeking Alpha). I have no business relationship with any company whose stock is mentioned in this article.
Additional disclosure: Investors are always reminded that before making any investment, you should do your own proper due diligence on any name directly or indirectly mentioned in this article. Investors should also consider seeking advice from a broker or financial adviser before making any investment decisions. Any material in this article should be considered general information, and not relied on as a formal investment recommendation.