Last week, we learned that the Australian trade balance for February was much better than expected, -178M AUD versus expectations for -1B AUD and -1.2B AUD for January. Additionally, retail sales continued their surge by gaining 1.3% month-over-month versus an expectation of just 0.3% (reference dailyfx.com calendar). On Wednesday evening, Australia reported a particularly poor jobs number. The unemployment rate ticked up to 5.6% from 5.4% where consensus thought it would stay. The economy lost 36,100 jobs against an expectation for a loss of 7,500. Last month's report showed an increase in jobs by 74K.
The impact on the Australian dollar (NYSEARCA:FXA) was immediate as it fell against the U.S. dollar for about 90 minutes. However, sticking with the theme of a rallying Australian dollar, the recovery was almost as swift. By the next morning, the Australian dollar had reversed all its losses. At the time of writing, the Australian dollar has traded back to where it was before the jobs release.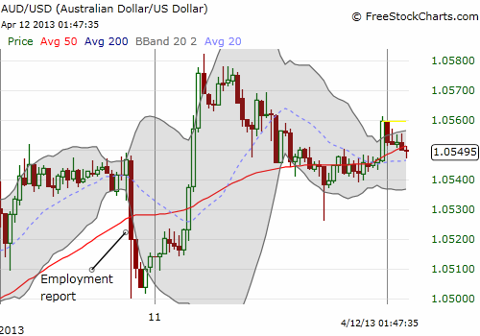 Click to enlarge
30-minute chart of AUD/USD shows how fast it recovered from the poor employment report
The net result is that the poor employment report only slowed down the Australian dollar's breakout from a downtrend that has lasted since the currency's peak in 2011.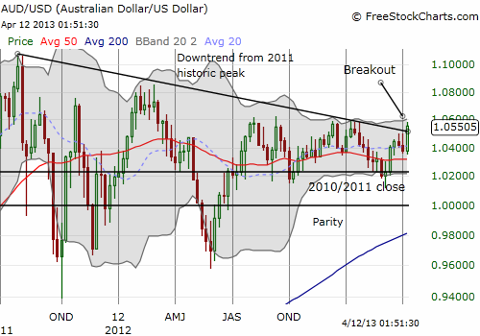 Click to enlarge
The Australian dollar breaks out
Source for charts: FreeStockCharts.com
One could easily argue that the Australian dollar still has plenty of overhead resistance from clear obstacles like the highs from January and the highs from February, 2012. I like to take currencies one step at a time and worry about the obstacles that are immediately front and center. I have now pared back most of my bullish positions on the Australian dollar and am in watch mode for the next opportunity (hopefully a fresh dip).
So how could the market recover so quickly from what looks like a horrible report? Well, pan back a little, and the data show that while the unemployment rate is now at its highest point since November, 2009, Australia is still experiencing a strong uptrend in total number of jobs. The following charts are from the last Labour Force report. Notice how the period of the financial crisis did not send jobs tanking; instead, growth flattened out for a while before resuming the upward march.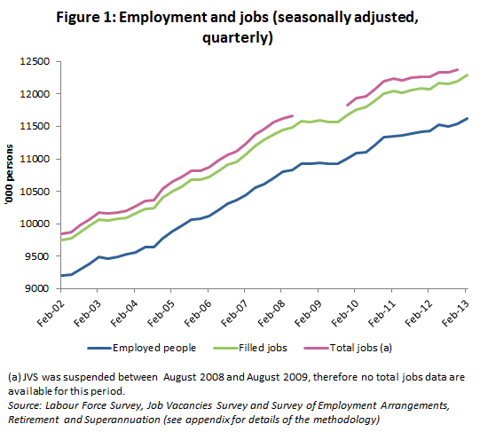 Click to enlarge
Australia employment and jobs
Australia even has a ratio of total jobs to employed people greater than 1 although the related ratios are at multi-year lows.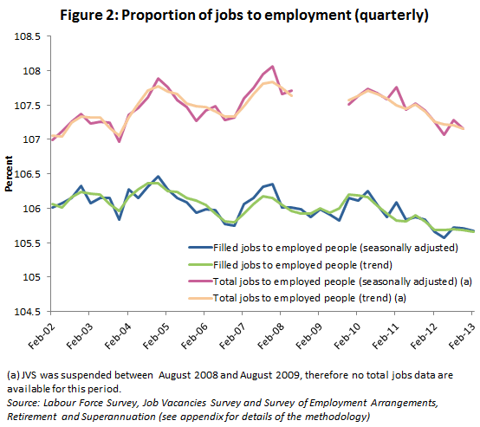 Click to enlarge
Australia proportion of jobs to employment
In other words, Australia's economy is still far better off than most industrialized economies. With interest rates near zero across this universe, the Australian dollar gets the benefit of the doubt on a relative basis as well. The currency is much more likely to respond to changes in commodity prices and by extension economic conditions in China. Thanks to iron ore's recovery from last year's lows, the commodity price index has bounced back and remains above pre-crisis highs.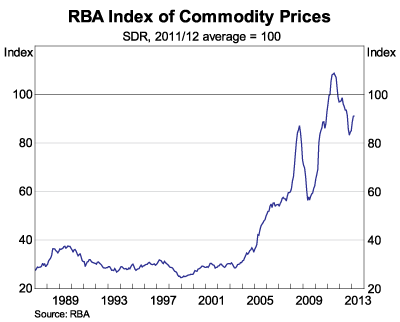 RBA Index of Commodity Prices
Source: Reserve Bank of Australia's Index of Commodity Prices
I argued earlier that iron ore prices would eventually come down this year and bring the Australian dollar down with it. However, the dynamic of the rapid devaluation of the yen (NYSEARCA:FXY) is currently providing more than enough buffer against that risk (I have even flipped to bullish on Cliff Natural Resources (NYSE:CLF) - more on that in another piece). This rapid devaluation is also a buffer against the risk of further rate cuts from the Reserve Bank of Australia (RBA) as a response to the disappointing jobs numbers. According to Bloomberg the odds of a rate cut in August increased slightly in the wake of the jobs report:
Traders priced in a 52 percent chance the RBA will lower the benchmark rate to a record low 2.75 percent in August, according to swaps data compiled by Bloomberg. Earlier in the week, there was a less than 50 percent chance of a reduction in the month.
The irony of an elevated Australian dollar is that it gives the RBA more breathing room to cut rates. The RBA has reminded us of that across several monetary policy decisions. Until momentum shifts on the Australian dollar, those rate cuts will provide fresh buying opportunities.
Be careful out there!
Disclosure: I have no positions in any stocks mentioned, and no plans to initiate any positions within the next 72 hours. I wrote this article myself, and it expresses my own opinions. I am not receiving compensation for it (other than from Seeking Alpha). I have no business relationship with any company whose stock is mentioned in this article.
Additional disclosure: In forex, I am long AUD/USD.