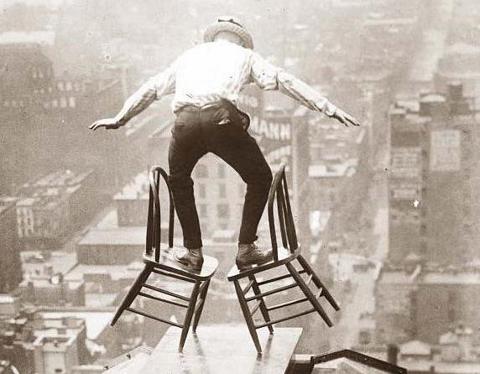 Graham and Dodd (G&D) are considered the fathers of modern value investing. This article will explore their methodology, and apply it to the current S&P 500 valuation. G&D assumed a P/E of 8.5 for a zero growth stock, and added to that 2x the growth rate of a stock's earnings. Over time adjustments were made to the formula to account for inflation, and allow for a matrix to be created comparing interest rates to P/Es. Bond yields are on the far left column, and expected 5-yr earnings growth rates are across the top row.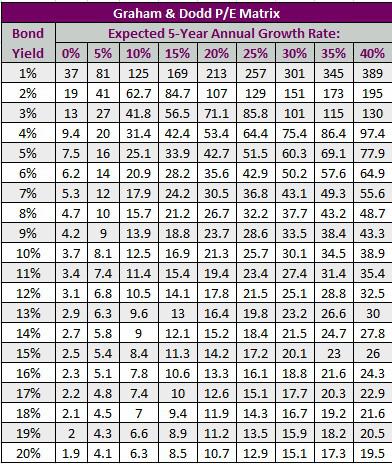 Reading the Tea Leaves:
What then does the G&D matrix tell us?
Given:
1) The current S&P 500 P/E is 18.42
2) The current AAA bond yield is 3.93%
3) S&P 500 level of 1,592
4) Earnings of $86.47
That means, according to the matrix, the current market is discounting around a 4% annual growth rate of earnings going forward, 3.97 to be exact.
That however is when the AAA bond rates are at or near historic lows. What happens if interest rates begin to return to normal levels? This matrix demonstrates what happens if using current earnings, $86.47, the interest and earnings growth rates are changed. The bold boardered cell highlights approximately where we are today. As the earnings growth rate increases, the estimated price level of the S&P 500 increases. As the rate on the AAA bond yield increases, the estimated level of the S&P 500 decreases. If the earnings growth rate remains where it is today, and the AAA bond rate returns to around 6%, the S&P 500 is estimated to drop by over 500 points.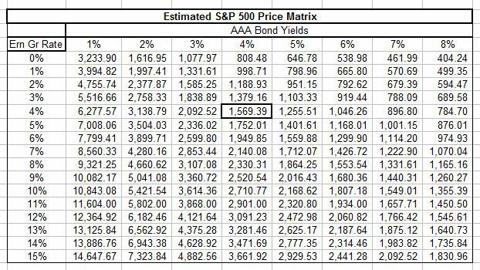 This matrix measures the percent change in the S&P 500 for the changes in earnings growth and interest rates. Once again, the bold boardered cell highlights approximately where we are today.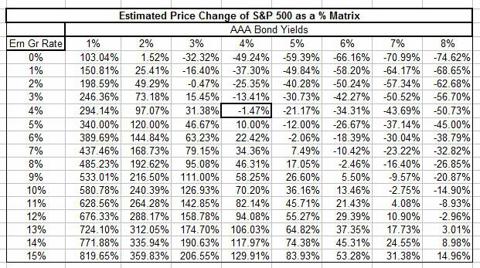 In conclusion, the G&D matrix is estimating that at its current level, the S&P 500 and/or the SPDR S&P 500 (NYSEARCA:SPY) is discounting an earnings growth rate of slightly under 4%. If interest rates increase faster than the discounted earnings growth rate, the S&P 500 may be at risk of a correction. The markets face a delicate balancing act going forward where signs of recovery will result in higher earnings growth rate estimates, but will also likely result in higher interest rates. The impact the recovery will have on the markets depends on which has the greater adjustment, interest or earnings growth rates. The above matrixes provide a research tool for investors to use when they formulate their own estimates and want to analyze how the markets may be impacted my them.
Disclaimer: This article is not an investment recommendation. Any analysis presented in this article is illustrative in nature, is based on an incomplete set of information and has limitations to its accuracy, and is not meant to be relied upon for investment decisions. Please consult a qualified investment advisor. The information upon which this material is based was obtained from sources believed to be reliable, but has not been independently verified. Therefore, the author cannot guarantee its accuracy. Any opinions or estimates constitute the author's best judgment as of the date of publication, and are subject to change without notice.
Disclosure: I have no positions in any stocks mentioned, and no plans to initiate any positions within the next 72 hours. I wrote this article myself, and it expresses my own opinions. I am not receiving compensation for it (other than from Seeking Alpha). I have no business relationship with any company whose stock is mentioned in this article.