It was a hard won victory for Agrium (NYSE:AGU), which produces and markets agricultural nutrients and industrial products, including nitrogen, phosphate and potash. According to Bloomberg's report, JANA Partners, Agrium's largest shareholder with a 7.5 percent stake, had been pushing the company to spin off its retail division, a network of agricultural outlets that sells seeds, fertilizer and crop-protection chemicals to farmers.
General Meeting - JANA Partners
During Agrium's annual general meeting in early April, Barry Rosenstein, JANA Partners' managing partner, said that JANA had pushed the management to improve significantly, including the company's first large share repurchase in years, dividend increase, and disclosure improvement. However, JANA Partners had requested an independent Chairman be appointed for the meeting on March 28, 2013, and that request was denied.
JANA claimed that the company had received 59 million votes for one or more of its nominees, including, it appeared, enough votes for David Bullock and Barry Rosenstein to be elected to the Board of Directors. However, 3 days after the vote and 3 days after the voting deadline, the votes were revoked. Agrium's management responded to the claim in the meeting by stating,
[…]at this meeting and prior to the meeting, that JANA had 2 seats was always pure speculation. As has been put forward by JANA themselves, there has never been any visibility to, in any way, shape or form to validate those claims. The loss was pure and simple, fair and square. We understand Mr. Rosenstein is upset but reject his attacks on the board and the integrity of this process.
Analysts' Calls and Estimates
On April 10, 2013, two analysts issued different calls after the election of Agrium's incumbent board nominees. TD Securities upgraded AGU from hold to buy with a price target of $115.00. Analyst Paul D'Amico said,
Fundamentally, we believe that the election of Agrium director nominees will provide continuity in the company's overall strategy and operational management. However, in the near term, we would not be surprised to see some stock price weakness as JANA piggy-backers and or 'fast money' per se likely reduce their holdings of AGU's stock on the back of a lack of potential value catalysts from JANA.
Cowen, on the other hand, maintained a sell rating on AGU with a price target of $88.00 due to nutrient capacity increases and lower corn pricing. Analyst Ahmed Alamin said,
The big question remains whether Jana will maintain its ~7.5% stake in the company or unload its shares. Though Jana stated that it is not their intention to go away any time soon, if the fund chooses to unload shares, we would expect downward pressure on Agrium stock.
Analysts currently have a mean target price of $118.07 for AGU, suggesting 25.47% upside potential. Analysts, on average, are estimating an EPS of $1.25 with revenue of $3.67B for the current quarter ending in March, 2013. For 2013, analysts are projecting an EPS of $10.00 with revenue of $17.51B, which is 4.90% higher than 2012.
Fundamentally, AGU's key stats will be compared to its peers in the industry of agricultural inputs, including Potash Corp. (NYSE:POT), Mosaic Co (NYSE:MOS), CF Industries Holdings, Inc. (NYSE:CF), and Monsanto Company (NYSE:MON).
| | | | | | |
| --- | --- | --- | --- | --- | --- |
| | Agrium | Potash | Mosaic | CF Industries | Monsanto |
| Market Cap | $14.02B | $34.45B | $25.58B | $12.04B | $56.40B |
| Revenue Growth (3 Year Avg.) | 22.3 | 25.8 | 2.6 | 32.8 | 4.9 |
| Operating Margin, %, ttm | 13.3% | 38.1% | 22.4% | 48.5% | 25.2% |
| Net Margin, %, ttm | 9.0% | 26.2% | 18.9% | 30.3% | 17.2% |
| ROE | 22.4 | 23.4 | 16.2 | 35.4 | 21.6 |
| Debt/Equity | 0.3 | 0.3 | 0.1 | 0.3 | 0.2 |
| P/E | 10.0 | 16.8 | 13.4 | 6.7 | 22.6 |
| Forward P/E | 9.4 | 12.0 | 11.7 | 6.7 | 19.7 |
Source: Morningstar
While Agrium has higher revenue growth than Mosaic and Monsanto (comparable to Potash), its operating and net margins are well below other competitors. Below, Agrium will be compared to these 4 companies for the price performance and ROE.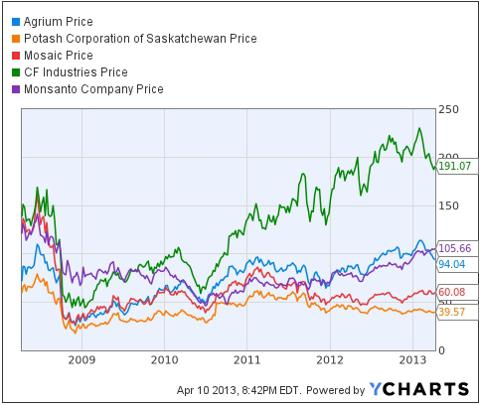 Source: YCharts.com
CF Industries remains as the top performer among 5 companies since mid-2010. However, CF and AGU started to decline in early 2013 while MOS and MON started to recover in early 2013.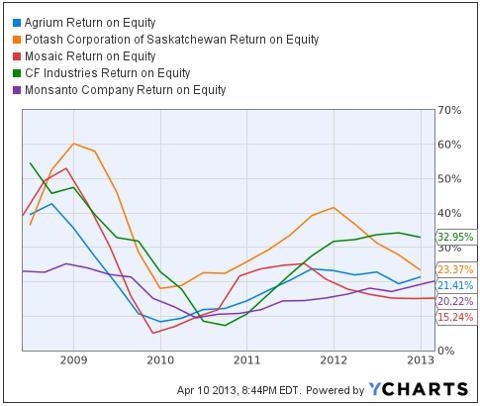 Source: YCharts.com
AGU's ROE remained relatively flat in 2012 while the ROE for POT and MOS declined throughout 2012. On the other hand, the ROE for CF and MON had gained gradually in 2012. MON's ROE continued to improve in early 2013.
Technically, the MACD (12, 26, 9) indicator continues to show a bearish trend for AGU. The momentum indicator, RSI (14), is indicating a strong selling momentum at 31.73. AGU is currently trading below its 50-day MA of $104.02 and 200-day MA of $100.08. the next support is $92.64, the S1 pivot point, followed by $87.77, the S2 pivot point, as seen from the chart below.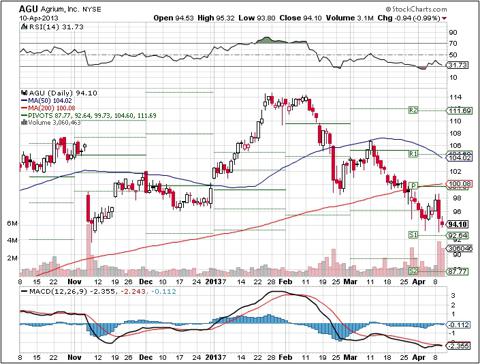 Source: StockCharts.com
Bottom Line
Agrium's weak margins remain a major concern. As the fight between JANA and the management/board continues, short-term pressure is expected. Investors may want to take a look at CF Industries for its higher margins, ROE, and stronger growth, which is also trading at a low P/E multiple of 6.7. On the other hand, Mosaic is expecting a strong Q4 and continues to improve with its Ma'aden deal. Lastly, Potash is another great alternative for Agrium with higher margins and stronger growth. Potash is also trading at a fair valuation (forward P/E of 12.0).
Note: Investors and traders are recommended to do their own due diligence and research before making any trading/investing decisions.
Disclosure: I have no positions in any stocks mentioned, and no plans to initiate any positions within the next 72 hours. I wrote this article myself, and it expresses my own opinions. I am not receiving compensation for it (other than from Seeking Alpha). I have no business relationship with any company whose stock is mentioned in this article.