Some may call it a dividend stock; others refer to it as a retirement stock. Whatever name you want to call it, Main Street Capital Corporation (NYSE:MAIN) is a stock to watch for. In fact, many retirees are following the company, because it consistently gives out dividends month over month. The stock also offered substantial capital gains last year. Main's share prices are upbeat since May 2012, and the stock returned almost 35% in the last year.
Brief Company Profile
Main is an investment firm that provides financial solutions to lower middle market companies through equity capital and long-term debt. The investment portfolio of Main supports refinancing, growth financing, recapitalization, company acquisition, and buyouts. It carefully pre-qualifies companies by providing one-stop financial alternatives to firms with revenues from $10 million to $150 million.
According to its recent full year financial report, Main had a collective equity and debt investments amounting to $510 million. This amount was spread among 59 companies. Aside from debt and equity investments, Main also has middle market portfolio investments in 95 companies amounting to $390 million.
Financials and Earnings
The financial profile of Main is quite remarkable. Its income statement shows increasing total revenues year over year for the past three years in a row. Last year, it posted total revenues of $74.9 million. This is an overwhelming growth of 42% from the total revenues generated in 2011 at $52.7 million.
Being an investment firm, one of the key financial profiles of Main is the cash flow. The total cash flow from operating activities in 2010 was only $16.6 million. It significantly jumped by a whopping 123.78% to $37.157 million in 2011. But it took a modest 31.52% growth in 2012 to $48.9 million in cash flows, which is still a good performance.
Earnings and Dividends Highlights
Earnings supported dividends makes Main an attractive stock for income-oriented investors. Main is a dividend stock that regularly gives out dividends on a monthly basis.
Moreover, Main is also consistent in generating earnings per share. In fact, Main has a steady quarterly earnings surprise history. On the first quarter of 2012, it beat the consensus EPS forecast of $0.45 by generating an EPS of $0.48.
In the second quarter, the percentage surprise slightly increased. It ended the quarter with 6.82% surprise at $0.47 EPS against the $0.44 forecast. It also beat the market estimates by posting an EPS of $0.49 versus the $0.46 consensus EPS forecast. The last quarter of 2012 was the biggest surprise of all. The company's EPS overshoot the forecast of $0.50 by ending the quarter at $0.56.
The quarterly positive percentage earnings surprises reinforced by growth, is a good sign of sound management. It is also an indication that the company is right on track of the investors and performing beyond Wall Street's estimates. These are ingredients of growing confidence on the company among the investors that can potentially increase the share prices ahead.
On the other hand, the dividend payouts also make Main a stock to watch for. While the earnings are only in pennies month over month, they signify that Main is operationally efficient. This provides a positive outlook on the company's ability to achieve its projections in the future.
For the past six consecutive years Main did not incur losses. Instead, it posted positive earnings that allow the firm to give out dividends. There was growth observed in dividend payout almost every year. In 2007, the payout was only $0.33. It made an astounding leap by 333.33% in the following year, when it paid out $1.43 in dividends per share.
In 2009, the dividend amount slightly increased by only 4.89% to $1.50. It remained stagnant in the following year. Growth in dividend resumed in 2011 when the company paid the shareholders $1.56 per share, or a growth of 4%. In 2012, the amount increased by 9.61% from the previous year at $1.71 per share.
The above data summed up to a dividend yield of 5.90% and 5-year dividend growth rate of 9.22%. These are significantly higher than the industry dividend yield at 2.58% and a 5-year growth rate of only 2. 29%. The data is also higher than the sector's figures at 1.82% dividend yield and a 1.97% growth rate.
The earnings-based payout ratio of Main is 49.02%. The company generated about $49 million in operating cash flows and paid out $40 million in dividends. While offering generous payouts, it was able to increase the net cash holdings by $21 million in the last year.
MAIN versus its Peers
A comparative analysis of Main with its peers would further aid the assessment of Main's financials. While there are several business development companies, its close competitors are Prospect Capital (NASDAQ:PSEC) and Apollo Investment (NASDAQ:AINV).
Among the three, the biggest in terms of market capitalization is Apollo with a market cap $1.67 billion. Main comes next with a market cap of $1.08 billion, while Prospect Capital has a market cap of $894.3 million. However, PSEC also has the biggest net investment income at $488 million. Likewise, it has the highest net increase in new assets at $180 million.
Main, on the other hand, has the lowest net investment income of $90.5 million. It also has the lowest net increase in net assets at $104.4 million. While the figures show that Main has the lowest yields compared to its peers, it has the highest profit margin.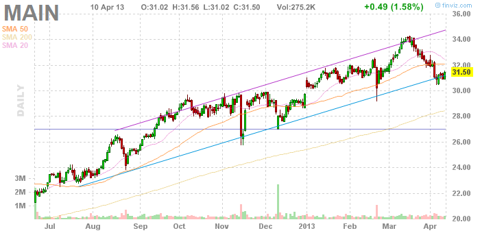 Summary
It's no wonder that Main's share prices are in upward trend for the past 11 months. The company is not just producing earnings, but it is also regularly giving out dividends per month. In fact, it started the year 2013 with a dividend payment of $0.35. The balance sheet is backed by sound financials, experiencing both dividend and EPS growth year over year. The stock underperformed this year with a return of 5%, but the long term trend is still positive. I think Main is an undervalued dividend stock, which can provide stable income for those in need.
Disclosure: I have no positions in any stocks mentioned, and no plans to initiate any positions within the next 72 hours.
Business relationship disclosure: Efsinvestment is a team of analysts. This article was written by one of our equity analysts. We did not receive compensation for this article (other than from Seeking Alpha), and we have no business relationship with any company whose stock is mentioned in this article.