Have you ever noticed the excessive number of gift cards you receive or give at Christmas, on birthdays, and even anniversaries? It seems to have become the ultimate gift in lieu of cash. Because after all, cash seems so unsentimental.
Due to this trend, the companies in the industry of prepaid payment solutions are growing in popularity and are generating tremendous amounts of cash. After all, even Justin Bieber has created hype about this industry as he entered into a strategic partnership with SpendSmart Payments Company, formerly known as BillMyParents, to promote prepaid cards for teens.
Based on recent growth statistics, this industry does not need any celebrity endorsements to be sold to buyers and investors, as people are rushing to grab a piece of the pie. According to Consulting firm Mercator Advisory Group, prepaid card use is expected to generate $202 billion in revenue this year, compared to $28.6 billion in 2009.
Investors have multiple avenues to take advantage of this industry. To enjoy modest growth and more stability, shares in larger companies that have been strategically positioning themselves in the industry can be purchased. On the other hand, investors can purchase shares in smaller companies that may be more recently established in order to speculate on the next takeover target.
A Handful of Opportunities...
The following list represents companies that would give investors exposure to the prepaid card industry. Many of them have been positioning themselves in the industry through strategic takeovers, while others may be potential takeover candidates.
| | | | | | |
| --- | --- | --- | --- | --- | --- |
| Company Ticker | GDOT | TSS | GOOG | GPN | TPNL.OB |
| Net Margin (adjusted for non recurring items) | 8.52% | 13.06% | 21.40% | 7.66% | 7.78% |
| ROA (adjusted for non recurring items) | 6.88% | 12.58% | 12.91% | 5.98% | 7.89% |
| D/E | N/A | 0.13 | 0.04 | 0.77 | N/A |
| Current Ratio | 1.40 | 2.49 | 4.22 | 1.70 | 0.88 |
| Dividend Yield | N/A | 1.70% | N/A | 0.20% | N/A |
| P/CF | 6.40 | 10.00 | 15.20 | 13.60 | 4.62 |
| P/E | 15.05 | 18.72 | 24.05 | 19.69 | 5.20 |
| 2012 YOY Revenue Growth | 15.00% | 3.40% | 36.00% | 18.00% | 103.00% |
* All ratios were found using Morningstar along with individual company annual reports as of April 8th, 2013.
Green Dot Corporation (NYSE:GDOT)
Green Dot is a pioneer in the prepaid card industry and was the first to ever sell and reload prepaid cards on the retail market. The company is by far the leader in the industry with 4.4M current active cards that can be found in over 60,000 locations. Green Dot has grown network cash transfers at a cumulative average growth rate of over 45% from 2006 to 2012. In 2012, the company had generated a gross dollar value of transactions equivalent to $17.152B.
The company has been pursuing a vertical integration strategy in order to lower its cost and depend less on third parties. As part of this strategy, it acquired Bonneville Bancorp, a Utah-based bank for $15.7M in late 2011. It renamed the bank, "Green Dot Bank" and saved costs by issuing its own payment cards instead of using a third party. Green Dot later bought Loopt, a mobile location-based application developer for $43.4M. It expects to leverage this acquisition to improve customer acquisition and retention, drive the adoption of new banking and payment products and to become a leader in mobile wallet technologies.
Financially, Green Dot also stands out. Most of its acquisitions have been paid directly in cash. As of March 2013, it had $481M of cash and cash equivalents, representing $10.92 of cash per share. Most of this cash can be attributed to its ability to consistently generate positive free cash flow year-over-year. In 2012, after deducting capital expenditures, it generated $61.5M of free cash flow. As noted above, it is also debt free, which demonstrates great financial stability. Among some of its peers, its shares appear to be undervalued on a cash flow per share and price-to-earnings basis, which may present an opportunity considering many companies in the industry are being acquired for much higher earnings multiples.
Total System Services Inc. (NYSE:TSS)
One of the deals in the prepaid card industry that was attributed an extremely high earnings multiple, is Total System Services current acquisition of NetSpend (NASDAQ:NTSP) for 1.4B in cash. This deal values NetSpend at 71 times current earnings.
Total Systems Services is a global payment solutions provider which processes a large volume of prepayment services. The strategic decision to purchase NetSpend is a move to get direct exposure to the prepaid card industry. Netspend is the second largest prepaid card company with 2.4M active cards and gross dollar volume of $13.2B. The result of this acquisition will be a company with a complete range of service offerings, from payment processing to card provider. It will also help Total System Services increase its growth rate in revenue. It is a welcome move since it was struggling in the past year with the last quarter's revenue increasing only 1.50% over the same quarter of the previous year. Total 2012 revenue growth over 2011 was also quite meager at 3.4%. NetSpend had a cumulative annual growth rate of 22% from 2007 to 2012, which should definitely benefit Total System Services.
Although it has mediocre growth in revenue, TSS, with a dividend yield of 1.70% has the highest dividend rate among the companies presented. This may attract income investors, as with the acquisition of NetSpend, the combined entity is sure to produce growth in revenue and support a sustainable dividend. TSS also appears to be fairly conservative at taking on debt as it has a low debt-to-equity ratio of 0.13. It also has strong short-term liquidity with a current ratio of 2.49, the second highest among the companies presented. At 12.59%, its return on assets is also quite high compared to its peers; the company appears to be managing well its expenses as it increased its operating margin by 117 basis points from 2011 to 2012. Its operating margins for 2012 were 22.1% and net margins remained quite high at 13.06%, second only to Google.
Google Inc. (NASDAQ:GOOG)
Everyone knows Google as the global technology giant that focuses on improving the ways people connect with information. Google is venturing into the payment solution sector to add yet another segment to its diversified revenue base.
In April of last year, Google acquired TxVia, a mobile payments technology company whose core offering is a payment platform that includes prepaid cards, reloadable cards, gift cards along with other types of payment cards. TxVia managed around 100 million accounts which Google hopes to leverage to expand its customer base for its mobile payments service, Google Wallet. TxVia's relationship with all major payment networks along with its streamlined platform, is going to help complement Google's strategy to further expand into the world of mobile payments. The Google wallet app supports all credit and debit cards and enables consumers to carry them on their phone or computer. This app would allow the ultimate convenience of never having to carry a wallet and with Google's Android operating system representing 52.3% of the smartphone platforms, it would make it much easier for Google to dominate this market space. A survey released by ACI Worldwide found that the majority of retail professionals involved said Google would beat out PayPal and Isis in the mobile wallet wars.
Many people are quite skeptical about these new technologies and their security of confidential information. Google seems to have thought of all of these issues. It requires a personal identification number to activate the antenna used for Google Wallets payment system as well as an additional PIN when purchasing an item. The Google Wallet also stores all encrypted user information on a computer chip called the Secure Element to prevent any type of breach. It will be interesting to see how Google can leverage retailers and phone carriers to implement this mobile payment technology across the globe.
Other than this fascinating new venture, Google is among the strongest companies for financial stability, liquidity and debt coverage. As per Geekwire.com, Google's current cash balance per employee is the second highest of all technology companies - only Apple comes out ahead. As per its 2012 annual balance sheet, Google had a total cash balance of $48.088B.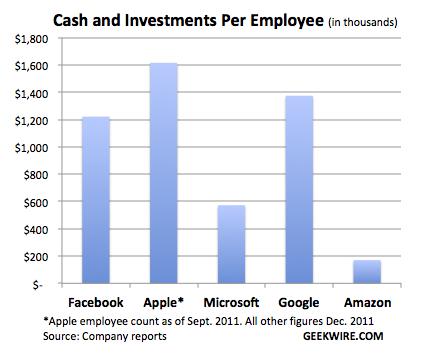 Along with a high cash balance, its current ratio portrays more than adequate short-term liquidity at 4.22. With a debt-to-equity ratio of 0.04, its debts remain minimal and it can easy fulfill its obligations.
Although Google's shares are quite highly valued on a price per cash flow and price per earnings metric, it makes up for it by having higher growth and higher return on its assets. In its fourth quarter of 2012, the company's revenue grew by 36% over the previous year. It has among the highest net margins in the industry, with net income currently representing 21.4% of revenue. Lastly, its return on assets of 12.91% is also surprisingly high considering the amounts of cash it has been stockpiling. With the amount of resources at Google's disposal, we will certainly see them lead the way in the payment solutions industry as they acquire other pieces of the puzzle thus making their mobile wallet dreams a success.
Global Payments Inc. (NYSE:GPN)
Global Payments Inc. is a Fortune 1000 company, and is a provider of worldwide electronic payments transaction processing services. It processes billions of payment card, check and eCommerce transactions annually for over one million merchant locations. As per the company's investor relations presentation, it is a top contender in terms of transaction volume market share in many countries across the globe.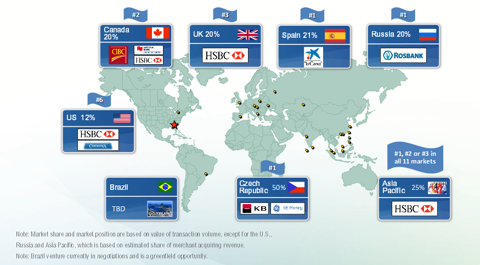 It currently is the leader in transaction processing in Spain, Russia, the Czech Republic and holds over 25% of the market share in Asia-Pacific regions. Global Payments is also expanding into Brazil to take advantage of its considerable economic growth potential. Although the company is only 5th in terms of market share in the US, North American merchant services represented 71% of consolidated revenues for 2012. The company is continuing to boost its presence in the United States as this market is among the largest in the world for payment processing. In 2012, it experienced growth of 19.6% in the US, which should help it increase its market position.
GPN, has been quite active acquiring companies it believes will be accretive to its earnings. To further expand its US portfolio, in the beginning of 2012, it purchased from Visa the portfolio of 9,000 U.S. e-commerce merchant processing clients.
In August of 2012, Global payment announced its acquisition of Accelerated payment Technologies for $413M in cash. ATP is a provider of an industry-leading integrated payment processing platform for which GPN already processed the majority of payment transactions. For Global Payments, this integration of services is significantly beneficial to both North American and total company cash operating margins.
Global Payments appears to have sustainable debt levels as its interest coverage ratio remains very high at 18.8 times and its debt-to-equity ratio remains under 1 at 0.77. Its short-term liquidity also appears adequate as its current ratio is stated at 1.70 with currently 682M of cash on hand. The company itself appears to believe its shares are undervalued as it has been consistently issuing debt instead of equity while at the same time repurchasing shares. This may be one of the reasons for a higher debt-to-equity ratio in comparison to the industry. As per the company's cash flow statement of the past 9 months, during that period, it issued approximately $1.085B in debt and bought back nearly $138M in shares, while paying out $4.7M in dividends. The management team seems to be conscious about creating shareholder value and seems to avoid dilution when acquiring other companies, which is attractive from an investors' point of view. Global Payments is sure to benefit from the increase in the use of prepaid cards. As the use of cards increases, the volume of transactions will increase in tandem. Therefore the companies processing these transactions are definitely going to see an increase in earnings.
3 Pea International Inc. (OTCQB:TPNL)
3 Pea International is a smaller scale company in the prepaid card industry but appears to be drastically undervalued against its peers with a P/E of 5.20 and P/CF of only 4.62. This could potentially make it an ideal takeover candidate.
The company's current niche is the provision of payment solutions within the healthcare industry. Its adjudication network encompasses over 62,000 pharmacies nationwide and it currently has over 16 million debit cards under management. Its cards are currently being used to pay plasma donors at one of the largest plasma collection companies in the US.
What makes the company even more valuable is that it has full debit card processing platform. Therefore, it not only provides diverse card solutions but also has the ability to process them, which has enabled cost savings and eliminated reliance on third parties. Currently, its main service offerings are in the healthcare reimbursement markets, pharmaceutical marketing and corporate incentives. However, as per the recent year-end report, the versatility of the company's platform will enable it to expand into multiple other segments of the prepaid card industry, which will undoubtedly increase the company's earnings potential.
Based on the most recent earnings release, 3 Pea is experiencing explosive growth as its revenue increased by 103% over 2011 with the launch of several new card programs and a substantial increase in its services. The company has become increasingly profitable as its operating income grew by 106%, which has helped it generate cash from its business activities. It currently has $1,872,911 of cash on hand in comparison to $63,826 in 2011. This cash increase has helped the company improve its liquidity. Although its current ratio is slightly low at 0.88, more than 98% of its current assets are cash or cash equivalents which should be sufficient to meet its short-term obligations.
One aspect that helped restore some liquidity to the company was an agreement with large debt holders to convert their notes payable into stocks and warrants. This transaction eliminated $1.704M of liabilities and helped the company generate an operating cash flow of $2.055M. Currently, there remains $707,400 in notes payable on the balance sheet; the company may be able to convert another portion of it to stocks and warrants, thus increasing liquidity.
What is quite interesting is that the large debt holders agreed to convert their debt to shares and warrants. The warrants have a strike price of 0.50, among which the latest expiry date is October 30th 2015. The warrants give the indication that both the management team and the debtors believe that the share price will be over $0.50 by 2015. This remains almost double the current share price which could represent quite an investment opportunity.
Just like any investment opportunity, there are always inherent risks. These risks are especially large when investing in small capitalization stocks such as 3 Pea. Investors should note that 3 Pea's shares are very thinly traded, thus the liquidity and volatility of the stock is much less favorable than that of larger known stocks. The lack of liquidity may make it harder for investors to buy or sell the stock on demand. The company recently up-listed from the Pink Sheets to the OTCQB market tier to become a fully reporting company. Although this signals a positive move for the company, investors should remain diligent about OTC-listed companies as regulatory standards are looser than for major stock exchanges. For this reason, OTC stocks are more likely to be manipulated. Companies of a small scale may also have trouble finding feasible financing alternatives and usually will have to pay a much higher cost. Luckily, 3 Pea has been creative with its financing as it borrowed a large quantity of its debt from related parties such as directors and shareholders. Although the company appears to have sufficient working capital on hand, going forward, raising cash is likely to be on less favorable terms than for larger public companies. Besides the risks, 3 Pea is definitely worth a look as it represents a unique chance to invest in the prepaid card industry at an early stage, but as any investment, due diligence should always be performed.
A Macro Environment That Supports Growth
Companies may have substantial potential, but without a growing industry, it is much harder to achieve above average profitability. If an industry were stagnant, companies would consistently be after one another's market share. This is simply not the case for the payment solutions industry. There are endless opportunities for companies as the market remains incredibly large with above-average growth rates.
First Annapolis published a study that projected that in the US, the total prepaid market could be worth up to $411B by 2016. This represents a cumulative annual growth rate of 21% from 2011. From this study, the chart below breaks down the size of each sector of the prepaid card industry.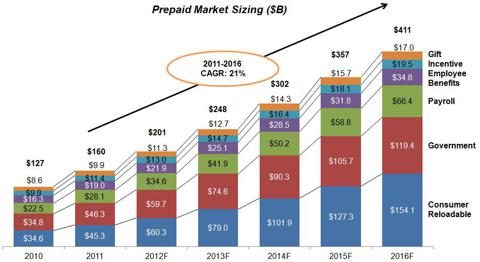 As seen above, the industry is diversified among many different sectors.
The largest sector is consumer reloadable cards which includes majority prepaid debit cards which have experienced dramatic growth recently. A report by Bretton Woods showed that they have been increasingly popular in the US for the younger generations, as 43% were found to be from generation Y. The main reasons people preferred prepaid debit cards were convenience over cash, the avoidance of overdrafts and consequential fees. As shown in the graph below, this report demonstrated that in 2011, annual banking costs on the high end with 50 NSF's were $238.95 for prepaid cards with direct deposit, $333.75 for prepaid cards without direct deposit and $2,138.80 for basic checking accounts.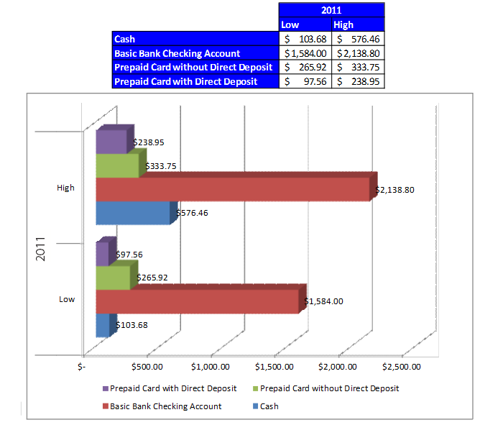 These costs represent a great disparity and have helped spur the increase in the use of prepaid debit cards for heavy spenders.
Secondly, Government benefits transmitted through prepaid cards have also become much more common, which is a sector with a large untapped potential as governments shift to find more cost efficient ways of distributing payments. A Deloitte Study on the government of Australia and its transformation of payment distribution methods found that switching from current methods to prepaid cards could provide in a four-year period annual gains of up to $1 billion to the government and consumers. One of the major expenses is the payment by checks, whose unit costs have been rising due to their continuous decline in use. The Deloitte report found that the total resource cost of a check payment is $5.21 for a non-point of sale transaction, more than twice that of electronic payments and $7.84 for point of sale methods, representing nearly three times as much as the alternative. Another advantage of prepaid cards for government benefits is the speed of payments as transfers of money is practically seamless. It appears we will be seeing much more of these new age government payment methods as a technological shift is sure to continue.
Payroll cards have also been a new innovation in the way workers get paid and have been especially useful for budgeting and cost purposes as the cards draw on the user's wages or salary instead of a deposit account. Payees access their money from an ATM or cash-back purchase in the same manner as with a traditional debit card.
Employee benefits, such as the use of prepaid cards for healthcare and insurance-related transactions has revolutionized the way the industry operates, facilitating many of the processes. One of the most convenient evolutions for healthcare insurance is the rising use of remittance cards which provide immediate electronic claims payments to the pharmacy at the point of purchase. Some other companies use prepaid cards to load a given monthly or yearly allowance for their employees to use for health-related expenses.
Lastly, Gift and Incentive cards have also become increasingly popular. A Small Business Trends' article noted that gift cards have been the most popular type of holiday present for seven consecutive holiday seasons, and more than 80% of people wanted one in Christmas of 2012. The Incentive Research Foundation, previewed a study through an article on IncentiveMag that found that the incentive and loyalty gift card market in the U.S was worth a total of $22.7B.
A Worldwide Trend
The trend for prepaid cards is not only a phenomenon in the United States. There remain large untapped growing markets all around the globe.
The Mercator Advisory Group's Research Report found that as of 2009, in the top 30 ranked Global markets (excluding the US), there was a potential of $1,455.55B in the prepaid market. The top countries with some of the largest potential were the BRIC nations (Brazil, Russia, India and China) as well as Japan and some European countries listed in the graph below.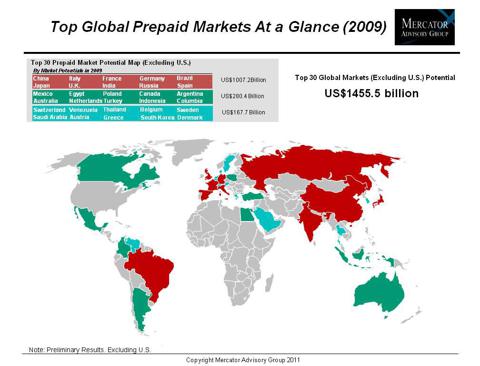 Swipe Your Card And Take Advantage Of These Returns...
It is evident that the prepaid card industry presents a handful of opportunities for growth across many sectors.
The industry itself is valued quite highly as Morningstar quotes the average P/E at 30.40. All the companies previously mentioned remain below the average industry P/E, have positive operating cash flow and appear to have adequate liquidity, which helps make them compelling investments.
Next time, while spending that gift card you received for your birthday at your favorite store, perhaps take a second to think about how you can capitalize on the prepaid card market...
Disclosure: I am long OTCQB:TPNL. I wrote this article myself, and it expresses my own opinions. I am not receiving compensation for it (other than from Seeking Alpha). I have no business relationship with any company whose stock is mentioned in this article.