According to Moringstar analyst RJ Hottovy, Amazon (NASDAQ:AMZN) achieved 9% operating margin in 2012 on its estimated 10 million Prime members. At first brush this sounded ludicrous as Amazon most likely spent well in excess of $200 in shipping expense and video content per Prime subscriber in return for a $79 annual fee on its already margin challenged retail business. After a deeper dive into the numbers, I am convinced that not only did Amazon have a negative operating margin on all of its direct retail business, it had even a greater negative margin on the $1,224 of purchases per Prime member during 2012.
Amazon's Prime service offers customers unlimited free 2-day shipping with no minimum order size, access to free Kindle e-book lending, and unlimited free video streaming for just $79 per year. While this offers an incredible value for customers, it has saddled Amazon with a fast growing, money losing loyalty program that will be near impossible to raise prices and/or reduce services to get above break-even - and the economics will make near impossible to make it up in volume.
Since Amazon's operating segments are defined by region (North America & International), I had to develop a pro-forma operating income statement (Figure 1) for each of Amazon's three main businesses (Direct Retail, Third-Party Marketplace (3P) and Amazon Web Services & Digital (AWS)) from its 10K's, management comments and press releases, third-party estimates, competitor information and some reasonable assumptions. Prime is a sub-segment of the Direct Retail segment that can be broken out (Figure 2) once the segment operating margins are completed.
Figure 1: Amazon's Three Segment's Operating Margins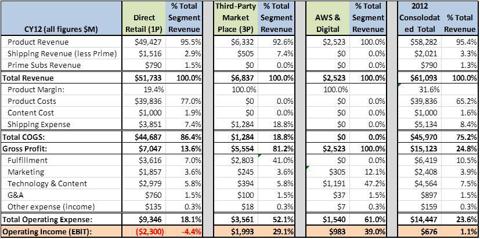 Development of Segment Operating Margins
Revenue:
Total Revenue comes directly from Amazon quarterly releases
Prime Revenue is based on Morningstar's 10M Prime member estimate at $790/yr. each
Shipping revenue split is based on Amazon data of 40% of total volume by 3P customers, and my assumption that 50% of 3P sellers use Fulfillment By Amazon (FBA). Therefore 75% (60/80) of shipping revenue goes to Direct Retail, and 25% (20/80) to 3P.
COGS / Gross Profit:
Product Margin is Gross Margin less shipping and content expenses. We know this is 100% for 3P and AWS by Amazon accounting methods, so all product costs are in Direct Retail.
Streaming video content costs are 100% allocated to Prime inside of the Direct Retail Segment. Content Cost is estimated to be about $1B which I feel is a reasonable estimate as it is about 46% of Netflix's (NASDAQ:NFLX) content depreciation and coincidentally about 46% of Amazon's total 2012 depreciation.
Shipping expense: Same allocation as shipping revenue (75% Direct Retail / 25% 3P)
Operating Expenses:
Fulfillment: Split between Direct Retail and 3P

Fulfillment expense can be broken into two pieces; Transaction costs (payment, customer service, etc..) and Physical costs (warehouse, inventory, pack, etc..)

Transaction Costs: Based on eBay (NASDAQ:EBAY), transaction costs are about 30% of the seller fee (3P revenue less shipping).
Physical Costs: I assume it is proportional to volume shipped, so physical costs for 3P are 25% of the rest of total fulfillment, and 75% for Direct.
This computes to fulfillment being 41% of sales for 3P and 7% of sales for Direct Retail.

This breakout back tested on prior years very well through regression analysis of fulfillment expenses vs. revenue split for 3P and Direct. The analysis also showed that fulfillment cost is almost entirely variable and thus exhibits no economies of scale.

Marketing Expense:

AWS requires a higher level of Marketing & Sales than the e-commerce business. I used Rackspace Holdings (NYSE:RAX) as a proxy, which spends 12.1% of revenue on Marketing & Sales.
I distributed the rest of 2012's Marketing expense into Direct & 3P at the same percent of sales (3.6%).

Technology & Content (T&C)

AWS's COGS and technical operating expenses are built into Amazon's T&C expense. My estimated costs for this business is very close to what Rackspace's are, so I used Rackspace again as a proxy for AWS T&C costs (28.1% COGS + 19.1% D&A = 47.2%). 47.2% of AWS+Digital Revenue = $1.19B
The rest of corporate T&C was distributed into the Direct & 3P segments at the same percentage of sales.

G&A and Other Expenses

I used the same corporate percentage of Sales for all three segments
Segment Operating Margin Results
While I was not surprised that 3P (29% operating Margin) and AWS (39% Operating Margin) are great profit producing businesses with strong growth (based on likenesses to eBay and Rackspace), I was surprised to the level of operating loss that the Direct Retail business yields at -4.4% (or $2.3B in operating losses). There have been several headwinds in the environment for Amazon since the Direct Retail Segment had a decent operating profit in 2008 of about 2.6% (using these same assumptions). Growth and scale have not been able to overcome these headwinds; namely fuel cost increases (article: Amazon is Getting Gassed), initiation of on-line sales taxes, increased competition from brick & mortar price matching, fulfillment center expansion (article: Amazon's 5 Key Metrics) and required incentives for "stickiness" (free shipping, free digital streaming).
Figure 2: Amazon's Direct Retail Segment split out into Prime & Non-Prime Sub-segment Operating Margins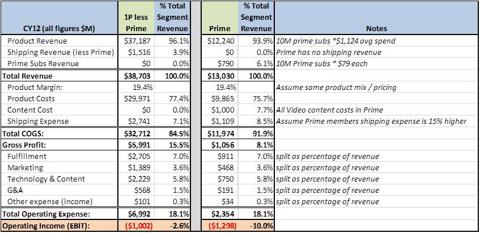 Prime Operating Margin
This analysis determined that Prime had an operating margin of -10% in 2012 versus non-Prime Direct Retail Segment of -2.6%. Amazon Prime was the most significant contributor to Amazon's net loss in 2012.
Amazon uses Prime as a tool to create customer "stickiness" in order to gain market share with the hopes that scale will eventually drive increased profitability. Unless Amazon makes significant changes to the Prime pricing, cost or fee structure, it may never turn profitable on its own.
The assumption that has the biggest impact is that product margin prior to shipping and content costs are the same for Prime members as they are for non-Prime direct purchases. Prime members do spend more per year, and it is possible they are less cost conscious. It is reasonable to assume that Prime members will be more loyal to Amazon and potentially comparison shop less as they want to maximize the utility of their membership. I have read many complains on various sites that Amazon is charging more for an item if the customer is logged in as a Prime member vs. anomalously browsing (or on a different computer). While this is not validated, web sites do this type of customer profiling all the time and alter prices on the fly based upon many factors. If this is occurring, Amazon could potentially make money on prime (if product margin was 1,000 basis points higher), but seeing that Amazon has staked their reputation on customer service and low everyday prices, this could lead to devastating customer fallout.
Implications on Valuation
Based on the reaction to prior quarter results it appears that both analysts and investors have already made the shift from "overall revenue growth driving operating efficiency" to "high quality segment revenue growth driving higher margins." The precipitous drop in Amazon overall growth has not made investors nervous over the past year as it once would. Instead they have focused on the fast growth of Services Revenues (3P & AWS) and its impact on gross margin and its potential impact on operating margin. This is where the danger lies for Amazon longs: Service Revenue is too small at just 15% of the company to get consolidated operating margin where it needs to be on its own for a very long time. Based on the expected growth of each segment, it will take until at least 2018 to reach operating margin levels that justify today's stock price (~$265). I doubt investors will wait that long once this is clear.
Conclusion
Investors and analysts have moved on from the consolidated top line growth story at Amazon and turned their focus to margin expansion, betting that Amazon Services revenue will continue its torrid growth pace to overcome the negative margin drag from its Direct Retail Segment. Amazon Prime has been the single biggest contributing factor to this drag, and will only get worse as it continues to expand its membership at a fast pace. Amazon bears have been looking for the catalyst to bring its valuation back down to earth, and I believe any type of slowing in growth in either Third-Party Sales or Amazon Web Services will be that event. That catalyst could be near as the competitive landscape in both of these segments has heated up to a boiling level. eBay is taking share back in e-commerce and Amazon has had to lower prices for its AWS services seven times this year alone to attempt to maintain its growth trajectory.
Disclosure: I am short AMZN. I wrote this article myself, and it expresses my own opinions. I am not receiving compensation for it (other than from Seeking Alpha). I have no business relationship with any company whose stock is mentioned in this article.