Wednesday was quite a day for 3D printing stocks. 3D Systems (NYSE:DDD) and Stratasys (NASDAQ:SSYS) rose 5% and 7% respectively. But the winner of the day was The ExOne Company (NASDAQ:XONE), which rose 14% and made new all time highs. The gains follow a bottoming process of the two bigger stocks, as Stratasys bottomed in early March, and 3D Systems in mid-March. ExOne was basing at the time, and showing signs of accumulation, as up days were followed by higher volume.
ExOne's CEO Kent Rockwell was interviewed by Reuters, and said he expects the company to exceed 50% gross margin within three years. He also said the company intends to open three production service centers as part of expansion in emerging markets of South America and Asia. There is already a production service center in Japan and Germany, and they intend to open another one in Japan this year. The company is aiming to achieve annual revenue of $100 million within three years, up substantially from 2012 revenue of $28.7 million.
ExOne forecast gross margin in 42% to 46% for 2013. Stratasys and 3D Systems have gross margins slightly above 51%.
The company intends to focus further on the industrial markets, and currently has no plans to enter the consumer market.
The strong move in 3D printing stocks came after a bullish forecast by Lux Research. Lux expects that the 3D printing market could soar to $8.4 billion in sales by 2025, from $777 million in 2012, an annual pace of 18%. The auto, aerospace and medical industries are seen taking an 84% share of the market. The focus of the ExOne on industrial markets makes sense, since the consumer market will amount to only a small part of the overall 3D printing market. ExOne has some big names among its industrial clients: BMW AG, Ford Motor (NYSE:F), Caterpillar (NYSE:CAT) and Boeing (NYSE:BA).
Earnings highlights
ExOne reported record quarterly sales of $12.7 million, and sold eight machines in the quarter. Full year revenue was $28.7 million, up 87.6% from 2011. The company recorded a net loss of $10.2 million, compared with a net loss of $8 million in 2011. The company expects revenue to increase in 65% to 80% range in 2013. That level of growth would put the full year revenue in $48 to $52 million range. Roughly two thirds of revenue is expected to be in the latter half of the year. The expectation of achieving revenue of $100 million within three years suggests that the company is still at its very early stages of growth.
Earnings consensus estimates trend is up in the last 30 days, from 17 cents to 28 cents for this year, and from 65 cents to 78 cents for 2014.
Group movement
After a steep selloff 3D Systems and Stratasys experienced recently, the price action of the group as a whole improved lately. ExOne is the leader of the pack price-wise, making new all time highs. Stratasys bottomed two weeks ahead of 3D Systems, and rallied above its 50 day moving average line. Stratasys got a boost from an analyst upgrade on Tuesday, as Canaccord started coverage with an $82 price target. 3D Systems is still below the 50 day moving average line, but is also behaving constructively, as it made a higher high, and in line with my views in my previous article on 3D Systems. ExOne will certainly be largely impacted and dependent on the price moves of 3D Systems and Stratasys.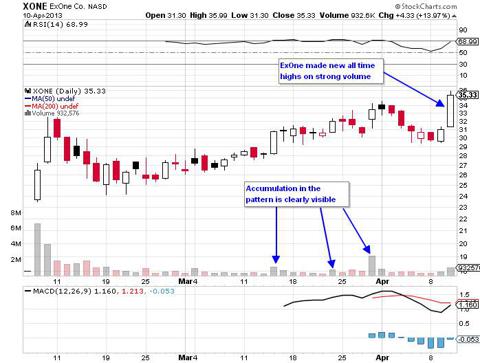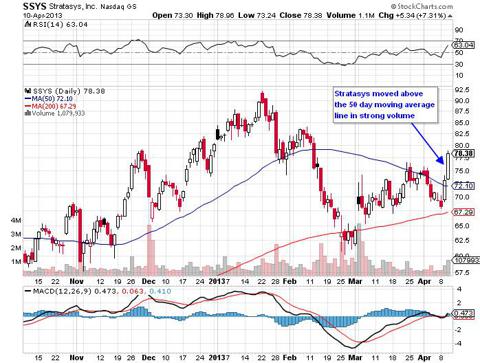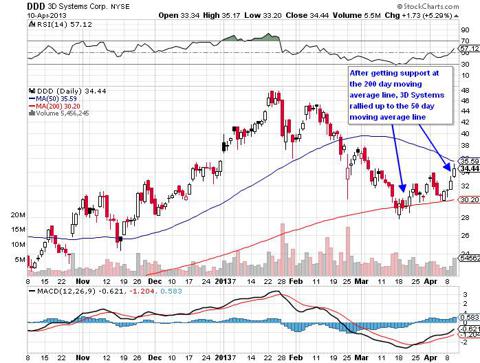 Source: Stockcharts
Conclusion
The ExOne Company is in its early stages of growth. The company will achieve substantial revenue growth and expects to expand gross profit margins. It is focusing on the industrial market rather than on the consumer segment. With an expected annual growth rate of 18% for more than ten years, the 3D printing market is in early stages of growth, and other companies are also benefiting from the trend. Price action is very positive at the moment, and the group movement and the general market environment are favorable.
Disclosure: I am long XONE. I wrote this article myself, and it expresses my own opinions. I am not receiving compensation for it (other than from Seeking Alpha). I have no business relationship with any company whose stock is mentioned in this article.