Since September 6, 2011, when gold (NYSEARCA:GLD) hit its all time nominal high of $1,921.05 numerous institutions and market players have called for the end of the bull run in gold. Even with the ongoing banking crisis in Cyprus, the looming threats of banking crises in other parts of the Eurozone including Italy, Spain, and Slovenia, and expansionary monetary policies in the United States, the United Kingdom, Japan, and elsewhere, the gold price has been stagnant to down as of late.
Shouldn't this solidify the bearish case?
After all if there is bullish news for the gold price and the price falls, then it is easy for investors to jump to the conclusion that the rise in gold prices is over.
Of course connecting price action with news or "events" and drawing conclusions from the price action that follows such events is something anybody can do: such elementary thinking is "herd" thinking, and it tends to lead to losses. If we take a step back and observe gold's price action over the intermediate term as well as gold's institutional sentiment it becomes clear that there is a very bullish scenario in place for gold that is in line with the aforementioned bullish fundamental facts.
Gold Fundamentals Are Improving
Since the peak in September, 2011 the fundamentals for the price of gold have been improving. Here are just a few points.
A: The M2 money supply has increased from $9.5 trillion to $10.4 trillion: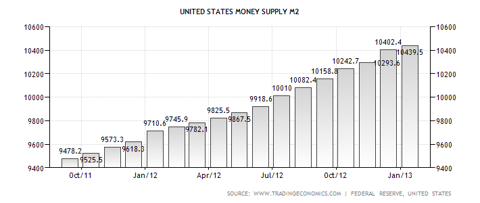 Click to enlarge
As money supply increases so does the value of gold, as gold is a measure of the dollar's purchasing power. Money supply should continue to increase longer term so long as the Federal Reserve increases the monetary base at a rate of $85 billion per month. While these increases in the monetary base and in the M2 money supply have not yet been reflected in the CPI economic law suggests that they eventually will.
B: Central bank demand for gold has been rising.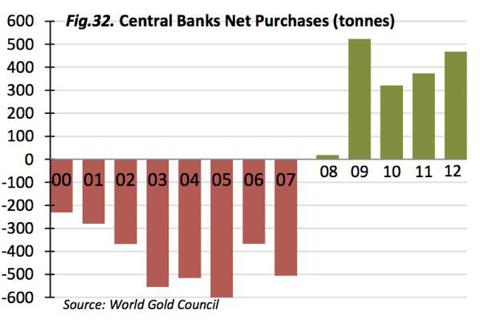 Click to enlarge
While for the first part of the 21st century central banks were net sellers of gold, since 2008 this has changed. The pullback in gold prices in 2011 has created additional demand in 2012, and there are already reports that central bank demand remains high in 2013 with buying coming from South Korea, Bosnia, and Kazakhstan.
C: The banking crisis in Cyprus has shown the world that money in the bank isn't necessarily safe. There are many alternatives including money under your mattress, (recently) Bitcoin, or the time-tested choice: gold. The threats of additional banking crises in other countries, particularly in Europe, will force people to begin to hold more assets in a tangible form outside of the banking system (see my article Counter-Party Risk Diversification), and gold and gold ETFs should be primary beneficiaries.
Despite all of these drivers for the value of gold the price has not reacted as one would expect. However a brief look at the technical picture suggests that these fundamental facts will soon be reflected by a higher gold price.
Technical Picture
The gold price is consolidating: while it is not making new highs it is making successively higher lows.
What follows is a gold chart going back to April, 2010.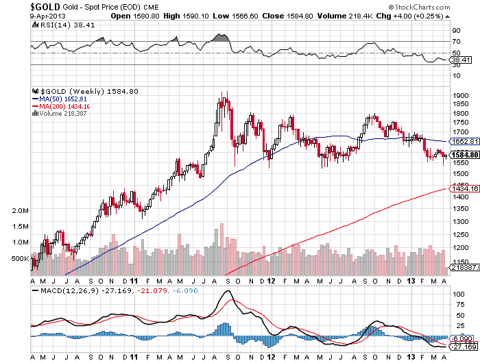 Click to enlarge
From the beginning of the chart until the September, 2011 peak the price of gold rose steadily. There is no sign of a bubble or a mania. It is true that there was a parabolic price move from July, 2011 through September, 2011 during which the price of gold spiked from about $1,500 to $1,920, or about 30%, but this is no sign of the end of the bull run in gold: the price of gold merely rose too far too fast and was subsequently in need of a correction.
Since then the price of gold has been consolidating, with each downtrend being broken and a shallower one replacing it. Furthermore there has been a series of higher lows being made. The true low in this consolidation period was made December 29, 2011 at $1,523.95. Successive higher lows have occurred on May 16th, 2012 at $1,526.95, and again just recently on April 4th, 2013 at $1,539.85. Each time the gold price has seen a massive reversal to the upside, which makes it clear that there is a committed buyer stepping in each time. The fact that the recent reversal took place without the $1,523.95 level being taken out and was followed by a massive move upwards suggests to me that this critical support level remains intact. I should note that I am open to changing my opinion on short to intermediate term gold prices should the gold price break below this level materially for a significant period of time.
The Sentiment Picture
Sentiment in the gold market is terrible. Several financial institutions have become more bearish on gold very recently despite the fact that falling prices should draw prudent investors into the yellow metal. Here are a few examples of recent bearish price revisions.
Goldman Sachs, who was bullish in 2011 when a bearish stance was appropriate, has turned bearish as recently as December, 2012. According to TrustableGold, who keeps track of the gold price targets of several investment banks and brokerage houses, Goldman Sachs expects a stronger economy and higher real interest rates to act as mitigating forces stymieing gold demand. Less than three months earlier Goldman was neutral to slightly bullish (based on the then gold price in the $1700s). Just yesterday (April 10, 2013), according to Bloomberg, Goldman Sachs put out another note in which it lowered its price target again. An analyst cites the fact that supposedly bullish news for gold has not pushed prices higher as a reason that gold prices will head lower.
Societe Generale believes that there is a bubble in the gold price. It, too, cites a recovering global economy, which it believes will lead to a reduction in stimulus measures. It appears to be a bit late, having come out with the call on March 21 of this year. It also neglects to account for the fact that for the first several years of the gold bull market there were no stimulus packages, and interest rates in the United States were much higher than they currently are. Such an observation leads to the conclusion that stimulus measures such as quantitative easing and the "zero interest rate policy" are not prerequisites for a rising gold price.
Other notable bearish (or less bullish) price adjustments from large institutions include HSBC, who sees the long term price at $1,500, Bank of America/Merrill Lynch, who is still bullish but less aggressive in its upward price target, and Credit Suisse, who seems to be following Goldman Sachs in its bearish price adjustments (in each of the two instances that Goldman Sachs lowered its price target since December, 2012 (excluding yesterday's) Credit Suisse has followed within a few weeks with similar numbers). The only recent bullish call seems to be Morgan Stanley's in January, and they only give predictions through 2013.
Sentiment in the gold market is so bad that even many of the long term bulls are calling for intermediate bearish or flat price action. Jim Rogers, for instance, has said that gold prices have risen for 12 years straight, and that it is time for a significant correction. Of course he neglects to mention that a "year" measured from January 1st to December 31st is arbitrary, and that there have been several 12 month time periods during which the gold price has fallen. Furthermore gold has seen several substantial price corrections, such as that from September, 2011 through December, 2011, or that seen during the financial panic during 2008. Stephen Leeb has recently told KingWorldNews that he believes that gold will trade in a range for the foreseeable future, despite the fact that long term he is incredibly bullish.
Conclusion
There are bullish fundamentals for gold, and furthermore, the bullish fundamentals appear to be strengthening month by month. However the short-term price movements in gold has created a disconnect between these bullish fundamentals and market sentiment. Thus the price of gold is at the lower end of its nearly two-year consolidation range.
This is not bearish. That this is the case is corroborated by the fact that gold has been making higher lows, and its downtrends have become more shallow as the consolidation period continues. This bullish technical picture has been developing despite the fact that the market has been bombarded with negative institutional sentiment. There has even been negative sentiment expressed by some of gold's strongest proponents.
That being said I think that gold bears are in trouble with gold trading at current levels. It is difficult to say when exactly the price will begin to move significantly higher, but I am fairly confident that there is very limited downside risk.
Disclosure: I have no positions in any stocks mentioned, and no plans to initiate any positions within the next 72 hours. I wrote this article myself, and it expresses my own opinions. I am not receiving compensation for it (other than from Seeking Alpha). I have no business relationship with any company whose stock is mentioned in this article.
Additional disclosure: I own various gold coins (American Eagles and South African Krugerrands mostly).