By Chris Kimble
Advisor Perspectives welcomes guest contributions. The views presented here do not necessarily represent those of Advisor Perspectives.
---
Natural Gas recently broke above its multi-year falling channel and above its 50% Fibonacci retracement line and now is breaking above another resistance line at (2) in the chart below.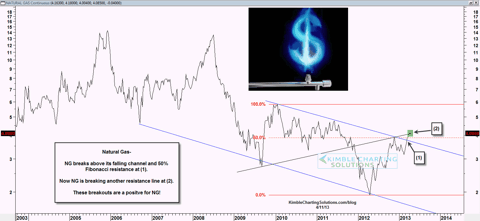 Click to enlarge
(Click to enlarge)
Can "Inverse Head & Shoulders" be powerful and rewarding? I shared the chart below with Sector Commodity Sentiment members last year.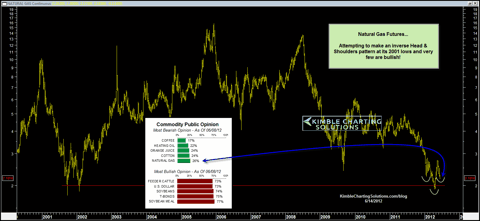 Click to enlarge
(Click to enlarge)
This chart reflected a bullish inverse head & shoulders pattern with only very few investors bullish in June of 2012 (see post here). The Power of the Pattern suggested that a powerful bullish set up was at hand. The result? Natural Gas is up 89% since the posting!
If you are an investor looking for research that can help spot favorable patterns when sentiment is at extremes, check out our Sector/Commodity Sentiment research report that is available by subscription. (Sector report here).