We have read articles and news reports with very biased information on BlackBerry (NASDAQ:BBRY) recently, but I feel we have reached a new low. Yesterday, we saw BlackBerry's share price fall nearly 8% on negative news. This news appeared to be one-sided and in a rare occurrence BlackBerry felt it necessary to respond in an email release.
Making decisions over the long term is difficult, when there is much "noise" distracting from the core issues. While there is value in following reports on a regular basis, it is important to differentiate between the traders and investors. What we have witnessed this week is purely trading activity.
Negative Statements
ITG Research stated yesterday that "Z10 sales appear very weak" and Pacific Crest's James Faucette reiterated an underperform rating and doubted that sales are enough to meet the high expectations of the Z10. Pacific Crest has been very bearish from the beginning even estimating sales would be 300,000 at best. Z10 sales were one million units.
Detwiler Fenton also stated yesterday that "the return rate exceeds the sale rate for the Z10." Seeking Alpha contributor Michael Collins wrote an article specifically addressing this comment, and provides a unique British perspective.
What I find interesting is these are smaller firms releasing information without much substance. There is very little information if any to support their claims. BlackBerry does not usually comment on these releases, but took the unusual step to release a statement via email denying Detwiler Fenton's assertions.
"BlackBerry wishes to respond to media coverage today regarding speculation that there have been abnormally high levels of returns of BlackBerry Z10 devices. This is absolutely false. Our data shows that return rates for BlackBerry Z10 devices both in the U.S. and on a global basis are in line with or better than our expectations and are consistent with return rates for other premium smartphones in the market today."
Options
The weekly options expiring April 12, 2013, had increased activity yesterday. The share price fell nearly 8% with an option put volume of 75,386. This equates to approximately 7.5 million shares being controlled by the put volume for the day. With a float of 485 million shares that implies 1.5% of the shares. The option activity is listed below current as of Friday morning before market open.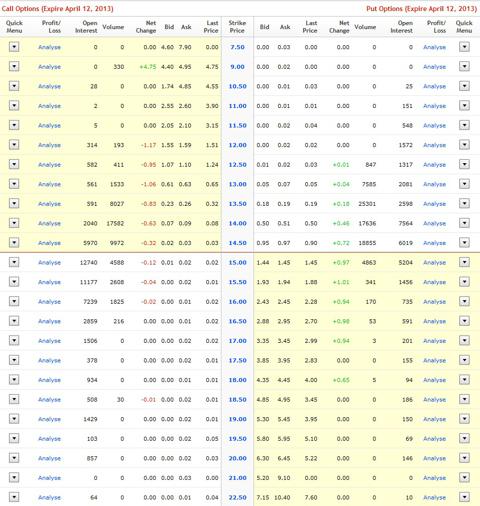 Click to enlarge
(Click to enlarge)
Scotia iTrade
To get an appreciation of the increased volume in options trading for BlackBerry, it is helpful to compare the previous week's volume. The options were weekly puts at the money comparing April 5th with April 12th contracts. The April 5th put volume was around 1,000 option contracts, which was fairly normal. On April 11th, we witnessed an increase in activity of at least 20x plus.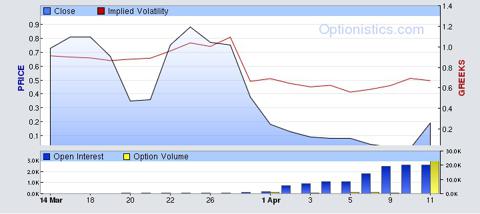 Click to enlarge
(Click to enlarge)
$13.50 strike weekly put April 12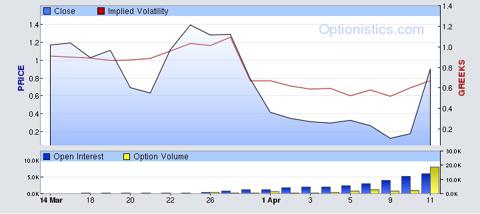 Click to enlarge
(Click to enlarge)
$14.50 strike weekly put April 5
Timing
The timing of this increased activity is concerning as there is nothing material happening currently. The Z10 has been launched in most major markets and we are waiting the launch of the Q10 in two weeks. This technically is a quiet time as noted by the decreased share volume (non option trading) for the past week. At the same time, smaller boutique firms have come out with negative releases without quantitative data that was readily available.
I would anticipate today will be a volatile day in trading as the options expire at the market close. For the investor with limited knowledge in options trading and I do not profess to be an expert in this area, it is important to note that these contracts provide leverage and the profits obtained can be over 100% within 24 hours.
Keep moving
With all this activity what does this mean for the long-term investor? Nothing, this is not material to any long-term investing decisions either bullish or bearish. This appears clear to me that it is solely for traders to quickly turn a profit.
In an effort to bring normalcy to the investing process, I have included a recent analyst report. Gus Papageorgiou, MBA, CFA (Scotia Capital Inc. - Canada) has issued the following analyst report current as of April 8th 2013. In following Mr. Papageorgiou for some time, I have found his reports to be unbiased.
We reiterate our Sector Outperform Rating on BlackBerry. Q1 break-even guidance seems very pessimistic: Although management guided to a break-even EPS number for Q1, based on our estimates of 3.6M BB 10 devices in Q1 that scenario seems pessimistic.

Q10 launch should kick in big upgrade cycle: Roughly 55% of the 1M Z10's sold in Q4 went to consumers that came from other platforms. We believe the die-hard BlackBerry fans are loyal to QWERTY devices and the Q10 should see a rapid uptake amongst the existing base.

U.S. Launch going well - which means ASPs should hold in: After roughly 2 weeks of availability in the U.S., we believe the Z10 is doing well. In addition, sentiment towards the brand seems to be improving. We also believe the Q10 launch in the U.S. will also go very well.

Sector Outperform: We believe the Street is underestimating the margins on the BB10 line up and expect EPS to come in far ahead of consensus for both Q1 and the full fiscal year.
I have previously done store checks and compiled data that illustrates that there do not appear to be an adverse acceptance of the devices. The results are available from my last article.
I cannot see the share price falling significantly lower due to the option put contracts expiring tomorrow and this will likely result in a share price increase. This would be a good entry point for the bullish investor. Another opportunity is with option calls for next week's contracts, they are presently discounted 50% and if the share price returns to its prior day support level, it would result in a nice profit. Of course, this would depend on how much intrinsic value is left. For an extra margin of safety, the call options for May 3rd would allow some upside capture of the Q10 release if successful and on time.
The next dates that should effect the share price significantly are the end of April for the Q10 release, end of May/beginning of June for the U.S. Q10 release and the end of June for the fiscal Q1 results.
Regular Seeking Alpha readers of my articles have left me many welcomed comments and personal emails with requests, and the one request that comes up often is an article on the corporate environment with the new BlackBerry Enterprise Server BES10. I will be releasing an article shortly on this subject and followers will be notified.
Disclosure: I am long BBRY. I wrote this article myself, and it expresses my own opinions. I am not receiving compensation for it (other than from Seeking Alpha). I have no business relationship with any company whose stock is mentioned in this article.