The rich stream of Niobrara-related news has been primarily related to several horizontal plays in the Rockies which target oil. Recently, alongside the well-established areas such as JD Niobrara, a major new horizontal Niobrara play has been quietly emerging in the Piceance Basin of Western Colorado. Unlike its sister plays which are oil-driven, this play targets natural gas.
WPX Energy's Discovery Well Is Flowing Strong
In a special press release issued earlier this week, WPX Energy (NYSE:WPX) provided an update on what the company believes to be its "major discovery" in the Niobrara (Lower Mancos) Shale in the Piceance Basin. WPX announced that its first horizontal test well located in Garfield County produced over 1 Bcf of natural gas in just over 100 days of operation. The result is truly impressive and is similar to production rates observed in sweet spot locations of the Haynesville. Most importantly, the well is continuing to produce at a very strong rate after 100 days, which re-confirms significant recovery potential.
The discovery well, which was made public in January, initially produced 16 MMcf/d at a very high flowing pressure of 7,300 psi. Subsequently, the well was "choked back substantially" and registered an average production rate of 12 MMcf/d during its first 30 days, 10.6 MMcf/d during its first 60-days, and almost 10 MMcf/d during its first 90 days. The company commented last month that the well may have EUR in the 7-10 Bcf range. Given the continued strong flow rate, that preliminary estimate may be revised even higher.
WPX stated in its press release:
This well is demonstrating tremendous strength. It's a large discovery that has significant upside potential for creating shareholder value.
Last month, WPX commented that the well indicated 20-30 Tcf resource potential on the company's 180,000 acres in the play. According to WPX, the Niobrara and Mancos tests showed "hydrocarbon saturation across tremendous thickness in a highly over-pressurized environment… The potential of this new resource is huge…"
WPX's resource estimate is indeed quite staggering and, if proven up by further exploration, may be transformational for WPX (as well as other operators in the Basin).
Natural gas drilling in the Piceance has targeted predominantly the Williams Fork (Mesa Verde) formation which is generally located at depths of 6,000-9,000 feet. WPX is one of the largest Mesa Verde producers and controls extensive operating infrastructure in the area. The Niobrara and Mancos shales are generally located at depths of 10,000-13,000 feet. Over time, WPX believes that its Niobrara discovery has the potential to more than double its proved, probable and possible (3P) reserves, which were approximately 18 trillion cubic feet at year-end 2012. Given WPX's relatively small $3.5 billion market capitalization, the Niobrara's success may have a major impact on the company's stock price. In the Piceance Basin, WPX holds an average working interest of 66% in the Niobrara and Mancos shales.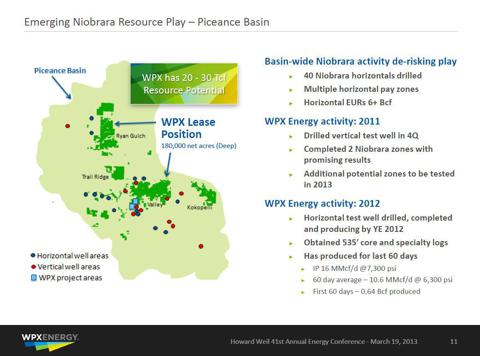 (Source: WPX Energy March 19, 2013 Investor Presentation)
Testing Activity To Accelerate
WPX has announced plans to drill a total of four horizontal Niobrara wells in 2013 (increased from two wells planned initially). The drilling plan is designed to prove up adjacent acreage and test the repeatability of the play on additional acreage the company owns. WPX spudded its second Niobrara well last week and expects to begin completion activities in June. WPX already has extensive processing and takeaway capacity under contract in the Basin to support Niobrara production.
Encana Corp. (NYSE:ECA) is another major operator in the Piceance. Several years ago, Encana drilled successful Niobrara-Mancos tests in the area. In fact, Encana's first two Niobrara tests in Garfield County, the Orchard Unit 20-12H and Satterfield Federal 10-3H, have been on production for over three years.
The Orchard Unit 20-12H was drilled to a true vertical depth of 8,531' and completed with 18 slick water frac stages in a ~5,000' lateral. The well tested in 24 hours with 7.5 MMcf/d of 1,170-Btu gas at a flowing pressure of 3,100 psi on a 0.22" choke.
The Satterfield Federal 10-3H was drilled to a true vertical depth of 8,943' and completed with 20 slick water frac stages in a ~5,000' lateral. The well tested in 24 hours with 6.3 MMcf/d of 1,170-Btu gas at a flowing pressure of 2,250 psi on a 0.375" choke.
Encana's Orchard Unit 20-12H and Satterfield Federal 10-3H wells had shallower depths than WPX's test that was drilled to total vertical depth of 10,200 feet. This may explain the higher flowing pressure and IP rate demonstrated by WPX's well (in general, the formation becomes deeper and pressures go up as one moves east).
Encana's most recent presentation has a new slide on Piceance that suggests that the company's 2013 activity has "lease retention and liquids rich test wells planned for Niobrara." Encana's reference to the liquids-rich target is very interesting.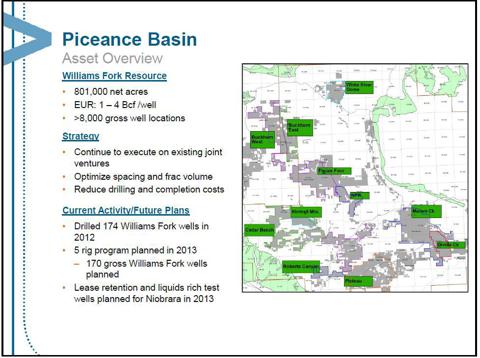 (Source: Encana Corporation April 2013 Investor Presentation)
Other operators are also likely to accelerate testing activity in the play. For example, Dejour Energy's March 21 press release indicates that "a Texas-based E&P company is currently testing a 4,600' horizontal leg of an 11,700' deep Mancos well" in the same area. (That Texas-based company is privately held Ursa Resources.)
The Play Overview
My earlier note "Niobrara Shale: Will Major Recent Discovery Translate To A Major Source Of Gas Supply?" provides a detailed discussion of WPX's discovery well results and testing activity in the Piceance Niobrara to date (which includes over 40 horizontal and vertical wells). It also provides an illustration of technical difficulties that operators may encounter when drilling in the Niobrara. I also recommend the comments section to that article which contains valuable insights on the play from readers.
WPX's Recent Success May Trigger A Wave Of Fresh Leasing Activity In The Piceance
The Piceance Basin has for many years been a very active natural gas province and opportunities for new leasing may be scarce. However, drilling activity has primarily targeted the Williams Fork formation which is shallower than the Niobrara. As a result, deep mineral rights may not be leased up/secured to the same degree as the shallower rights (Williams Fork and higher). Opportunities may exist for new operators and financial sponsors to pursue the Niobrara play. The "lease retention" phrase in Encana's slide presentation hints to that fact. However, existing operators, such as WPX and Encana, who control surface infrastructure and have well established operations in the area will have major advantages over new entrants.
Conclusions
While the Piceance Basin Niobrara play is still in a very early stage of evaluation and delineation, the very impressive early test results and confident tenor of commentary from WPX suggest that investors should pay close attention to this potentially economically competitive and sizeable play.
The Niobrara may add a new major dimension to development activity in the Piceance and turn around the declining trend in drilling in the area that has been caused by the weakened natural gas prices.
Based on operators' comments, the geology of the play appears complex and may differ from area to area in terms of depth, incline, pressure gradient, and liquids content. Similar to other shales, acreage productivity may vary widely from one part of the play to another.
The play may have both liquids-rich (super-rich?) and dry gas windows.
Which E&P Companies Stand To Benefit?
In addition to WPX Energy and Encana, several other E&P operators have strong exposure to the Piceance Basin and may benefit from the Niobrara/Mancos play's potential success. Those include:
Linn Energy (LINE) (Linn's Piceance exposure was substantially increased as a result of the recent Berry Petroleum acquisition)
XTO/Exxon Mobil (NYSE:XOM)
Occidental Petroleum (NYSE:OXY)
Marathon Oil (NYSE:MRO)
Bill Barrett (NYSE:BBG)
Examples of small-capitalization E&P companies with Piceance assets include:
Dejour Energy (DEJ) (Dejour has over 7,500 net acres of land prospective for Niobrara-Mancos in the Piceance. The WPX well is situated between Dejour's Kokopelli and Roan Creek leaseholds).
Par Petroleum (Par is the successor entity of Delta Petroleum following its emergence from bankruptcy. Par's primary asset is a 33% interest in a non-operated Piceance JV with Laramie Energy II. Laramie is backed by major private equity funds. Par has just filed an S-1 registration statement for its equity).
Disclaimer: This article is not an investment recommendation. Any analysis presented herein is illustrative in nature, limited in scope, based on an incomplete set of information, and has limitations to its accuracy. This article is not meant to be relied upon for investment decisions. Please consult a qualified investment advisor. The information upon which this material is based was obtained from sources believed to be reliable, but has not been independently verified. Therefore, the author cannot guarantee its accuracy. Any opinions or estimates constitute the author's best judgment as of the date of publication, and are subject to change without notice.
Disclosure: I have no positions in any stocks mentioned, and no plans to initiate any positions within the next 72 hours. I wrote this article myself, and it expresses my own opinions. I am not receiving compensation for it (other than from Seeking Alpha). I have no business relationship with any company whose stock is mentioned in this article.