Not sure how to find a green shoots in this mess from US Steel (NYSE:X) - I am sure there is one somewhere along the lines of "it can't get worse". If traders follow the Alcoa (NYSE:AA) model from about 2 months ago, where they said just about everything bad one could ever imagine, AND priced a secondary - you should be buying X hand over fist. Because George Costanza runs the market (I am not being facetious).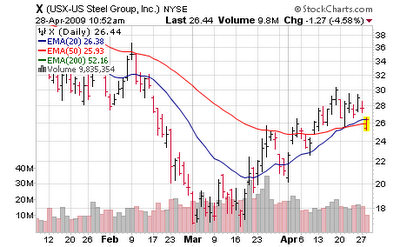 They lost $3.84 vs analysts expectations of $1.69, revenues fell 47% year over year. Order rates falling off a cliff, prices falling off a cliff. They don't see anything good happening in Q2 thus far (i.e. no magic words of "stabilization"). They cut the dividend and are negotiating on covenants.
On the bright side they are hitting their retirees health insurance - in 2 America's (corporate versus human) that's a great thing. Remember, we are vying for the "worker less" economy - that helps corporate profits. Aside from improving profits, the jobless can spend more time shopping (i.e. driving the US economy) - we all win under this scenario. So all in all this string of news can only mean one thing... recovery is imminent and green shoots are flowering throughout the steel industry. Buy US Steel in huge quantities because the market looks ahead and see the recovery that the CEO cannot.

Via AP
United States Steel Corp. posted its first quarterly loss in more than five years as the recession pinched demand for the metal, and the

c

ompany announced steps to cut costs and raise capital including deferring contributions for retiree health insurance.
The results were even worse than Wall Street had expected, and the company predicted another loss in the second quarter. Pittsburgh-based U.S. Steel said sales tumbled 47 percent to $2.75 billion from a record $5.2 billion a year earlier. The huge steel producer said Monday it lost $439 million, or $3.78 per share, in the first three months of the year. That compared with net income of $235 million, or $1.98 per share, a year earlier. Analysts expected a loss of $1.69 per share on sales of $3.14 billion, according to a survey by Thomson Reuters.
The company said it would

r

educe planned 2009 capital spending by $330 million, slashed the quarterly dividend to 5 cents per share from 30 cents per share to save $116 million a year, and reached agreement with the United Steelworkers to defer up to $170 million in required retiree health and life insurance trust contributions.
U.S. Steel also said it planned to offer 18 million shares of stock and $300 million in senior convertible notes

and use the proceeds to repay a $500 million three-year loan due next year. And it said lenders had agreed to eliminate financial covenants from a revolving credit facility and term loans. (that is probably the only real positive from this gusher of bad news; again I find it curious once the government got into the banks how all these covenants are being renegotiated left and right - I am sure just happenstance)
"We continue to face an extremely difficult global economic environment," said Chairman and Chief Executive John P. Surma. "We expect an operating loss in the second quarter as our order book remains at low levels" and plants continue to incur carrying costs. Surma said the troubled state of the automotive and construction industries made it difficult to forecast "beyond a very short horizon." (remember, only the stock market in its "Oracle like" nature can see beyond the short term - CEOs who live and breathe business every day have no idea compared to the "wisdom" of the market)
However, the company said it would get some relief in the second quarter from lower raw-materials costs, sales of carbon dioxide emissions allowances, and savings from consolidating European raw steel production at one plant in early April.
Industrywide, shipments of steel from U.S. mills fell 52.4 percent in February compared with the same month last year, according to an industry trade group. Mills have turned down production to less than half their capacity. (all together now folks: "it can't get worse" "the 2nd derivative improvements we will soon see - i.e. it will get worse less quickly - are worth at least 200 more S&P points")
Last week, Nucor Corp., another major U.S. steel maker, reported its first loss ever and forecast an even bigger loss for the second quarter. Nucor executives said conditions were the worst they had ever seen. Steel demand in the U.S. is "virtually non-existent," Nucor Chief Executive Officer Dan DiMicco said after his company announced the company's first quarterly loss last week. (again repeat after me: "it can't get worse than the worst they had ever seen - and glimmers of hope are emerging via green shoots")
Via Reuters
"Certainly the share issuance is a dilutive factor," said Luke Folta, analyst at Longbow Research. "With the earnings estimates that were out there, certainly no one had a high level of confidence in the numbers. People had to somewhat expect the dividend cut."
"We anticipate that structural change at the firm may be necessary, such as the sale of some assets or the possible permanent closure of some facilities," said Tony Rizzuto of Dahlman Rose & Co. (good, get rid of those pesky humans - they just cost money)
Via Bloomberg
"Steel industry conditions are very bleak," Chuck Bradford, a metals analyst at Bradford Research Inc., said today in a telephone interview. "Whenever you have to cut back on operations, a lot of the costs continue, so your costs go up dramatically on a per-unit basis."
Moody's downgraded U.S. Steel's senior unsecured debt to Ba3, three levels below investment grade, from Baa3, the lowest investment-grade rating. "We do not see market conditions improving in any meaningful way and do not expect U.S. Steel's performance for the balance of 2009 to materially improve over the first quarter, although actions being taken to reduce costs could contribute to marginal improvement in the overall cost position," Moody's said.
The average price of hot-rolled steel sheet, the benchmark product used in cars and appliances, fell by more than half to $471 a ton in March from a record in July, according to Purchasing Magazine.
To end... I must once more remind you... CEOs do not know their own business; the stock market knows better so please ignore quotes such as this
"We sure hope things improve, but we don't have anything today that tells us that," Chief Executive Officer John Surma told Wall Street analysts on a conference call. "No one really has much visibility."
No one, but stock market speculators Mr. Surma.
Disclosure:No position