On Thursday, April 11th, Proxy Advisor ISS stepped into the ring and requested that "Occidental Petroleum (NYSE:OXY) shareholders not re-elect Executive Chairman Ray Irani or lead director Aziz Syriani, citing a failure to manage the company's search for a new CEO."
The ISS recommendation follows rising shareholder discontent about possible management changes and comes despite OXY lobbying ISS to support the board. In the wake of ISS's recommendation, I wanted to examine several of the catalysts behind my decision to establish a position in Occidental Petroleum.
Shares of OXY, which currently possess a market cap of $67.83 billion, a P/E ratio of 14.75 and a PEG ratio of 2.47, settled at $84.20/share on Wednesday. One of the things to point out for growth investors is the fact that shares of OXY are actually 7.69% higher since January 1st of this year. For those of you who may be considering a position in Occidental Petroleum, from an income perspective, shares of OXY currently possess a yield of 3.20% ($2.56) and a fairly moderate payout ratio of 38.00%.
OXY data by YCharts
In my opinion, there are two catalysts to consider when it comes to Occidental Petroleum, and they are the recent support Executive Chairman Ray Irani has generated in the wake of questions surrounding the potential management change and the company's dividend behavior over the last five years fortifying its position as a solid income play.
Rallying Behind Ray Irani: Over the last several days, there has been some confusion in terms of what to do when it comes to Occidental Petroleum's current Executive Chairman Ray Irani. On one hand, Matrix Asset Advisors and First Pacific have both publicly noted that they would be against any ouster of the company's current CEO. On the other hand, Proxy Advisor ISS noted today that, "shareholders shouldn't re-elect Executive Chairman Ray Irani or independent lead director Aziz Syriani at an annual meeting next month, citing a failure to manage the oil company's search for a new chief executive."
Although both sides are making a valid point, I think Mr. Irani is managing the company's priorities quite well. Instead of focusing on finding his successor, Mr. Irani is more concerned with the operations management as any good Chairman should be. Coming off a year in which shares fell 20.72% and questions surrounding the company's ability to grow increased, I think the company will have ample time to worry about Mr. Irani's replacement when the time comes for him to step down.
5-Year Dividend Behavior: Since March 6, 2008, OXY has increased its dividend a total of six times by an average of $0.065 per increase each time. The total increase equates to $0.39/share or 156% over that period. From an income perspective, the company's current yield of 3.20% coupled with its payout ratio (currently 38.00%) and its continued annual increases could equate into a very viable income option for long-term investors.
According to an article examining the behavior and safety of Occidental's dividend, the research firm also examines company's dividend growth potential, which it deems as excellent.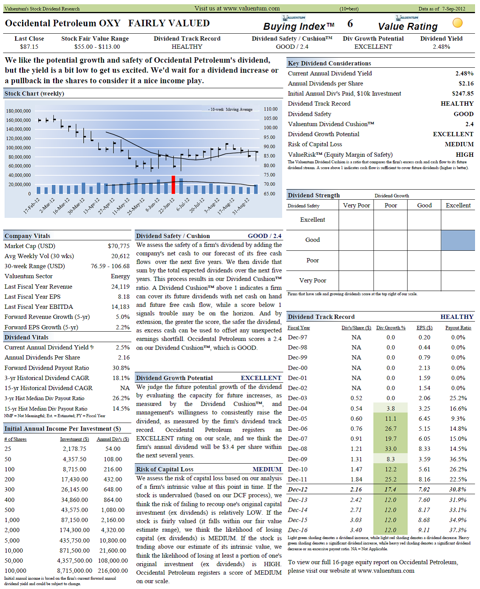 Conclusion: When it comes to those who may be looking to establish a long-term position in Occidental Petroleum, I'd continue to keep a watchful eye on any change in leadership in the coming months as well as the company's annual dividend growth.
Disclosure: I am long OXY. I wrote this article myself, and it expresses my own opinions. I am not receiving compensation for it (other than from Seeking Alpha). I have no business relationship with any company whose stock is mentioned in this article.