The investment environment after the financial crisis has been characterized by volatility and relatively higher complexity. The complexity comes from swift movement of money from one asset class to another resulting in significant potential losses if investors are not quick to react. At this juncture, with equities at record highs, it is time to reallocate capital to preserve gains and prevent capital erosion. This article discusses the investment strategy for the next three-six months.
I have discussed in my last article and several other recent articles the reason for believing that we might witness a significant correction in equities relatively soon. Before I discuss the investment strategy for the near term, I would like to mention that I am not bullish on U.S. Treasuries for the long term. The holding of Treasuries for the long term can be suicidal with government bonds having an extended bull market for 30 years. Going forward, Treasury yields will gradually trend up signaling a long-term bear market.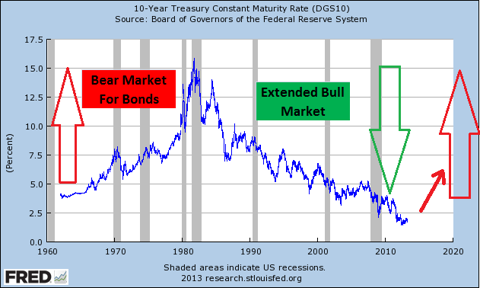 Investors will however have short-term opportunities to gain from Treasuries. In all probability, the next three-six months will be a good time to remain invested in Treasuries for gains as well as prevention of capital erosion. At the same time, with an expected decline in equities, cash can enjoy a near-term bull market.
Over the last one month, the 10-year Treasury bond yield has declined from a high of 2.06% to 1.8%. The 26 basis point decline in yields has been already an indication of movement of money from risky assets to relatively risk-free assets. Over the next few months, the "risk on" trade will decline significantly and the "risk off" trade will see bond yields declining further. I however don't expect the 10-year bond yields to go below its 2012 lows of 1.4%.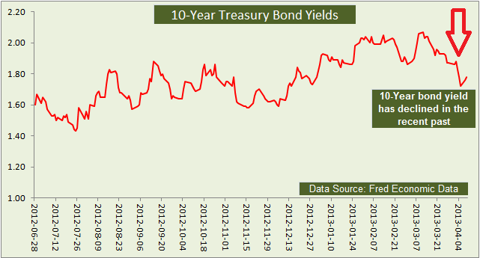 Therefore, investors might not be looking at a huge margin of gain by investing in Treasuries in the next 3-6 months. It is however more important to ensure capital erosion than think of significant gains at a time when risky asset classes are expected to decline.
The recent strength in the dollar is also in sync with my argument of a correction in equities and a rally in Treasuries. In general, a strong dollar is a sign of contracting global liquidity and results in a correction in risky asset classes. I do expect the dollar to exhibit further strength in the near term leading to a correction in equities, commodities and gold.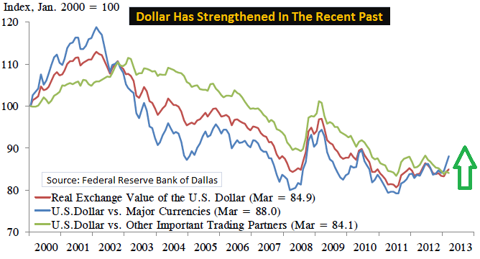 The current trend can be considered to be a short period of deflation trade and this point is validated by the recent trend in precious metals, agricultural commodities, energy and industrial metals.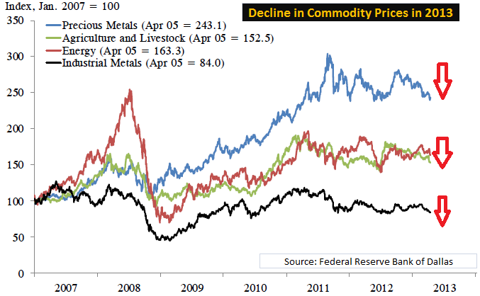 The movement in commodities, Treasury and the dollar combined do point to caution. Amidst all these, equities have surged to an all-time high. Clearly, there are reasons to be concerned and to consider booking the gains in equities. The next big opportunity for buying equities might come only towards the end of the year.
For now, the following investments are an attractive option besides holding on to cash.
Vanguard Long-Term Corporate Bond ETF (NASDAQ:VCLT) - I am suggesting the VCLT as I believe that quality corporate bonds are a relatively better risk-free investment compared with government bonds (especially long term). The ETF seeks to provide a high and sustainable level of current income through investment in high-quality (investment-grade) corporate bonds.
Vanguard Short-Term Government Bond ETF (NASDAQ:VGSH) - The ETF is attractive in the near t-term when risky asset classes have a high probability of witnessing a meaningful correction. The ETF seeks to provide current income with modest price fluctuation with investments in high-quality (investment-grade) U.S. government bonds (maintains a dollar-weighted average maturity of 1 to 3 years).
Disclosure: I have no positions in any stocks mentioned, and no plans to initiate any positions within the next 72 hours. I wrote this article myself, and it expresses my own opinions. I am not receiving compensation for it (other than from Seeking Alpha). I have no business relationship with any company whose stock is mentioned in this article.