I had written sometime ago how Apple (NASDAQ:AAPL) has started to focus on the Indian smartphone market through a number of new initiatives. The Indian market for smartphones is quite small compared to the developed markets due to the low per capita income levels. Smartphones currently make up less than 10% of the total mobile market, which is very low even when compared to other countries like China. However, this low level of smartphone penetration means that the opportunity to grow is huge. Smartphones grew at an astounding ~75% rate in the 2nd half of 2012 according to research agency Cyber Media. Apple is making aggressive moves to capture the Indian market and has for the first time started a cashback war in India. I think this is a great move for Apple and remain positive on the stock.
How India's Mobile Market has fared in the last decade - Nokia loses dominance to Samsung and local players
Nokia (NYSE:NOK) has traditionally been a leader in the Indian mobile phone market losing significant market share to Samsung (OTC:SSNLF) and other local Indian companies such as Micromax, Spice, Lava, Karbonn and Xolo. Nokia failed to adapt to the changing trends in the Indian market. The company is now trying to make a strong comeback with its Lumia range of Windows 8 smartphones. Though Nokia is still the No.1 seller of mobile phones in India, its market share has come down from ~75% in 2005 to ~23% currently. More importantly, the company ranks No.4 in the smartphone category.
Table 1. India Mobile Handsets Market: CY 2012 versus CY 2011 (in terms of unit shipments)
Form Factor

Shipments

(CY 2011)

Shipments

(CY 2012)

Year-on-Year Growth, CY 2012 over CY 2011 (%)

Half Year-on-Half Year Growth, 2H 2012 over 1H 2012 (%)

Mobile Handsets

183.4

221.6

20.8%

16.4%

Featurephones

172.2

206.4

19.9%

11.3%

Smartphones

11.2

15.2

35.7%

75.2%
Source: CMR's India Mobile Handsets Market Review, CY 2012, March 2013 release
Table 2. India Mobile Handsets Market: Leading Players, CY 2012 (% of unit shipments)
Player

Rank - Overall

Share - Overall
(% of unit shipments)

Rank - Featurephones segment

Share - Featurephones segment
(% of unit shipments of featurephones)

Nokia

#1

21.8%

#1

22.5%

Samsung

#2

13.7%

#2

11.5%

Micromax

#3

6.6%

#3

6.5%
Why and what has Apple done in India over the last year
Apple never really paid much attention to the Indian market and it was hard to buy Apple products, given that there were only 2-3 distributors even in the major cities like Kolkata with a population of >15 million. The reason being Apple's revenue surging in the U.S. and Europe and it was finding hard to keep up with the demand. Focusing on the Indian market where smartphones unit sales are just ~17 million even today did not make sense. Now with competition in the smartphone increasing exponentially and growth slowing down, Apple has started to increase its marketing spend on the smaller but faster growing markets like India. These are the 4 major changes that Apple has made in India over the last year -
IT wholesalers - Apple has appointed two wholesalers: Redington India and Ingram Micro, to increase its reach into the Indian market, where distribution and logistics is a major challenge. One of the major reasons for Nokia's early success in the Indian market was its partnership with IT distributor HCL Infosystems. This successful partnership had propelled Nokia's market share in the Indian market to more than 70% in the middle of the last decade.
Selling iPhone through "EMIs" - India is a low income country and few people can afford iPhones (however, given India's over 1 billion population even that is a significant figure). A low initial price is essential to sell products in India where people simply don't have the money or financing to buy big ticket products. Apple has now started selling iPhones with long duration payment option with a low initial down payment.
Increasing its own marketing and sales force - Apple has increased its sales and marketing team to 150 from 30 about six months ago. While we think that this team is still quite small, the growth in numbers is an encouraging trend.
App billing in India rupees - India did not have an Apple App Store for a long time, which made it difficult for users to use the iPhones. Apple has now started billing apps in local currency, which allows Indian users to get same seamless use of Apple's App Store as other users.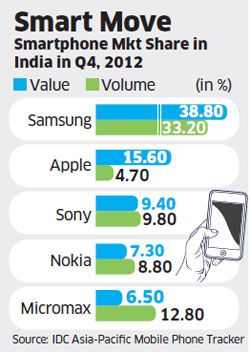 Apple's new "Cashback War"
Apple has already tasted success due to its changed strategy and is now the second largest smartphone seller in India in terms of revenue. Apple has continued to put pressure on its competitors by now selling its iconic iPhone with a heavy discount. Under a new scheme, which is being heavily advertised, Apple is selling its older version of iPhone at Rs 7,000 discount in exchange for a customer's old smartphone. According to dealers, Apple is incentivizing dealers by giving Rs 5000 debit note to cover up for the iPhone 4 discount. The rest of the discount is given by the dealer who makes up the difference by selling the older smartphone in India's vibrant second hand mobile phone market. Apple is still making significant profits even after this ~25% discount as it is helping in clearing the older iPhone 4 inventory. Sales under the scheme are seeing a huge response as customers who cannot afford the iPhone 5 are flocking to buy the iPhone 4 for under $400 (iPhone 5 costs almost $900). I think this has been a very smart move by Apple. This cashback scheme is being offered by top retailers in India and has already made Samsung respond back with its own cashback scheme.
iPhone 4 sales have trebled during the last five days over the preceding week, surpassing the demand for the iPhone 5 in India, as customers rushed to avail of the recently launched buyback scheme, said four large handset and electronics retailers. Apple is offering a discount of at least Rs 7,000 on the iPhone 4 in exchange for any smartphone. A senior official of a leading Apple premium reseller said the Cupertino-based company has decided to aggressively push the older model in India because it wants to position the two-year-old phone in the sub- Rs 20,000 segment, where brands like Samsung Galaxy, Sony Xperia, Nokia Lumia and BlackBerry are jostling for dominance.

The iPhone 4 costs Rs 26,500 in India, and the exchange scheme allows an existing smartphone user to buy the Apple model for less than Rs 20,000.
Samsung responds immediately by discounting its flagship tablet and smartphone products
Samsung, which is the current undisputed leader in the smartphone and tablet market in India, has responded quickly and aggressively by discounting its own top Note and Galaxy products. The company is offering a cashback, if customers buy the products through selected credit cards. Nokia, which is the other major player, has not done anything much as it is still in the process of rolling out the Lumia product range in the country.
Summary
I think that Wall Street has become unduly pessimistic about Apple despite there being no evidence of Apple being in bad shape. The brand recognition and trust that people put in Apple products is being underestimated in our opinion. In the new fast growing emerging market, status is an important differentiating factor which is not well understood by the U.S. based analysts. Apple and BlackBerry (NASDAQ:BBRY) products are considered as "status" products and you will never find a rich person with a product from a local Indian maker (even though I consider many of these products as far superior). An iPhone is considered as more of a status symbol than a BBRY or a Samsung smartphone. I remain positive on Apple stock given its cheap valuation and bearish sentiment.
Disclosure: I have no positions in any stocks mentioned, and no plans to initiate any positions within the next 72 hours. I wrote this article myself, and it expresses my own opinions. I am not receiving compensation for it (other than from Seeking Alpha). I have no business relationship with any company whose stock is mentioned in this article.