Medical Marijuana Inc. (OTCPK:MJNA) is one of the leading stocks in the burgeoning industry that captured investor attention following the elections last year. Many of the other stocks in the sector have given up most of their gains, but MJNA is still trading at 2.5X its year-end close despite losing almost 50% since its February peak: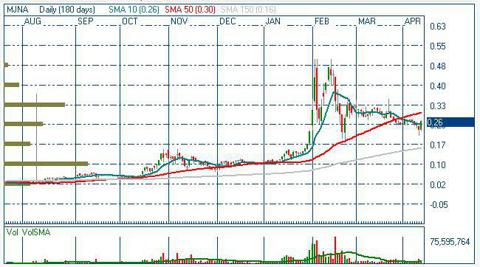 Click to enlarge
I first wrote about MJNA when I examined the industry in mid-February and declared pot stocks to be an investing bubble. I shared my negative sentiment on the stock in that article in advance of their shareholder update, which was delayed a couple of days from the 2/17 date that they had previously indicated it would be released.
That release was actually very positive on the surface, as I described in early March when I detailed their questionable transaction with CannaVEST (CANV.OB). Specifically, the company suggested that sales in 2013 will be $47mm (up from an unaudited $12.4mm in 2012) with "the potential to increase revenues in 2014 to $155mm." The company also projected operating cash flows of $32mm in 2013 and approximately $95mm in 2014. It wasn't clear if the $28mm (80% of $35mm) is included in the $47mm for 2013.
Despite the bullish forecast and a flurry of positive press releases, the stock has continued to slump. On 4/11, the stock bounced to .265 following a pre-announcement of Q1 results, but it was unable to clear the highs near .27 set earlier in the month following what can only be described as a "pre-announcement," as they suggested on 4/4 that the company:
"is pleased to inform shareholders that all Company divisions are healthy and foresee increasing revenues from overall operations. With the close of the first quarter of 2013, the Company has seen its revenue and net income increase significantly over the prior quarter."
The bullish press release on 4/4 didn't help apparently, so the company got a bit more specific with the 4/11 pre-announcement. Here are the highlights:
Sales of $8.45mm (up 377%)
Net Income of $5.52mm
Full audits for 2011 and 2012 complete by 6/30
Additional documentation to be submitted to DTC in April in order to remove "chill"
PCOAB auditor has been hired
If the news is so good, why is the stock acting so poorly? I think that there are several issues, but I will address two: Supply of stock and questionable financials, but I think that the slow pace regarding uplisting and removal of DTC Chill are additional overhangs.
Increasing Supply
As far as the supply of stock, there are several aspects to this issue. As I pointed out in my last article, the shares outstanding have increased dramatically. At year-end, with 950mm authorized, there were 808mm outstanding (see page 4 of the Annual Disclosure). This has clearly increased, as that same disclosure highlighted the issuance of 47mm shares to subsidiary Can-Chew to pay for R&D:

Click to enlarge
Further, history would suggest creep in the share count, as at the end of Q3, the company reported 736mm shares with 750mm outstanding. What I have found odd is how Hemp Deposit and Distribution, which is the controlling owner, keeps increasing its share count. This comes from their Q3 filing:

Click to enlarge
Note that there appears to be an error, as 265mm is actually 36% and not 48%. Now, in Q4, notice that the position size increased to 412mm shares: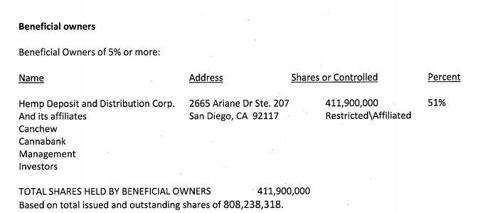 Click to enlarge
In any event, before I address the last part of supply, let's first back up a moment. At the end of the year, filings suggested that there were 736mm shares. Based on current information, one can conclude that there are at least 855mm.
There's an old saying: Watch what I do, not what I say. I think that Chairman Michelle Sides talks a bullish talk but investors are wondering if she walks the walk. News broke in March that she has filed a 144 to sell 15.4mm shares, and this has been weighing on the stock in my opinion. There are rules that govern how much stock can be sold per day, so this is likely an ongoing process. What's frustrating is that there is no information regarding her holdings. In any event, at current prices, this represents about $4mm, which is substantial in my view.
Questionable Financials
Management shared just the information that I posted previously: Sales of $8.45mm and Net Income of $5.52mm. That's an impressive NI margin! One might conclude that MJNA has a very profitable business model based on these numbers, but let's not forget that they are booking $4.5mm received in January as part of the CannaVEST deal. They must not be including the $6mm payment that was due on 3/30. The company paid almost nothing for these assets and had very little in inventory on the balance sheet, so, no matter how one looks at it, the $4.5mm represents almost pure "profit" and helps explain the high Net Income. At year-end, inventory was $8.7mm and all fixed assets and patents were just $15K. So, the $28mm transaction (80% of $35mm) has high profit margins by necessity.
I think it's reasonable to question whether this is actually "revenue" or "net income" since the payment was in stock. Without addressing that though, if we just look at the non-CannaVEST revenue, it works out to $3.95mm. In Q4, the company reported revenue of $5.19mm. Note that the audited statement called this "Income."
To be fair, I could be wrong. Perhaps the company isn't including this one-time gain as part of the revenue, but any sort of useful accounting should be charging the company for the stock issues to pay for R&D. 47mm shares is over 5% of the company! Management never disclosed the time-period for which those expenses apply - surely they weren't all in Q1. If the expenses were for the entire year and equal across quarters, then there should be a charge of $3mm or so. I am not an accountant, nor am I trying to say that they aren't properly accounting, though that may be the case. What I am trying to say is that the economic profits don't appear to be properly reflected. Taking in stock and calling it "income" but giving out stock and not calling it "expenses" just doesn't make sense. We will have to wait until May 15th to examine this issue more closely, as that is when they intend to post their Q1 filing.
Conclusion
Despite a flurry of bullish press releases, MJNA remains under pressure. While bulls can say that this is normal profit-taking after such a big run, I think that supply issues (rising share count, potential insider selling) and remaining questions about the financial model are behind poor sentiment, with impatience regarding the audit, the DTC Chill removal and uplisting playing a role as well.
Disclosure: I have no positions in any stocks mentioned, and no plans to initiate any positions within the next 72 hours. I wrote this article myself, and it expresses my own opinions. I am not receiving compensation for it (other than from Seeking Alpha). I have no business relationship with any company whose stock is mentioned in this article.