Markets are a bit lower today with Asian shares having taken a breather and finished mixed, with the leaders resting after tremendous runs (think Japan's Nikkei here) and European markets all red at this time. It is Friday however and we do have some economic news due out and we are at all-time highs so animal spirits can easily take over on a Friday (something we have learned about bull markets over the years, with the opposite being true during bear markets).
We are in the midst of earnings season and we should get a better idea of just how bad or good the economy is and the health of the consumer as well. Our thinking is that one should stick with the winners and ride them, while adding new positions to the portfolio diligently. We would not be buyers on one good quarter, but rather on a string of good quarters to de-risk any investment.
Chart of the Day:
The Nasdaq itself may not be at all-time highs, but it does have individual components at all time highs and the biotechnology space has most certainly been one of the drivers lately. The past few years have been impressive and it just goes to show that under the surface there are always bull markets to be found.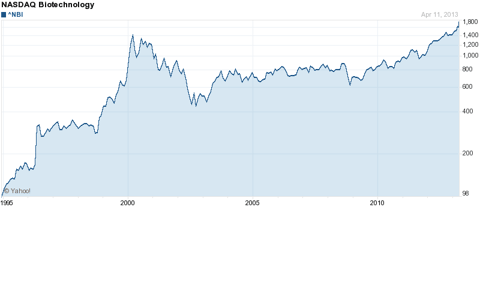 Click to enlarge
Chart courtesy of Yahoo Finance.
We have economic news due out today, and it is as follows:
Retail Sales (8:30 a.m. ET): 0%
Retail Sales - ex Auto (8:30 a.m. ET): 0%
PPI (8:30 a.m. ET): -0.1%
Core PPI (8:30 a.m. ET): 0.1%
Michigan Sentiment (9:55 a.m. ET): 78.0
Business Inventories (10:00 a.m. ET): 0.4%
Asian markets finished mixed today:
All Ordinaries -- up 0.11%
Shanghai Composite -- down 0.58%
Nikkei 225 -- down 0.47%
NZSE 50 -- up 0.59%
Seoul Composite -- down 1.31%
In Europe markets are lower this morning:
CAC 40 -- down 0.84%
DAX -- down 1.22%
FTSE 100 -- down 0.41%
OSE -- down 0.60%
Retail
This morning we want to focus a bit on retail, especially as we have retail numbers due out this morning. Long-time readers know that we went bullish of Gap (NYSE:GPS) over a year ago and have since enjoyed a pretty spectacular run in the big retailer. Yesterday shares hit a new 52-week high and have bounced back from the sell-off down to the $30/share level a couple of months back as analysts and investors worried about their comps and whether their peers were catching up to them via their turnaround plans. The answer is an obvious no, and regardless of whether a good quarter or two is put together by the competition, it remains to be seen that they can hold it together for longer than that which means from season to season they are lacking in an ability to draw in customers via their new lines. Gap has found a way to keep their lines fresh and appealing which has led to fewer discounts and higher margins. Sales do not have to grow dramatically when margins are steady and increasing and one does not glut the consumer's closet with their goods at artificially low prices to meet Wall Street's expectations from quarter to quarter. We remain bullish of this story and continue to believe that adding on pullbacks is the way to play this name.
And we are now back to hitting new highs. Expect this trend to continue, especially as we believe the company further solidifies its position as the best performing retailer this quarter.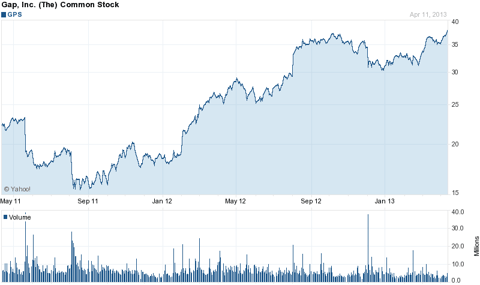 Click to enlarge
Chart courtesy of Yahoo Finance.
On the opposite end of the spectrum is Bed, Bath & Beyond (NASDAQ:BBBY) which seems to be stumbling in every way possible. Granted the company put together one of the more spectacular runs in the retail industry over the years, and even managed to dramatically outperform during the recession due to their strong balance sheet and being able to pick off the best assets from competitors who went under, but lately this has not been the case. Which we find troubling as the company's focus market is seeing a renaissance of sorts and competitors are flourishing yet the stores have lost their appeal to consumers. We have said numerous times that we are bullish all things housing, but this name is killing us. A store revamp might be necessary in order to reduce the clutter and make the experience more appealing to the consumer or increased 20% coupon distribution for the one item simply to drive traffic moving forward...the answer may not be so simple but we are beginning to get to the point where we simply do not understand the problem and when we do not understand something we are forced to walk away and that might be in order here if the recent results continue.
Investors in Rite-Aid (NYSE:RAD) have to be feeling that the latest quarterly results were in fact rad. It was the company's first profit since 2007 and adds credibility to this turnaround that has been taking place. Now that margins and sales are on the upswing, this no longer becomes a story centered on deleveraging or whether the company can even get the debt load low enough to begin to de-lever, but rather a growth story with a deleveraging kicker. We have stated numerous times in our articles and within the comments sections of those articles that we would move towards the bullish camp as the company proved its claims true, and this is another step in that direction. We may be tempted to purchase a small position on any pullback, but are not currently buyers above $2/share. We would target the $1.80 range on any pullback.
Biotechnology
We told readers to watch out for Acadia Pharmaceuticals (NASDAQ:ACAD) after the positive results surrounding their late stage trial for their Parkinson's psychosis drug as there would be more good news to follow. Sure enough the Federal Drug Administration, FDA, has told the company that there is no need for a second late stage trial to be performed and instead the drug has been granted an expedited path to possible approval (see press release here). Acadia can file the New Drug Application and use data from other studies to substantiate the results from their recently successful trial. This will save them a lot of cash, a lot of time and give them more time to have the drug on the market with no generic competition. All bullish points and reasons why the shares rose $5.13 (64.37%) to close at $13.10/share on volume of 40.2 million shares yesterday.
It has been a huge run-up lately and with the recent moves by the FDA it certainly appears that there is great interest in getting this drug to market as fast as possible. This three month chart should make everyone say 'WOW!'.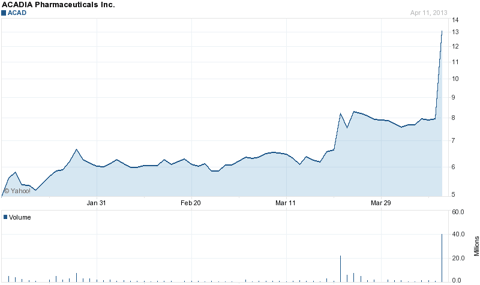 Click to enlarge
Chart courtesy of Yahoo Finance.
And just a thought...
We were thinking last night about this KPMG auditing issue with the engagement partner who appears to have engaged in insider trading in shares of Herbalife (NYSE:HLF) and maybe even sold some of his inside knowledge to others and were thinking how bad this was for the firm, an obvious loser in all of this. We also began to wonder who the winners were. Ackman does not really gain anything if Herbalife can find another Big Four accounting firm to take over was our first thought, but the chances that they are unable to find a new auditor are slim to none. Because of that we have to think that this is bullish, at least in the short-term, for the company as having a big firm agree to take you on and issue a report that says there are no going concerns (when they do issue the report) would add credibility to your claims as an entity that a pyramid scheme does not exist. Now there are always issues where all the big boys miss the problems when working on the same job (think HP and their UK buy not long ago and that huge write-off), but generally two sets of eyes are better than one.
Disclosure: I have no positions in any stocks mentioned, and no plans to initiate any positions within the next 72 hours. I wrote this article myself, and it expresses my own opinions. I am not receiving compensation for it (other than from Seeking Alpha). I have no business relationship with any company whose stock is mentioned in this article.