As the economy continues to recover, the most direct impact would be felt by the financial sector. As the financials go, so go the markets. It can be argued that the recovery in this sector has been orchestrated by the Federal Reserve and its policies of low interest rates, the purchasing of longer-term Treasuries, and mortgage backed securities, but the fact of the matter is that the policies have helped not just the financial sector, but the economy (and stocks) as a whole.
Any change in Fed policy, as long as ZIRP stays in place, will ALSO help the financial sector. As I wrote about in this article, I think the agency mREIT sector will benefit, the banking sector, and with an improving economy, business development companies [BDC] could shine.
I will focus on one bank and one BDC in this article, that I believe will offer strong dividend income opportunities, as well as some capital appreciation: First PacTrust Bancorp (NYSE:BANC), and TICC Capital (NASDAQ:TICC), which is a BDC.
First, A Brief Look At The Recent Fed Minutes
The Fed released the most recent minutes from the FOMC meeting, and it had a few clues within them that seem to suggest that the unwinding of these policies might be closer at hand. Here are the complete FOMC Minutes for you to review.
I found several paragraphs of interest:
A few members felt that the risks and costs of purchases, along with the improved outlook since last fall, would likely make a reduction in the pace of purchases appropriate around midyear, with purchases ending later this year. Several others thought that if the outlook for labor market conditions improved as anticipated, it would probably be appropriate to slow purchases later in the year and to stop them by year-end. Two members indicated that purchases might well continue at the current pace at least through the end of the year.
It is my personal opinion that the policies will remain in place for as long as Bernanke wants them to remain in place. That being said, the tone of the minutes also included some wording as to how the policies might change:
A few participants felt that MBS purchases provided more support to the economy than purchases of longer-term Treasury securities because they stimulated the housing sector directly; however, a few preferred to focus any purchases in the Treasury market to avoid allocating credit to a specific sector of the economy.
I suppose this "chatter" could be construed that the Fed is ready to change something...... yet to be determined.
The point of this is two-fold; first, the Fed (Bernanke) is in no rush to stop the policies, and second, if and when the Fed decides to change course, it will probably be a slow, step-by-step process and not a "slam on the brakes" approach.
It is my opinion that no matter which direction the Fed takes, whether it is the slowing or ending of MBS buying, or the slowing or suspending the purchasing of the longer term Treasuries (or even both at some measured pace), the financial sector will benefit as long as the zero interest rate policy for short-term rates is maintained.
As previously mentioned in this report, San Francisco Federal Reserve Bank President, John Williams stated:
"I expect we will meet the test for substantial improvement in the outlook for the labor market by this summer. If that happens, we could start tapering our purchases then." ..... "If all goes as hoped, we could end the purchase program sometime late this year."..... Williams is hardly advocating an increase in short-term rates that have been near zero for more than four years; he took care to note that even if the Fed stops buying assets its $3 trillion portfolio of securities will continue to push long-term rates downwards.
I am of the opinion that ZIRP will remain in place for the foreseeable future.
One Bank And One BDC
As you know, I am a dividend stock investor. Not just with dividend champion stocks, but also with dividend "opportunity" stocks. While the dividends might not be considered champions in these two stocks, they certainly offer any dividend-seeking investor an opportunity to enhance their dividend income, and potentially their overall yield.
Here is a chart to quickly survey the performance of both stocks: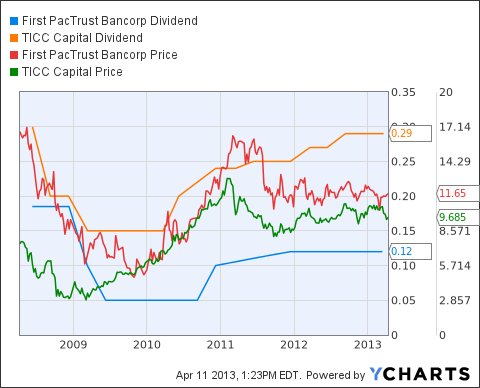 TICC Capital: Price: $9.69/share, Dividend Yield: 12.25%, ESS Rating: Neutral
This company is a BDC and lends money at high rates to companies, usually start-ups, or very small ones, with revenues less than $300 million, primarily in the technology sector, that might not be able to get a loan from a bank. They act as sort of "angel investors" and not only earn income from higher rates, but also when they take equity in the companies they lend to. The company limits its investment dollar range from $5 million to $30 million per "investment.
The stock is selling at a discount to book value currently (.98).
Operating margins are over 60%.
Quarterly YOY revenue growth was 54%.
Quarterly YOY earnings growth was 105%.
30% of outstanding shares are held by institutions.
A rather low forward P/E ratio of 8.21.
The major risk with this stock is that the companies TICC invests in either do not pay the loan, or go bankrupt, and TICC will be incur losses. That's why BDCs do much better in a growing economy. Given the current share price, and very sweet dividend yield of over 12%, this could be a stock that warrants further investigation, and perhaps a potential fit in an income-seeking portfolio.
I would use a risk allocation of between 2-4% of a portfolio value, and monitor this stock as you would an mREIT.
First Pactrust Bancorp: Price: $11.65/share, Dividend Yield: 4.25%, ESS Rating: Neutral-Bullish
This regional bank offers regular retail services to individuals as well as smaller local businesses. I guess we could call it just a plain old bank. The positive here is that the stock has very low volatility, and has a very good balance sheet.
The stock is selling at a discount to book value currently (.88).
Quarterly YOY revenue growth was 610%
An impressive 25% of all outstanding shares are held by insiders. In March of this year alone, there was strong insider buying as well (see Yahoo! Finance).
A beta of only 1.09
The share price is trading in the middle of its 52 week range of $10.08-$13.11/share.
Analyst Gary Tenner, of D.A. Davidson & Co. recently evaluated the bank this way:
The parent of Pacific Trust Bank started as a credit union, then converted to a savings and loan, and now has turned itself into a commercial bank. The credit union and S&L businesses borrowed money by offering relatively high-yielding certificates of deposit and lent out money at relatively low rates. That kept the company's profit margins slim.

Now the Irvine, Cal.-based bank is going after potentially more-lucrative commercial loans and shifting its deposit base into short-term checking accounts, which pay low or no interest. First PacTrust is also on an acquisition spree that could double its size in the next two years, says Tenner
Of course if the economy stalls, and lending tightens, BANC could face headwinds towards the anticipated growth. That being said, it certainly seems as though the insiders like what has been going on!
I would consider this stock as a core holding with an allocation of no greater than 7% for income-seeking investors. I also believe that there could be some positive capital appreciation as the company's growth plans take hold, and the economy continues to recover.
My Opinion
As a dividend- and income-seeking investor, I believe that making an investment in stocks that can tweak my income and offer some potential for growth, is my primary focus. These stocks might fit well in my portfolio, and it is your decision as to whether they could fit well in yours.
Disclosure: I have no positions in any stocks mentioned, and no plans to initiate any positions within the next 72 hours. I wrote this article myself, and it expresses my own opinions. I am not receiving compensation for it (other than from Seeking Alpha). I have no business relationship with any company whose stock is mentioned in this article.
Additional disclosure: I am considering adding BANC to the Team Alpha Retirement Portfolio.