We have turned our attention to the uranium markets the past few days and noticed that some of the juniors are coming into our target ranges to buy. It is still a bit early to pull the trigger, however the upper limits of our buy zones have been triggered and that forces us to pay attention to the entire sector for possible intraday pullbacks which could result in entry points which we could not refuse. One thing to be aware of, and this is a note to our readers who are traders, is that many of these names are thinly traded and not marginable. Two important factors to consider before buying, especially if one anticipates volatility ahead.
Commodity prices this morning are as follows:
Gold: $1548.50/ounce, down by $16.40/ounce
Silver: $27.33/ounce, down by $0.367/ounce
Oil: $92.39/barrel, down by $1.12/barrel
RBOB Gas: $2.8043/gallon, down by $0.0267/gallon
Natural Gas: $4.176/MMbtu, up by $0.037/MMbtu
Chart of the Day:
One thing is certain, the bears are in charge of the gold trading pits and as 2013 progresses so too does the pain for the goldbugs.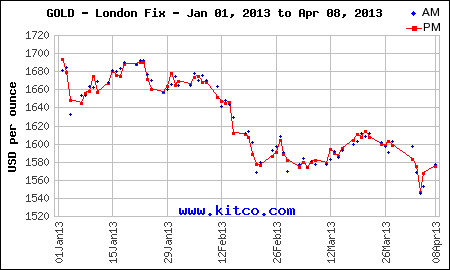 Chart courtesy of kitco.com
Copper
We found a very interesting article this morning which relates to a chart we threw up in the chart of the day section this week. We were openly wondering what copper prices were telling us about the world economy when they were sitting at support which was at the lows of its range-bound chart area. Well an article (see link here) from the Wall Street Journal may create more questions than it answers because it appears that games are being played within the trading space to redirect copper supplies from the warehouses and artificially prop up prices. This does benefit players like Freeport McMoRan (NYSE:FCX) and Southern Copper (NYSE:SCCO) to an extent, but the real beneficiaries are the traders who are on the bullish side of the trades as these supplies are redirected. We imagine this could lead to further investigations into the futures trading business/markets and it just goes to show what a few bad apples can do.
Oil & Natural Gas
For all of the negative sentiment surrounding the units of EV Energy Partners, LP (NASDAQ:EVEP) these days, we are a bit confused as to why so much value has been destroyed. We get that it is supposed to have producing assets and focus on paying out distributions, but with the situation in the Utica, there is no need to sell-off the asset at fire sale prices. They could simply keep the Utica and drill it themselves through Enervest and do it at a few wells per year as they have held-by-production acreage. It is not ideal, but it is certainly feasible and we would simply point out the deals in the Utica which have collapsed and only benefited those players, chief among them being PDC Energy (NASDAQ:PDCE). Yes, the others were publicly traded C corporations, but value is value and when you can create dramatically higher valuations for assets you hold either by letting someone else take the asset off of your hands or by developing the asset yourself, both are feasible options in our view.
Good things come to those who wait and there are far greater returns on assets you stick around to develop. Maybe EVEP does not sell their Utica acreage but rather develops it themselves and slowly. Cash flow would suffer and so too would the growth in the distribution, but long-term it would certainly create more value and reward those interested in the steady gains, not the quick buck.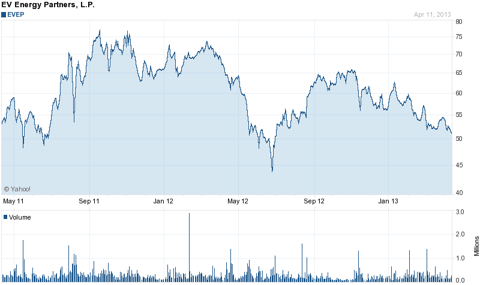 Chart courtesy of Yahoo Finance.
Uranium
This is a trade we have been talking about for the past six months and the time we designated as the ideal time to buy the sector is fast approaching. We still believe that Russia is going to pull the plug on the Megatons to Megawatts Program at the close of the year and that shall light a fire under the prices of both the equities and the long-term spot price (not to mention the thinly traded and illiquid U3O8 spot market!). With that said, when one can either initiate a position or add to one in Cameco (NYSE:CCJ) when the yield is at 2%, that certainly seems a prudent thing to do. This name will be around whether Russia continues to supply below market priced uranium to world markets beyond 2013 and with an entry level at prices with a 2% yield we think a lot of the downside is de-risked as the company has long-term contracts and has shown an ability to navigate difficult markets. For conservative investors wanting to play this theme, Cameco would be an excellent candidate, especially at these prices.
We have been stuck in a trading range with a lot of sideways action over the past nine months or so, but that could all change with a simple decision by Russian officials and we believe that the decision has already been made...years ago.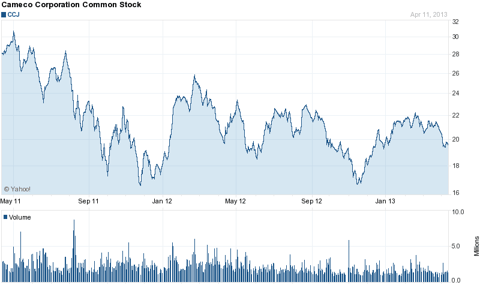 Chart courtesy of Yahoo Finance.
Disclosure: I am long EVEP. I wrote this article myself, and it expresses my own opinions. I am not receiving compensation for it (other than from Seeking Alpha). I have no business relationship with any company whose stock is mentioned in this article.