After a January 2013 downgrade by research firm Argus (from Buy to Hold), Microsoft (NASDAQ:MSFT) was downgraded on April 11, 2013, by another four firms:
| | | | |
| --- | --- | --- | --- |
| Research Firm | Action | From | To |
| Nomura Equity Research | Downgrade | Buy | Neutral |
| BGC Partners | Downgrade | Buy | Hold |
| Hilliard Lyons | Downgrade | Buy | Neutral |
| Goldman Sachs | Downgrade | Neutral | Sell |
Goldman, clearly being the most influential downgrade, labeled MSFT a Sell after reports of decrease in PC shipments for the first quarter of 2013. IDC confirmed today a 14% drop -- the largest since 1984 -- when global sales tracking began. This is certainly an escalating topic in the industry as smartphones, laptops, and tablets continue to shrink the conventional PC market. Will things get worse for Microsoft before they improve?
The price of Microsoft stock dropped from $30.2800 to $28.7600 (a 5% fall) during a very heavy trading day (April 11, 2013). The trading volume of 449,116,578 shares was higher than its average daily volume over the past 30 days. Partly due to the recent downgrades, there is still a dark reality lurking in Microsoft's future. Over the next five years, Microsoft will face a series of challenges that already are being perceived by investors as a testament to the company's flawed growth strategy and non-proactive business model.
It may seem as if I am bearish on MSFT, but as an investor, objectivity is always the best and most reliable approach to discussing the future of any public company. Microsoft has underlying issues threatening its historical competitive edge, but the company itself has promising financial figures, deep pockets, and pays a generous dividend. This all makes Microsoft a very attractive stock. There is more to this downgrade than the eye can see.
A seasoned participant on Seeking Alpha and a retired trader with over 30 years of experience, contributor "wiesje" commented on the legitimacy of Goldman Sachs's downgrade, saying: "…most people talk their book, which is quite normal, it would be strange for someone to talk bearish on a stock if you are long the share […] there are definitely analysts whom are talking a stock down, so that their 'in-house Traders' have a chance to either cover their shorts or get Long on the cheap." Frankly, I agree with wiesje -- trading based on upgrades/downgrades of these analysts is like getting dressed every morning based on what the weatherperson predicts for the day without looking out the window first. According to Bloomberg data, there were 24 buys and 19 holds, but no other sells.
Challenges for Microsoft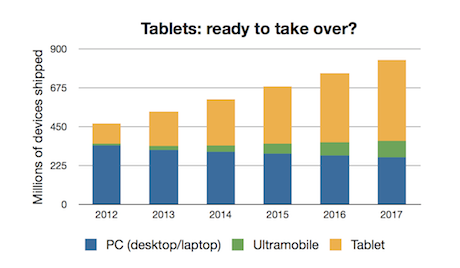 Weak economic environment continues to affect the global market for any consumer product, not just electronics -- Intel (NASDAQ:INTC) and AMD (NYSE:AMD) are also hurting since the majority of their revenue is tied to PC sales. But in addition to a lack of must-have PC offerings, expectations for PC sales in 2013 are lower than ever before (possible decline of 5%-12%). This is following four quarters of declining PC sales in 2012, which clearly constitutes a trend.
"New technology" budget in most households are at an all-time high. Most families are perfectly happy with their five-year-old PC and see no need to replace it, but they do purchase iPads and explore other applications that cut into the PC's workload, lengthening the replacement cycle and ultimately hurting future sales and PC market volume.
Aggressive competition from Apple (NASDAQ:AAPL), Google (NASDAQ:GOOG), and Android threaten to divert attention (and demand) to mobile/smart devices domestically and in emerging markets such as Asia and Africa.
There has been sluggish adoption of Windows 8 and a lack of new hardware to compete with existing technology.
Opportunities for Microsoft as Proposed by Goldman Analyst Heather Bellini
A breakup of the company -- which she sees as unlikely
Use of offshore cash and more debt
Use of subsidies and price cuts to reignite growth
Reduction of expenses
Value creation potential with new products (Windows Surface Tablets)
Ways for Microsoft to Mitigate Challenges as Proposed in Onuora Amobi's Article
It could listen to user feedback about the start menu and the ability to boot into the desktop.
It could explain what its service pack strategy is vs. letting people and customers get distracted over code names (Windows Blue).
It could explain to consumers formally what the heck Windows RT is.
It could lower the price of the Microsoft Surface tablets to reflect reality and storage space limitations on those models.
It could release a reference Surface Phone that could compete with Android and the iPhone.
It could lower the pricing on Windows 8 (over $100 is too much for something people don't understand.)
It could take zero dollar commissions for one year from developers in order to incentivize development on the Windows platform.
Microsoft's Financials
Financial Strength (MRQ):
| | | |
| --- | --- | --- |
| Quick Ratio | 2.76x | |
| Current Ratio | 2.81x | |
| Debt/Equity | 0.20x | |
| Debt/Assets | 0.11x | |
MSFT's debt-to-equity ratio indicates that it has been less aggressive with using debt to finance growth than 60% of its peers in the software and programming industry. The resultant effect on earnings would be less volatile than related companies.
Valuation (MRQ):
| | | |
| --- | --- | --- |
| Price/Earnings (TTM) | 16.61x | |
| Price/Sales | 3.48x | |
| Price/Book | 3.49x | |
| Price/Cash Flow | 8.56x | |
MSFT's P/E ratio is lower than 67% of other companies in the software and programming industry. This typically means that investors are willing to pay less for its level of earnings relative to future growth.
Profitability
| | | |
| --- | --- | --- |
| Gross Margin | 75.35% | |
| Operating Margin | 26.76% | |
| EBITDA Margin | 31.26% | |
| Net Profit Margin | 21.20% | |
MSFT's gross margin is more than 75% of other companies in the software and programming industry, which means it has more cash to spend on business operations as compared to its peers. As indicated by the operating margin, MSFT controls its costs and expenses better than 96% of its peers.
Management Effectiveness
| | | |
| --- | --- | --- |
| Return on Assets | 12.83% | |
| Return on Equity | 22.62% | |
| Return on Inves. Capital | 16.84% | |
The return on equity for MSFT shows that it is able to reinvest its earnings more efficiently than 90% of its competitors in the software and programming industry. Typically, companies that have higher return on equity values are more attractive to investors.
Dividend
| | | |
| --- | --- | --- |
| Dividend Yield | 3.04% | |
| Payout Ratio | 46.66% | |
| Annual Dividend | 0.86 | |
MSFT's dividend yield is greater than 67% of other companies in the software and programming industry. As indicated by the payout ratio, MSFT's earnings support the dividend payouts as well as others in the group.
In conclusion, Microsoft shows solid financials in comparison to its competition; however, it needs to diversify well enough into new growth segments in order to maintain current levels of income. It's been a frustrating path for Microsoft investors, who've watched the company fail to capitalize on the incredible growth in mobile over the past decade. Businessweek reports 70% of Americans are already using the technology that will replace the PC; and Microsoft needs to get on board.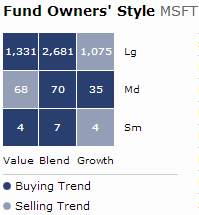 Morningstar has an analyst average rating of 4.4 (5= Buy and 1=Sell); which confirms my bullish sentiment on the stock as a long-term hold (if you already own MSFT), and a buy at around $27 with a potential upside of anywhere between 30% and 40% over the next calendar year or two, depending on how well it finishes 2013. Microsoft will continue to sell aggressively into its enterprise market -- which will be stuck at the Microsoft "table" for years to come due to the underlying firms' institutional dependency on Microsoft technologies -- while innovating its way into a cross-device sector to compete with the Apples and Androids of the new millennium.
Disclosure: I have no positions in any stocks mentioned, and no plans to initiate any positions within the next 72 hours. I wrote this article myself, and it expresses my own opinions. I am not receiving compensation for it (other than from Seeking Alpha). I have no business relationship with any company whose stock is mentioned in this article.