Gulfport Energy (NASDAQ:GPOR) has made a big bet on Ohio acreage in the Utica shale. The company owns 128k acres of property in the Utica and its current drilling program suggests production from the formation should jump over the coming two years.
The company has been ramping production. In 2013, Gulfport expects to produce 7.8 to 8.1 million BOE. For comparison, full year 2012 production was 2.57 million BOE which suggests 203-205% production growth this year from last.
A lot of that growth will come from the company's Utica activity.
The company is actively drilling in the formation and its first 10 wells averaged a peak rate of 798 barrels of condensate per day, 10.0 MMCF of natural gas per day and 1,166 barrels of NGLs, or 3,630 barrels of oil equivalent per day ("BOEPD"). In Q4, Utica production was 69k BOE, up from 17k BOE in Q3.
The early results have emboldened Gulfport to double down on the Utica.
In December, the company acquired 37k acres from Wexford Capital affiliate Windsor Ohio. The company agreed to buy another 22k acres in the play for $220 million in February.
And, Gulfport isn't waiting to get those acres producing. The company currently has 3 rigs drilling in the Utica, with a fourth coming on this month, and plans to spend $382-426 million of its $458-512 million capital spending budget there this year alone. Overall, the company hopes to drill 50 gross wells in Eastern Ohio this year.
The payoff could be big.
The Utica has recoverable potential of 1.3-5.5 billion barrels of oil and 3.8 to 15.7 trillion cubic feet of natural gas. The Point Pleasant formation, where Gulfport is focused, could support 856 gross locations.
The area Gulfport is developing appears similar to Eagle Ford, with roughly 50% calcite and 20% clay. The high carbonate content and low clay content are one of the reasons Eagle Ford has produced so strongly and Gulfport believes its Utica wells could produce as strongly as the most attractive Eagle Ford wells.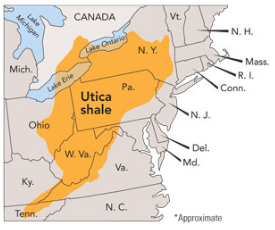 While developing the Utica won't be cheap, Gulfport does have the advantage of stable cash flow from its Hackberry wells in Louisiana. The company is pumping 2366 BOEPD there.
Outside of Utica, Gulfport also has an opportunity to benefit from ongoing Canadian oil sands development.
The company owns just shy of 25% of Grizzly Oil Sands, which has 800k acres with 67 million bbls of proved reserves. The company expects short term production of 5000-6000 bbl/d by mid 2013 from Algar Lake and estimates production could increase to 11,300 bbl/d by 2014. The acquisition of May River acreage in early 2012 brings along an additional 70k bbl/d of future production potential.
Gulfport also has exposure to the Permian Basin with a 21.4% interest in Diamondback Energy (NASDAQ:FANG). Diamondback has 51k net acres primarily in the Wolfberry play, which are roughly 86% liquids. And, the company has another 11k acre position in Niobrara too.
The company's spending plans and potential well completions suggest production should rise significantly and while other large players are in Ohio, including Chesapeake Energy (NYSE:CHK), Hess Corporation (NYSE:HES) - with 185k acres - and Anadarko Petroleum (NYSE:APC) - with 250k acres --Gulfport's exposure relative to its overall size makes it especially interesting for shareholders.
Source: February Investor Presentation
Disclosure: I have no positions in any stocks mentioned, but may initiate a long position in GPOR over the next 72 hours. I wrote this article myself, and it expresses my own opinions. I am not receiving compensation for it (other than from Seeking Alpha). I have no business relationship with any company whose stock is mentioned in this article.