The purpose of this article is to evaluate whether Vale SA (NYSE:VALE) is an interesting turnaround candidate and if there's value in the company compared to the price at which it is trading today ($ 17.20 - $ 17.50). VALE has lost a good amount of market cap during the last 52 weeks, approximately $ 34 billion. The stock is currently trading at 18x PE and at a 22% premium to its book value.
Fundamentals
Overall, VALE presents interesting fundamentals, with a forward 2013 PE as low as 5x and as high as 10x (high / low analyst expectations). In comparison to its main competitors, BHP Billiton (NYSE:BHP) and Rio Tinto (NYSE:RIO), it is undervalued, in both Price / Earnings and Price / Book.
| | | | | |
| --- | --- | --- | --- | --- |
| | Share Price | Earnings Estimate 2013 | Forward PE | Price / Book |
| VALE | $ 17.55 | 2.40 | 7.31 | 1.22 |
| BHP | $ 70.18 | 3.76 | 18.66 | 2.81 |
| RIO | $ 48.03 | 6.07 | 7.90 | 1.90 |
Source: Thomson Reuters and Yahoo Finance
Vale is a very interesting value play for those that believe that Asia and South America will continue on and above the growing trend that have experienced during the last few years. Vale's main customer is China, with 34% of total revenues in 2012. In second place stands Brazil, with 19%, and third we have Japan, with approximately 10% of the share. Germany, South Korea and the US amass 6%, 4% and 3% respectively. Therefore, it is clear that Vale's revenues depend, above all, on China and Brazil's capacity to maintain the growing trend. A fundamental variable in this equation is the price of Iron Ore, Vale's top commodity. Iron Ore represented close to 54% of Vale's revenue in 2012, while Iron Pellets stood at 15% during the same period. Besides Ferrous Metals, Vale operates heavily in the base metal industry, with Nickel and Copper as its main businesses (Nickel with 9% of total revenue and Copper with 5%). It is needless to say that Nickel's downtrend in the last couple of years has hurt Vale's profitability in that segment. Iron Ore traded below US$ 100 / ton in September 2012, but recovered and should now trade at US$ 120 / ton, according to industry analysts.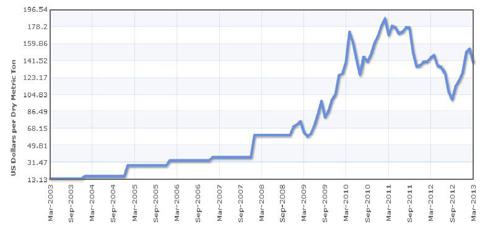 Source: Index Mundi
Vale's last quarter was utterly disappointing for shareholders, due to non-cash, non-recurring items such as impairment on assets and on investments. The company's earnings of US$ 1.9 billion in Q42012, became a loss of US$ 2.6 billion due to these write-offs.
On the short run, in lieu of low commodity prices and slow growth in Europe, US and Brazil, VALE may take a while to get back on its feet. This play is, more than anything, a long run one. In the short run, volatility is probably going to be well above the S&P benchmark. There's also another way to play this stock as well, and that is from an income standpoint. The company distributed US$ 6 billion in dividends last year. Vale's current dividend yield is 4.50%, considering a dividend cut to approximately US$ 4 billion (the company set US$ 4 billion as a minimum, so, on the bright side, we could be optimistic and calculate a 5.00% yield). At this point, we would be looking at an attractive dividend yield above its competitors (RIO at 4.10% and BHP at 3.40%).
The smart investor will probably wonder which, besides Asian and South American growth issues and iron and base metal prices, are the risks related to investing in this company. Well, it's indeed important to consider that the major stockholder is the Brazilian Government. Therefore, as in the case with Petrobras, there is Government interference at the higher level (remember when the former CEO was fired, as an example). This is a very tricky issue to debate, since some investors see state interference to be hurtful, but others view it as an interesting support, considering cheap credit lines, infrastructure aid, etc.
It's a very difficult topic to address, for we do not know what lies ahead in the future. While in good times profits may be hurt in order for the Government to "distribute" wealth to its citizens, in bad times it can act as a backbone, supporting the enterprise's obligations. Many cautious investors will agree that companies ought to be private enterprises, but the case here is that of a Public/Private partnership. Therefore, what makes sense is that we quantify the risks of Government intervention and decide whether the downside is worth it or not.
In the long run, it does present itself as an interesting risk/reward opportunity. Market leadership, profitability (up to Q42012), good valuation, juicy dividends, all make for a good investment. Government intervention, future impairment expenses and low growth may hinder VALE's performance in the future as well.
Disclosure: I have no positions in any stocks mentioned, but may initiate a long position in VALE over the next 72 hours. I wrote this article myself, and it expresses my own opinions. I am not receiving compensation for it (other than from Seeking Alpha). I have no business relationship with any company whose stock is mentioned in this article.