It seems as though everyone knows that Whole Foods Market (NASDAQ:WFM) is an expensive stock. Even die-hard supporters will admit that it is expensive but feel it is worth it for the growth. While its price is common knowledge, I feel inclined to demonstrate just how expensive it is. Once we have evinced the extreme valuation, we will present a series of both negative catalysts and terminating positive catalysts which make WFM a prime target for shorting.
Valuation
Different investors measure value differently, but from whatever angle we look it is overpriced.
Valuation by P/E:
At its current price of $87.38 WFM trades at 32.93X its TTM earnings. For a forward estimate, we can look at an excerpt from WFM's first quarter earnings report.
"Based on its year-to-date results, the Company is narrowing its comparable and identical store sales growth ranges for the fiscal year, keeping the midpoints approximately in line with its prior outlook, while maintaining EPS of $2.83 to $2.87. The mid-to-lower end of this EPS range assumes current sales trends continue, while the high end would require a meaningful acceleration in comps to the high end of the range. On a 52-week to 52-week basis, the Company continues to expect sales growth of 12% to 14% and diluted earnings per share growth of 14% to 16%."
This suggests a forward P/E of 30.65. But wait, the earnings report mentioned they are growing earnings per share this year at a rate of 14%-16%. Perhaps using PEG, it is a fair value.
For now, I will excuse the fact that PEG is a flawed metric that assumes a constant growth rate in an environment that has limits. Even assuming constant growth of 15%, it still has a PEG of 2.04 which is far higher than the desired 1.
Valuation by book value:
It trades at a price-to-book of 4.566. While it is normal for retailers to trade above a 1 to 1 P/B, it still seems excessive. This number is based on its market cap relative to the common equity listed in the same earnings report linked above. The liabilities portion of the balance sheet does not include the over $7B of off balance sheet obligations shown below.

As these are mostly just equipment and facility rental contracts, it is a normal and healthy part of business, but the balance sheet isn't as debt free as it would seem upon first glance.
Valuation by ROIC:
Once again from the most recent earnings report, WFM published its annual ROIC extrapolated from the 16 weeks ended January 20th.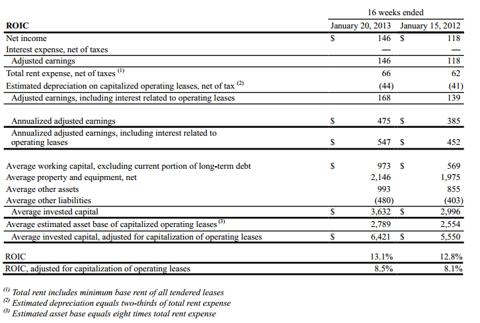 When Whole Foods invests capital into the opening of a new store, they get around an 8.5% annual return. This is nothing special, but definitely solid. However, the ROIC to investors is far lower due to the extreme market price. Investors pay the $16.21B market cap for only $6.421B of invested capital. Thus, the ROIC to a shareholder is only 3.37%. That is extremely low, but it gets even worse.
Notice that this 16 week extrapolated period includes Christmas for which many Whole Foods shoppers buy the $60 organic turkey. If we look at its actual long-term ROIC, it is even lower.

For its entire portfolio, over its average 8.8 year lifespan (thus far) it has a 5.22% annual ROIC. Once again accounting for the premium investors pay compared to actual invested capital this equates to a shareholder ROIC of only 2.07%.
By any valuation standard, Whole Foods is materially overpriced, but valuation alone is not sufficient reason to short. There must be some catalysts to pull the market price down to its fair value. My research has uncovered 4 such catalysts, 2 negative and 2 cessations of positive catalysts that have been propping it up.
Negative catalyst #1: emerging competition
There are hundreds of partial competitors, but 3 in particular generate serious competition; Wal-Mart, Natural Grocers and Trader Joe's.
Wal-Mart (NYSE:WMT), while not a health/natural food store, is beginning to offer a phenomenal organic selection. The reduced prices for very similar products will create competition for customers who prefer to buy organic but are value conscious. A large portion of Whole Foods' customer base is willing to pay extravagant prices for the knowledge that the food is from natural and perceived healthier sources. This sizable chunk will not be lost to Wal-Mart, but rather to the other primary competitor, Natural Grocers by Vitamin Cottage (NYSE:NGVC).
This competitor is equally as extreme on the natural side with a decree to only sell naturally produced food and does not carry foods with certain additives and hydrogenated oils. It, however, goes a step further on the nutritional side with a truly expansive selection of vitamins and supplements plus a nutritionist on staff at each location.
Based on this snapshot of NGVC's performance, we can see it is growing much faster than Whole Foods.

Trader Joe's is a large private grocery chain that sells similar products to WFM and has similar appeal socially. The primary difference is its cheap prices.
Between pre-existing giants like Wal-Mart adding to its organic selection and new health/organic oriented players, the niche which used to be nearly monopolized by Whole Foods is becoming crowded. When any market faces a plethora of new supply, it begins to stifle growth and put pressure on profit margins.
Negative catalyst #2: Questionable decision making
On November 9th, Whole Foods announced a special $2.00/share dividend. It also raised its regular common dividend to $0.80 annually. Dividends are great, so what is the problem?
When an investor buys $10,000 worth of WFM, they become a partial owner of the company and their portion of the assets is worth $3,265. Some investors are willing to pay this premium because they feel Whole Foods can generate incredible returns on those assets so as to make them worth more than $10,000. If Whole Foods invests its capital into opening new stores, it is possible that they could create sufficient returns, but when the money is used to pay a dividend, it is unquestionably a 1 to 1 return.
This special dividend cost Whole Foods $370mm and consequently reduced its asset base by that much. Given the approximate 3 to 1 ratio of market cap to assets, reducing each by a precisely equal absolute magnitude accentuates the relative difference. In other words, it is a larger percentage hit to the asset base than the return of capital is to the market cap.
When the market premium can only be justified by exceptional potential returns on invested capital, returning said capital at a 1 to 1 ratio is simply unacceptable.
Similar logic could be applied to their recent share buybacks. A company trading that far above book should be issuing equity, not buying it back.
Expiring positive catalysts: Bursting the infallible bubble
Whole Foods has many aspects going right. Its stores are performing exceptionally well, its customer base is absurdly loyal and the public holds them in high esteem. The problem is that even with all these things going perfectly, it is still not producing enough earnings to justify its price. Perhaps it will get there with growth, but this requires all of the aspects to remain favorable. I postulate that its perceived infallibility is actually quite fragile as it is based on false premises. Following are two perceptions that I feel are in particular danger
Organic nutrition misconceptions
The view that organic food is somehow healthier than its regular counterpart is a myth. There are countless colloquial sources suggesting its superiority, but these are not backed by the scientific community. In fact, legitimate nutritional science shows almost no difference.
A meta analysis of 237 studies performed at Stanford University by Dr. Bravata et. al. concluded that there was no major nutritional difference between organic food and its regular counterparts. When asked about choosing organic food for nutritional reasons Bravata was quoted as saying,
"I would say there is not robust evidence to choose one or the other."
Given that sales are so reliant upon the survival of a public delusion, WFM could be seriously hurt by a scientific victory. Misconceptions can survive in the public eye for a long time, but truth has a tendency to be the consensus in the end.
With so much new supply coming into the organic food retail domain, even a slight dip in demand would devastate growth.
Perception that shopping at Whole Foods is morally superior
Many customers can justify paying the extreme prices at Whole Foods because they feel the money is supporting a good cause. WFM seems to be a responsible company and they even donate a portion of profits to charity. I am not suggesting that there is anything sinister about Whole Foods, but the conviction of its customers is unprecedented. The present level of enthusiasm for "sustainable agriculture" seems unsustainable. In terms of actual environmental impact, pesticides and herbicides used on normal produce are specifically engineered to cause minimal harm. Perhaps there is some difference, but the impact is over-estimated by the public perception. There are potential socio-cultural events which could disrupt the extreme customer loyalty.
Rather than being viewed as morally upstanding for shopping at Whole foods, customers could be viewed similarly to those of regular grocery stores. This would remove the incentive of shopping there for the sake of improving social status. This incentive could be further removed or even turned negative if customers are looked at as pretentious. Whether correct or not, many people already feel this way.
If we look at actual environmental impact, timber companies are far more beneficial. Yet, these do not have the adoration of Whole Foods. This suggests to me that there is a disparity between Whole Foods' inflated reputation and reality. If the social forces driving sales subside, I believe customers will have a difficult time justifying the expense and find a new grocer.
The bottom line
Even at its current growth rate, Whole Foods' market price is not justifiable. Once we factor in the negative catalysts and trimming back of its magnanimous reputation, it seems to be a strong short opportunity. There are numerous intangible and technical reasons to like WFM, but in the end, it comes down to earnings. Neither its earnings nor its growth are sufficient to justify such an extreme price.
Disclosure: I am short WFM. This article is for informational purposes only. It is not a recommendation to buy or sell any security and is strictly the opinion of the writer.
Disclosure: I am short WFM. I wrote this article myself, and it expresses my own opinions. I am not receiving compensation for it (other than from Seeking Alpha). I have no business relationship with any company whose stock is mentioned in this article.