By: Brendan Gilmartin, VP Research & Content
Johnson & Johnson (NYSE:JNJ) is slated to report Q1 2012 earnings before the bell on Tuesday, April 16. The earnings release is expected at approximately 7:45 a.m. EST with a conference call to follow at 8:30 a.m. A member of the Dow Jones Industrial Average, J&J has significant market influence and the potential to impact the broader market gauges. Also note that no other major company reports at the same time as J&J, making the trade signal relatively clear.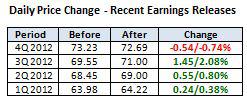 Outliers And Strategy
The current Street estimate for EPS is $1.40 (Source: Yahoo Finance).
Revenues are seen rising 8.2% y/y to $17.46 bln.
Back in December, J&J provided earnings guidance for full-year 2013 of $5.35 - $5.45 per share. Any change to this previously-stated outlook could impact the direction of the market. The current Street estimate is $5.41.
Even in the wake of the recent run-up, J&J shares are yielding 2.96%, limiting potential downside. Note that the 5-year average is 3.33%, suggesting investors with an appetite for yield may begin turning elsewhere with the shares at these levels.
J&J shares are up almost 20% YTD and now trade at 21.3x trailing earnings, well above the 5-year average of 15.5x. The shares also appear oversold on a technical basis, implying a possible "sell the news" scenario, particularly if results are flat.
J&J is the first of the major pharmaceutical companies to report quarterly results and could impact the likes of Pfizer (NYSE:PFE), Merck (NYSE:MRK), Abbott Labs (NYSE:ABT), and Bristol-Myers Squibb (NYSE:BMY).
J&J shares tend to see minimal movement off earnings, with the 1-day average price change on earnings of just 1.4%. However, the index futures are more apt to be impacted by surprising results from J&J, given its stature and influence in the marketplace.
Recent News
· 04/08: JPMorgan cut J&J to Neutral from Overweight, asserting the shares are now trading at an 8% premium to its sum-of-the-parts analysis, according to a post on Benzinga.com. The firm also says the current price reflects improved fundamentals.
· 03/26: Analysts at UBS raised the price target on J&J from $81.00 to $87.00, according to a post on Seeking Alpha.
Technical Review
J&J shares have been breaking out since the start of the year, rising 20%, en route to a multi-year high ahead of Tuesday's earnings release. Very recently, however, two bearish signals have emerged: 1. The shares failed to overcome the previous high near $83.00 (52-week high is $82.96). 2. The Relative Strength Index (RSI) and MACD are signaling a breakdown in momentum. Should earnings fail to meet the high end of Street estimates, there is downside risk to the 20-Day SMA near $81.00, followed by $80.00, and the 50-Day SMA near $78.00. Conversely, resistance is at the aforementioned high near $83.00. (Chart courtesy of StockCharts.com)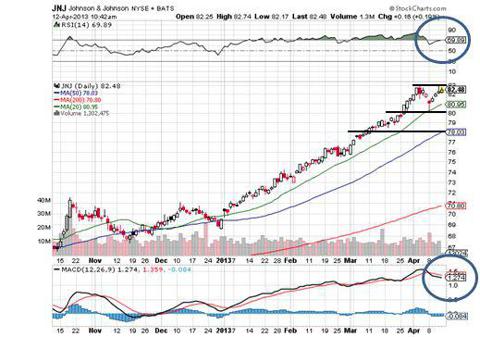 Summary
J&J shares have been breaking out in recent months, touching a multi-year high, thanks in part to a series of new treatments in the pharmaceutical space, an attractive dividend yield, share repurchases, and a stronger product portfolio. Given the recent strength, the Street will focus on the outlook for 2013. Expectations are high for this year and any missteps or downward adjustments to the forecast could weigh heavily, both on J&J shares, as well as the broader market indicators.
DISCLAIMER: By using this report, you acknowledge that Selerity, Inc. is in no way liable for losses or gains arising out of commentary, analysis, and or data in this report. Your investment decisions and recommendations are made entirely at your discretion. Selerity does not own securities in companies that they write about, is not an investment adviser, and the content contained herein is not an endorsement to buy or sell any securities. No content published as part of this report constitutes a recommendation that any particular investment, security, portfolio of securities, transaction or investment strategy is suitable for any specific person.
Disclosure: I have no positions in any stocks mentioned, and no plans to initiate any positions within the next 72 hours. I wrote this article myself, and it expresses my own opinions. I am not receiving compensation for it (other than from Seeking Alpha). I have no business relationship with any company whose stock is mentioned in this article.