In my February 2011 article "How to Play Expected Inflation from the TIPS Spread," I wrote I was long SPY, as one way to benefit from expected inflation. "I also believe it is a good time to own equities including SPY, the exchange traded fund for the S&P 500, for both inflation protection and income."
I have been correct to recommend SPY here on Seeking Alpha for the past few years despite ECRI's fears of a recession. Yesterday SPY adjusted for dividends made another record all-time high. The raw price index for SPY, without dividends and shown in green on my graph below, also broke above its last all-time high set in 2007. ECRI's WLI growth rate is below its Feb. 1, 2013 high of 8.8%, my chart #3 below shows ECRI's WLI growth remains about equal to its 2012 high of 6.3%. Below I explain why it is a good place to take some profits off the table.
Chart 1 Showing SPY Adjusted for Reinvested Dividends.
Chart 2
On Friday April 12, 2013, the Economic Cycle Research Institute, a New York-based independent forecasting group, released its latest readings for its proprietary Weekly Leading Index for the period ending during the prior week. In the latest release, ECRI's WLI moved up to 130.1, well above its 2012 high reading of 127.6 for the weekending October 5, 2012.
Despite the March 28, 2013 report from the Bureau of Economic Analysis saying GDP for Q3-2012 and Q4-2012 grew at positive 3.1 and 0.4 percent, respectively, ECRI continues to believe we are in a recession and ECRI's website continues to show supporting data.
April Snapshot of ECRI's Website
March Snapshot of ECRI's Website
ECRI's March 8, 2008 summary says "We are now in the Yo-Yo Years as described by ECRI early last year. Meanwhile, even though some economic data seems stronger on the surface, U.S. Nominal GDP growth is recessionary and we are below a "stall speed" measure highlighted by the Fed. And this isn't the first time the stock market has risen through a recession."
For the week ending April 5, 2013:
WLI rose to 130.1 compared with the prior week at 129.1.
The lowest reading for WLI on record was 105.3 for the week ending March 6, 2009.
WLI growth held steady at positive 6.2% compared with the prior week..
The lowest reading for WLI growth on record was negative 29.9% on Dec. 5, 2008. It turned higher months before the stock market bottomed on March 6, 2009, at 666.79.
Occasionally the WLI level and growth rate can move in different directions, because the latter is derived from a four-week moving average.
Chart 3
Annual WLI growth: Based on a simple, year-over-year annualized basis, annual WLI growth rose this week from 2.1% to 3.2%.
The next chart below shows ECRI's reported WLI growth rate, which is derived from a four-week moving average. Note how the second revision of Q4 GDP now shows a positive growth rate of 0.4% after the original and first revisions were negative 0.1% and positive 0.1%, respectively.
If ECRI is correct that we are currently in a recession, would it be one of the 20% of recessions that come without a bear market in stocks? ECRI's managing director, Lakshman Achuthan said "In three of last 15 recessions there was no bear market, 1980, 1945 & 1926-27. (The) '80 recession was really short, '45 was end of WWII and '26-'27 was Roaring Twenties."
Does SPY Lead WLI or Does WLI Lead SPY?
At the current price of $158.53, SPY is well above the 2000 and 2007 bull market highs after accounting for reinvested dividends. (See chart 1 above)
Since ECRI releases WLI numbers for the prior week, and the stock market is known in real time, you can sometimes get a clue for next week's WLI from the weekly change in the S&P 500 or its exchange-traded fund, SPY. But this is not always the case. Specifically, in the lead up to the last two recessions, the WLI turned down months before the stock market did.
Opportunity to take profits near All Time Highs
Is WLI growth moving lower predicting lower prices for SPY in the weeks ahead or is it just a speed bump before the market rolls on to more new highs in the weeks ahead? The prior three pull-backs in WLI growth on chart 5 below line up with corrections in the market. While I am bullish for the long-term, I took a few profits recently so I have funds to buy should the markets correct significantly. If the market continues higher, I am still invested at my target asset allocation.
Note that chart 1 above shows we are currently at the top end of the trading range for the S&P500 dating back to 1997. For over 16 years, SPY has traded between a low near $75 and a high just above $150. Taking profits near the high in 2000 and 2007 gave me loads of funds to buy shares near the 2002/2003 and 2008/2009 lows for market beating returns. For more about this, read my article "Using Asset Allocation to Make Money in a Flat Market" to see how this technique forces you to sell high and buy low, a winning formula for success.
Chart 5: S&P 500 vs. ECRI's WLI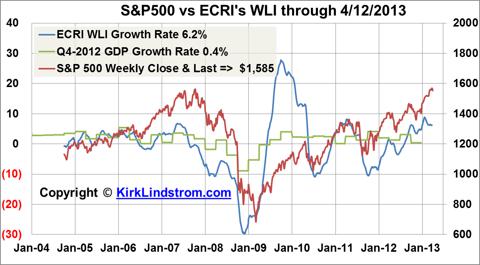 (Click to enlarge)
(Note, I would plot SPY vs. WLI, but I don't have the data in my spreadsheet going back as far since I only started trading SPY in early 2007.)
Over the next 10 years, I expect the S&P 500 will keep up with inflation and the dividend it pays should grow with or even exceed inflation. An added benefit to owning equities is that the dividends and capital gains currently get favorable tax treatment. Finally, Treasury rates are artificially low (see Current U.S. Treasury Rates at a Glance) giving all bond funds significant interest rate risk.
I was asked in my Facebook group, "Investing for the Long Term," why I own SPY: "I'm confused; if the ECRI is projecting a recession, why are you long SPY? Is it a market timing strategy?" My answer was:
I don't believe in 'all or nothing' market timing. I explain it more in my newsletter, but I'll adjust my allocation to stocks based on many things including ECRI's outlook. My last two moves for SPY was to sell SOME shares earlier this year when higher and buy them back on June 4, 2012 at $127.50 using 'Auto Buy and Sell targets' in my monthly newsletter. Hope that helps. (Seeking Alpha requires its writers to disclose if we hold a position. Thus, I would report I was long SPY even if SPY was only 1% of the portfolio with the other 99% in cash.)
In the comments section of my article, "GDP Rises To 2% And ECRI WLI Growth Positive, But ECRI Still With Recession Call," ECRI's Chief Operating Officer, Lakshman Achuthan, posted more information about why they have stayed with their recession call:
"Yes, U.S. GDP is still rising, [b]ut that doesn't mean we've dodged a new recession. Sound surprising? What most people don't understand is that recessions often begin when gross domestic product is still showing positive growth."
Deficit spending is adding significantly to GDP. (See my Seeking Alpha article "SPY Soars As U.S. Borrows 32.2 Cents Of Every Dollar Spent In Fiscal 2013.") ECRI clearly stated that they believed no amount of Fed accommodation will prevent a recession.
What Does The Future Hold?
The S&P 500 is up roughly 2.2% for the week with SPY at $158.53 so the market will have a large, positive influence on WLI next week. It is very possible that SPY and several of the stocks in my newsletter "Explore Portfolio" that lead out of recessions and bottomed months ago are pointing to an economic recovery even before most economists agree with ECRI that we are currently in a recession. It will be interesting to see if the massive tax increases on the wealthy plus the 2% payroll tax increase on everyone will be enough to cause Q1-2013 to record a the first quarter of negative GDP growth in many years.
The data suggests ECRI was wrong when they said a new recession was unavoidable. They were correct that the economy was not healthy. ECRI was also correct that the job market would suffer. Clearly taxing savers with massive QE by the Federal Reserve to help the government spend more than it takes in appears to have worked to avoid an "official recession."
With the massive tax increases on every consumer due to the payroll tax reverting to 6.2% for 2013 from 4.2% in 2012 and looming cuts to defense spending from "sequestration," it is possible Q1-2013 will show negative GDP growth for the start of a recession, but it will take large revisions to 2012 GDP data before anyone considers ECRI correct with their call for a recession way back in September 2011.
What do you think?
Notes
I trade SPY around a core position in my newsletter's "Explore Portfolio" and with my personal account. For both, I last added shares at $127.50 in June 2012 and I took profits on 1/18/13 at $147.55. With dividends reinvested, my explore portfolio holds 129.565 shares of SPY with a "break-even" price of $105.18. I also have the index fund version of SPY in both my newsletter's "core" portfolios.
Occasionally, the WLI level and growth rate can move in different directions because the latter is derived from a four-week moving average.
ECRI uses the WLI level and WLI growth rate to help predict turns in the business cycle and growth rate cycle, respectively. Those target cycles are not the same as GDP level or growth, but rather a set of coincident indicators (including production, employment income and sales) that make up the coincident index. Based on two additional decades of data not available to the general public, there are a couple of occasions (in 1951 and 1966) when WLI growth fell well below negative 10, but no recessions resulted (although there were clear growth slowdowns).
For a better understanding of ECRI's indicators, read its book, "Beating the Business Cycle."
SPY is the exchange traded fund for the S&P 500 Index.
VTI is Vanguard's "Total Stock Market" exchange traded fund.
VOO is Vanguard's new exchange traded fund that tracks the S&P 500 Index. It is a lower cost alternative to SPY. I own and write about SPY, as I have many years of data for it, but VOO could do slightly better than SPY over time because it has a lower expense ratio.
Disclosure: I am long SPY and own the traditional index fund versions of VTI and VOO bought long ago in various taxable and tax deferred accounts. I wrote this article myself, and it expresses my own opinions. I am not receiving compensation for it (other than from Seeking Alpha). I have no business relationship with any company whose stock is mentioned in this article. I am long SPY. I wrote this article myself, and it expresses my own opinions. I am not receiving compensation for it (other than from Seeking Alpha). I have no business relationship with any company whose stock is mentioned in this article.