The US Energy Information Administration, the EIA, recently published its 2013 Short-Term Energy Outlook and supplemental data on its outlook for US crude oil production. The reports are interesting and very informative for energy investors. Here are some highlights from these reports:
Average regular gasoline retail prices are forecast to fall from the all time high of $3.63/gallon in 2012, to $3.56 in 2013 and $3.39 per gallon in 2014.
Average spot Brent crude oil prices, which averaged $112 per barrel in 2012, are forecast to average $108 per barrel in 2013 and $101 per barrel in 2014.
The projected discount of West Texas Intermediate ("WTI") to Brent, which increased to a monthly average of more than $20 per barrel in February 2013, is forecast to average $14 per barrel in 2013 and $9 per barrel in 2014.
Nat gas working inventories ended March 2013 at an estimated 1.69 trillion cubic feet ("Tcf"), about 0.79 Tcf below the level at the same time a year ago and 0.41 Tcf below the five-year average (2008-12).
The EIA expects the Henry Hub natural gas spot price, which averaged $2.75 per million British thermal units (MMBtu) in 2012, will rise to an average $3.52 per MMBtu in 2013 and $3.60 per MMBtu in 2014.
US Crude Oil Production Growth: Texas Leads The Way
The following chart summarizes actual 2012 US crude oil production growth and the EIA's two-year forecast for growth: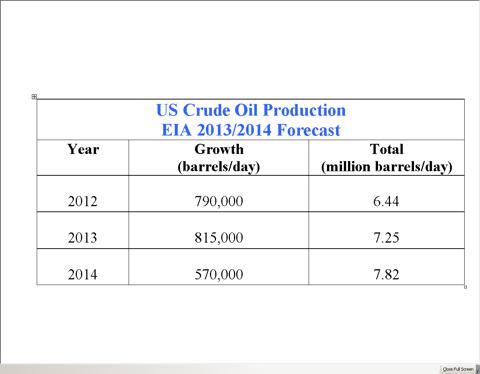 While the 790,000 barrel/day growth in oil production from 2011-2012 was the highest annual increase in oil production growth since 1859, the rate of production growth is forecast to slow going forward. According to the EIA, the US will see less oil production growth in 2014 than in 2013.
Although North Dakota gets most of the press these days due to the huge growth in the Bakken, it may come as a surprise that Texas will lead the way in production growth going forward. As the following chart shows, the Western Gulf Basin (think the Eagle Ford) and the Permian Basin will swamp the Williston Basin in terms of total production and production growth.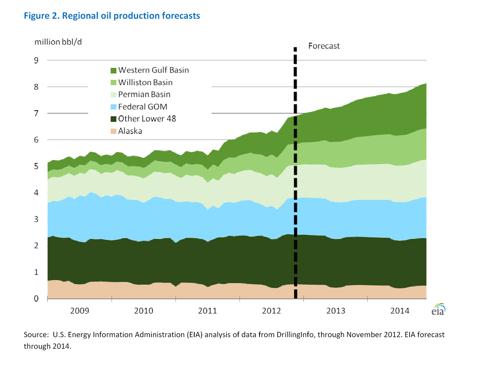 In fact, according to the following EIA chart, crude oil production from both the Western Gulf Basin and the Permian Basin will exceed that of the Williston Basin.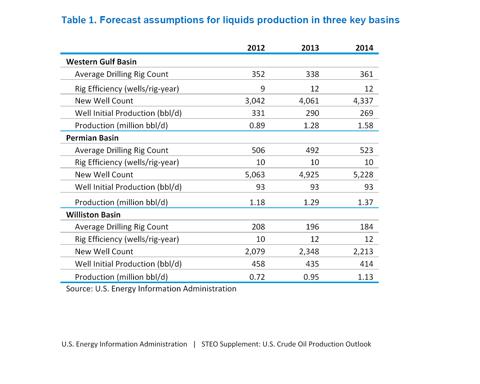 In 2012, Permian and Eagle Ford oil producers ran into the same problem Bakken producers faced: low realized prices due to lack of transport infrastructure. However, the following chart shows an additional 355,000 barrels/day of new pipeline capacity will be coming online in 2013 - most of it in the first half of the year. Indeed, the primary reason the EIA is reducing the forecasted spread between Brent and WTI to $9 per barrel in 2014 is the lower cost of moving mid-continent crude oil to the Gulf Coast refining centers as a result of this additional pipeline capacity.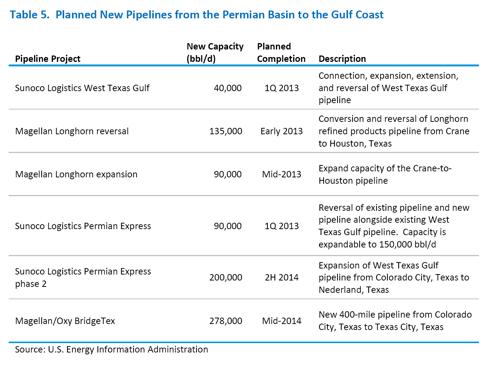 Summary and Conclusions:
From an investor point of view, these EIA forecasts lead me to conclude the following:
Although crack spreads will remain healthy, investors in the refining stocks should reduce expectations vis-a-vis 2012's outsized total returns.
Realized prices for crude oil in the Permian and Eagle Ford will move closer to the actual WTI price, which the EIA forecasts to average $94/barrel in 2013.
Large natural gas producers will see a significant uptick in natural gas revenue.
I will suggest an investment or two for each of these trends.
In the refining space, I continue to favor Phillips 66 (NYSE:PSX) as a more diverse play than the pure refiners. As most energy investors know, PSX consists of three major business segments: refining, chemicals, and midstream. While refining is certainly the largest of these businesses, the chemicals segment (a 50-50 joint venture with Chevron (NYSE:CVX) called "CPChem") contributed roughly 20% of net adjusted earnings in 2012. As my article focusing on CPChem revealed, CPChem leads the industry as a producer of low-cost chemicals and in financial returns. The low-cost input feedstock story, both in terms of domestic natural gas and NGLs prices, is still in place for CPChem. A growing US economy should help chemical volumes going forward.
PSX's Midstream was responsible for ~5% of net adjusted earnings in 2012. The upcoming Phillips 66 Partners MLP is likely to unleash more shareholder value as the market realized the wealth of additional midstream assets PSX owns and operates.
Phillips 66's stock has recently seen a bout of profit taking as a result of new EPA regulation proposals and the narrowing of the Brent/WTI spread. Selling has pulled the stock down from over $70 to $60 and change. Phillips' earnings are due out on May 1st. Investors without a stake in the refining sector should consider PSX.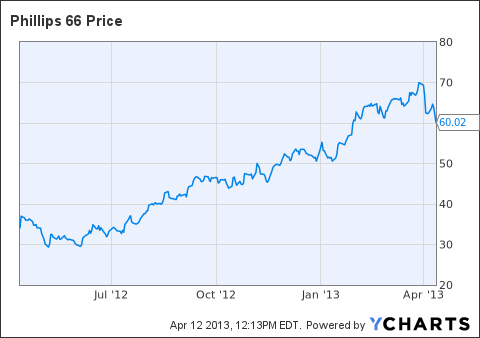 To play the Texas production and realized price growth angle in the Permian and Eagle Ford Basins, investors should consider ConocoPhillips (NYSE:COP) and Occidental Petroleum (NYSE:OXY).
As I reported in an earlier article on COP, the company's Eagle Ford production averaged 89,000 BOE/day in Q4 2012, achieving a peak daily rate of more than 100,000 BOE/day. That's a 17% jump from Q3's Eagle Ford average daily production of 76,000 BOE/day. The company pays a 4.5% dividend and earnings are due out on April 25th. In addition to pure production growth, Conoco's realized prices stand to benefit from increased pipeline infrastructure in the region.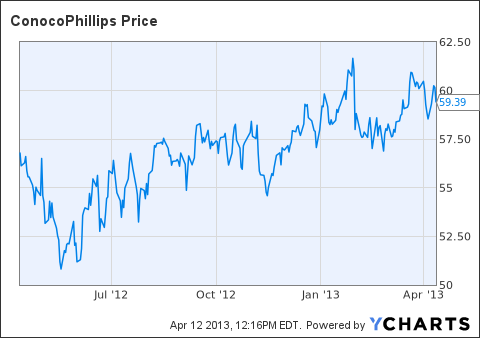 OXY is the #1 oil producer in the Permian Basin and has more to gain from the additional regional pipeline capacity (and higher realized prices) than any other oil producer. OXY needs to move past the constant leadership rumors and return investor focus to its growing oil production and its Middle East natural gas project.
To profit off the increasing price of US natural gas (the Henry Hub spot prices is up 123.5% year-over-year), investors should consider Exxon Mobil (NYSE:XOM), the largest natural gas producer in the US. Exxon has been a laggard in the energy space over the past 5 years, and pays the lowest dividend yield of its peer group (2.6%). That said, the company appears poised for a breakout to the upside.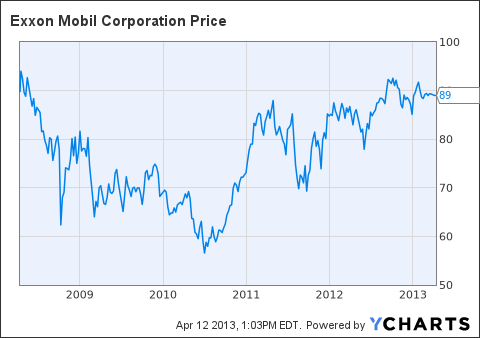 If the EIA forecasts for 2013/2014 are correct, the companies listed in this article should do just fine over the next couple of years. The dividend yields should protect investors from short-term market corrections. Any large dips in invalid stocks should be used as opportunities to start or add to positions. Good luck!
Disclosure: I am long COP, PSX, XOM. I wrote this article myself, and it expresses my own opinions. I am not receiving compensation for it (other than from Seeking Alpha). I have no business relationship with any company whose stock is mentioned in this article.
Additional disclosure: I am an engineer, not a CFA. Please do your own research and contact your investment adviser. I am not responsible for investment decisions you make.