Monster Beverage (NASDAQ:MNST), formerly Hansen Natural Corporation, has successfully emerged as the world's second-largest energy drink company behind privately held Red Bull. Despite the recent gain, MNST is underperforming with 7.67% YTD as of April 11, 2013 compared with the NASDAQ with a 11.48% advance. Monster Beverage had been hampered by safety claims over its energy drinks in the past few months, but now it may be due for a very bullish run.
Gaining Market Share
According to a note from SunTrust, Nielsen data showed Monster Beverage made market share gains and accelerated its growth rate in March. Prior, Nielsen convenience store data also showed that the energy drink category was up 6% for the four weeks ended February 16, 2013, while MNST outpaced the group at +7.4% and resumed its share gains.
New Buyback
On April 8, 2013, MNST' Board of Directors had authorized a new share repurchase program for the repurchase of up to $200 million of the company's outstanding common stock. There was no availability remaining under the previously authorized $250 million share repurchase program. Based on the last closing price of $55.86 on April 11, 2013, up to 3.58 million shares can be repurchased. MNST currently has 165.55 million total shares outstanding.
Analysts' Calls and Estimates
Stifel analyst Mark Astrachan is very bullish on MNST's international sales and predicted that MNST' international profits will jump 50-fold over the next three years. Mark Astrachan said on April 11, 2013, that Monster's annual operating profits from sales outside of the U.S. will increase from $5M last year to $101M in 2015, and the international operating margins will increase from 1.1% to 13.4%.
Analysts currently have a mean target price of $60.00 for MNST, suggesting 7.41% upside potential based on the closing price of $55.86. Analysts, on average, are estimating an EPS of $0.47 with revenue of $502.28M for the current quarter ending in March, 2013. For 2013, analysts are projecting an EPS of $2.26 with revenue of $2.32B, which is 12.70% higher than 2012.
Fundamentally, MNST's key stats will be compared to its peers, including Coca-Cola Co (NYSE:KO), PepsiCo Inc. (NYSE:PEP), and Dr Pepper Snapple Group, Inc. (NYSE:DPS), as seen from the table below.
| | | | | |
| --- | --- | --- | --- | --- |
| | Monster Beverage | Coca-Cola | PepsiCo | Dr. Pepper Snapple |
| Market Cap | $9.25B | $183.53B | $123.36B | $9.69B |
| Revenue Growth (3 Year Average) | 21.7 | 15.7 | 14.8 | 2.7 |
| Operating Margin, %, ttm | 26.7% | 22.4% | 13.9% | 18.2% |
| Net Margin, %, ttm | 16.5% | 18.8% | 9.4% | 10.5% |
| ROE | 41.9 | 28.0 | 28.8 | 27.7 |
| Debt/Equity | 0 | 0.4 | 1.1 | 1.1 |
| P/E | 29.5 | 20.8 | 20.4 | 15.9 |
| Forward P/E | 18.3 | 17.0 | 16.0 | 13.8 |
| P/FCF | 38.81 | 56.12 | 50.76 | N/A |
Source: Morningstar
Comparing to three other companies, MNST has higher revenue growth, operating margin and stronger ROE. MNST only lags KO for its net margin. MNST also has a healthy balance sheet with $319.56M total cash and zero total debt. Surprisingly, MNST also offers cheaper free cash flow (P/FCF of 38.81) compared with KO and PEP. Below, MNST's EPS estimates for the next three fiscal years will be compared with its peers.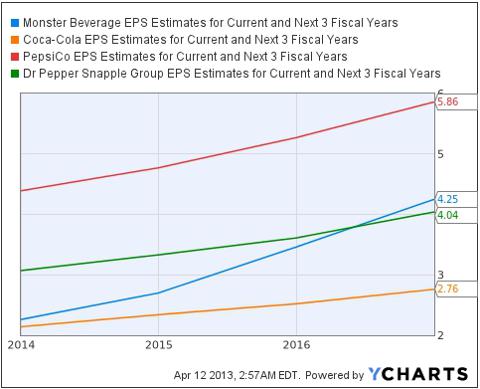 Source: YCharts.com
While EPS is expected to grow for all three companies for the next three fiscal years, MNST's EPS is expected to grow at the fastest rate, surpassing DPS's EPS and reaching $4.25 per share by the end of 2016.
Technically, the MACD (12, 26, 9) indicator is showing a bullish trend. The momentum indicator, RSI (14) is picking up and indicating a strong buying momentum at 72.73, where above 70 is considered as overbought. MNST is currently trading above its 200-day MA of $54.48 and 50-day MA of $49.08, as seen from the chart below.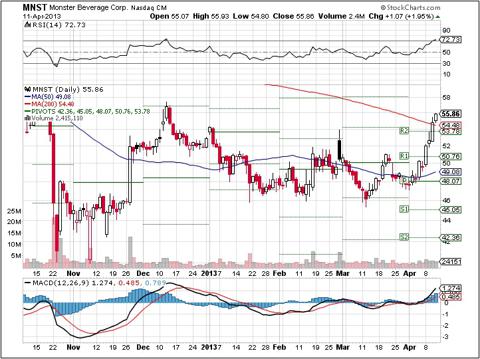 Source: StockCharts.com
Bottom Line
While the safety concern may depress the stock in the near term, MNST's share price will be supported if the company continues to gain market share. With high revenue growth and margins, as well as strong ROE, MNST remains an attractive growth story, supported by its solid balance sheet. If MNST can hold above its 200-day MA, more upside is expected in the near term. Alternatively, for investors seeking income and dividend, KO and PEP are better investment targets.
Note: Investors and traders are recommended to do their own due diligence and research before making any trading/investing decisions.
Disclosure: I have no positions in any stocks mentioned, but may initiate a long position in MNST over the next 72 hours. I wrote this article myself, and it expresses my own opinions. I am not receiving compensation for it (other than from Seeking Alpha). I have no business relationship with any company whose stock is mentioned in this article.