Introduction
American Woodmark Corporation (NASDAQ:AMWD) manufactures kitchen cabinets and vanities for the remodeling and new home construction markets. The company offers a wide variety of cabinet lines differing by design, material, and finishes. AMWD's products are sold throughout the United States through independent distributors and directly to home centers, builders, and home manufacturers.
Trouble started for AMWD in July of 2006 when the number of new privately owned housing starts in the US, sank south of an annualized rate of 1,750,000 homes. This was the first time privately owned housing starts were lower than 1,750,000 homes since May 2003 when housing starts surpassed the 1.75 million figure. In 2009, AMWD reported a Net Operating Loss (NOL) of ($3.23 million). This was the first time AMWD reported a NOL in 15 years. AMWD reported a Net Loss every quarter from Q4 2009 to Q4 2012.
Discussion of 10-Ks
Fiscal Year 2010 & 2010 Annual Report
FY 2010 saw high levels of US Consumer pessimism produced from large levels of economic uncertainties. AMWD's sales decreased 25.5% YoY. Decreased sales resulted in a loss of economies of scale which contracted Gross Profits by 26.6%; a 4.3% decrease as a percentage of sales. AMWD reported a NOL of ($22.3 million); a loss that was 592% larger than the 2009 loss.
However, positives were beginning to emerge: GDP was growing, the stock market was recovering, inflation was under control, interest rates were at all-time lows, jobs were being created, and new construction permits were showing YoY growth. CEO, Kent Guichard, remained optimistic for 2011. In the 2010 Annual Report, Mr. Guichard said AMWD is positioned well for the recovery as AMWD is, "At or near the top of virtually every measure of economic competitiveness." In order to add customer value and widen their economic moat, Mr. Guichard said, "We will maintain and even increase our contact with our customers to ensure we lead the industry in both the quality and quantity of touch points." AMWD planned to add shareholder value by pursuing initiatives that will improve operational efficiency and performance.
Unfortunately, in FY 2011, AMWD experienced a recessed housing market for the fifth year. In AMWD's Fiscal 2011, new housing starts decreased by 17% in Q1-Q3 and by another 5% in Q4. Consumer confidence continued to sink and AMWD lost 5% of their overall customer market. AMWD reported a NOL of ($20.02 million).
The company did see some growth as sales to new construction increased in the, "mid-single digits." In the second half of fiscal 2011, sales to remodeling markets saw an increase in excess of 20% due to aggressive sales promotions. These promotions were required to retain market share and competitiveness in a contracting market. Gross Profit decreased slightly due to these promotions. However, Free Cash Flow increased by $18 million and Net Sales increased by 11%. The Net Loss was reduced by 10% to 4.42% of sales relative to an NOL equal to 5.5% of sales in 2010. AMWD expected to see in 2012, a 10% increase in New Housing Starts and expects sales growth of 5% to 8%.
AMWD began to see positive indications from the housing market in FY 2012. In FY 2012, total housing starts and single family housing starts grew faster than in 2011. More homes were built in 2012 than in 2010 and 2011 combined.
AMWD had increasing sales to new construction; however, as the remodeling market continues to contract, the competition remains fierce. AMWD's CFO Jon Wolk said, "Remodeling comprises the largest segment of our market." AMWD saw elevated levels of promotional activity in FY2012 in an attempt to retain market share; this had a negative effect on Gross Margin.
To offset this effect and bring value to shareholders, AMWD continued their restructuring efforts, including: closure of two plants, listing a previously closed plant for sale, product and price mix up, and the freezing of pension plans. "Active consumers are not as budget constrained as they were a couple of years ago" said Wolk. This has given AMWD the ability to mix up their price and product in 2012.
Overall there are a lot of positives: margin expansions, 8 consecutive quarters of sales growth, unit volume is increasing, average revenue per unit is increasing, the housing markets are beginning to show life, and the company's "financial position remains outstanding" says CFO John Wolk. The company has 3x more cash and equivalents than long-term debt on their balance sheet. Wolk also says, "We believe the company has a good chance to return to profitability during its fiscal year 2013."
However, petroleum prices pose a large risk to accomplishing the goal of FY2013 profitability. Petroleum is not only used to transport the product but is actually an element to the product.
Discussion & Analysis
Outlook provided by AMWD has been incorrect in the past. This was painfully true in 2011 as the housing market resisted improvements and placed AMWD's earnings into turmoil. In my eyes the housing market continues to be the largest variable at play relative to the earnings of AMWD. AMWD is heavily dependent on remodeling.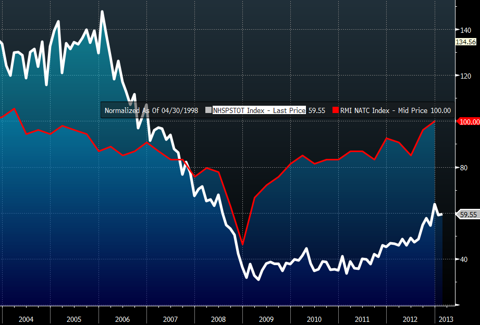 Click to enlarge
When new housing starts shown by the NHSPSTOT Index in white-reached their low in 2009, competition amongst home builders was at all-time highs. There was simply not enough work in the new housing market. Many contractors and builders had to find new streams of revenue. Those contractors and builders that did not default and file chapter 11 bankruptcies, found work in the remodeling market. The remodeling market shown by the RMI NATC Index in red-began improving significantly in 2009 as contractors began focusing time and efforts away from new housing starts, and towards bringing customer value in the remodeling market. As a result, AMWD's sales have shifted away from new housing starts and toward the Remodeling market. As new home starts continue to grow, AMWD will begin to shift sales back toward the new construction market. As competitors also gain new construction sales, competitiveness in the remodeling market will harden and allow AMWD to decrease their promotional campaigns.
All percentage changes discussed in this section are sequential changes unless otherwise specified. AMWD's Q2 FY2013 ended on October 31st, 2012. Revenue grew 7.76% in Q2 while Gross Profit grew 12.48%. EBITDA grew by 19.78% in Q2. AMWD reported Net Income of $561,000 in Q1 FY 2013 - their first quarter with positive earnings in 13 quarters. Net Income reported in Q2 was $1.95 million and Basic EPS was $.13 per share; increases of 247.6% and 225% respectively.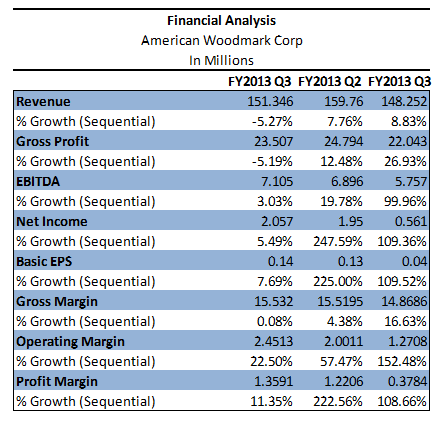 Q3 FY 2013 ended January 31st, 2013. Revenue contracted 5.27% in Q3. Gross Profit shrank 5.19%; slightly less than the revenue decrease. Even though revenues decreased, EBITDA and Net Income both grew. EBITDA grew 3.03% from $6.9 million in Q2 to $7.11 million in Q3. Net Income grew 5.49% from $1.95 million to $2.06 million. Basic EPS grew 7.7% from $.13 per share to $.14.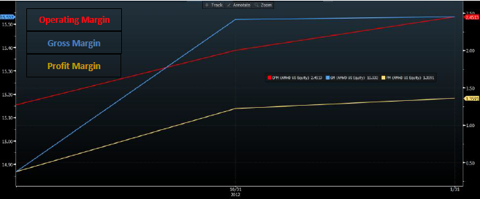 Click to enlarge
EBITDA, Net Income, and EPS all grew despite the revenue decrease. Q2 saw Gross Margin, Operating Margin, and Profit Margin increases of 4.38%, 57.47%, and 222.56% respectively. The positive news continued in Q3 when Gross Margin, Operating Margin, and Profit Margin increased by .08%, 22.5%, and 11.35% respectively. AMWD's restructuring efforts are starting to pay dividends as operations became more efficient, resulting in margin expansion. AMWD's margins for Q2 and Q3 can be seen in the graph above to the right. Operating Margin is graphed in red, Gross Margin in blue, and Profit margin in gold.
This statement graph shows AMWD's stock price relative to financial statement performance. The market has already rewarded AMWD for the operating improvements that were seen in Q1-Q3. AMWD should continue to see operating improvements from restructuring benefits and growth in the recovering housing market.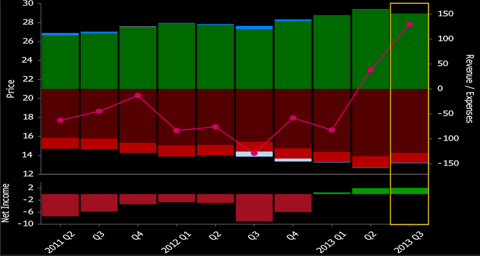 Click to enlarge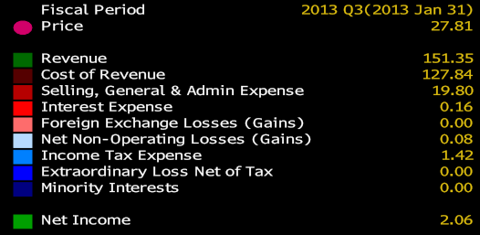 Click to enlarge
The housing market does seem to be recovering. According to the Census Bureau, the lowest levels of Total US Construction Spending Seasonally Adjusted were seen February of 2011 when spending was $746 billion. The total spending was $885 billion in February 2013; an increase of 18.6% since 2011 low. The number of US New Privately Owned Housing Unit Starts found the bottom in April 2009 when there were only 478,000 starts. February 2013 saw 917,000 starts; a 91.8% increase from the low in 2009. US Building Permits is of particular importance to AMWD as permits measure of both new construction and remodeling. Permits bottomed out in March of 2009 when 513,000 permits were filed. There were 939,000 permits filed in February 2013; an increase of 83%. The findings are outlined below.

Click to enlarge
AMWD has a market capitalization of $451.2 million. AMWD's top five competitors and their respective market capitalizations are: Masco Corporation MAS (6,879.6 million), Armstrong World Industries, Inc. AWI (3,092.5 million), Joyou AG JYOUF (344.8 million), Builders FirstSource, Inc. BLDR (529.9 million), and Libbey Inc. LBY (391.6 million). The average market capitalization of Bloomberg identified competitors is 2,010 million. AMWD has an average correlation of 37% to these competitors.
Relative to the aforementioned competitors, AMWD has grown Net Income faster than 4 of 5 identified competitors over the previous 8 quarters. AMWD was 4.7% short of tying Armstrong World Industries for first place. Their best performing competitors are Armstrong World Industries (AMI) and Masco Corp.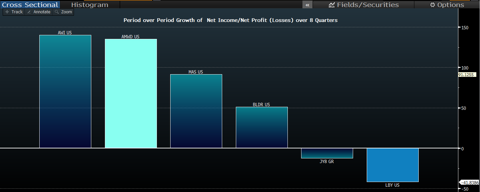 Click to enlarge
In the past 50 months-since 1/30/09 AWI and MAS have had larger price appreciation than AMWD. AWI has had a price appreciation of 237% and a dividend adjusted return of 423%. The price of one share of stock in MAS has appreciated 159% with a dividend adjusted return of 186%.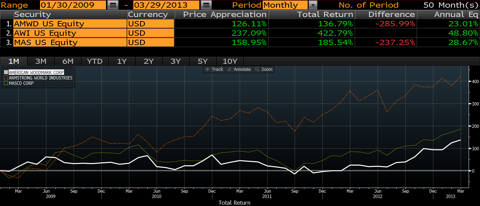 Click to enlargeAMWD remains the most undervalued with a price appreciation of 126% and a dividend adjusted return of 137%. The annual equivalent returns for AMWD, MAS, and AWI are 23%, 29%, and 49% respectively. This information can be seen in the picture above.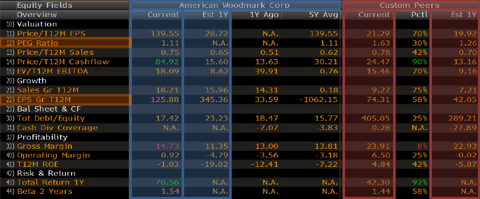 Click to enlarge
Yet again, AMWD appears to offer more value than the identified peers consistently used throughout this analysis. AMWD has a TTM EPS Growth rate 69.4% larger than that of their peers. AMWD has a PEG Ratio of 1.11-independent of the model shown to the right as compared to the peers' PEG of 1.63. When comparing equities, a lower PEG Ratio indicates that the P/E relative to EPS growth is lower; thus having more value.
I have recently developed something I like to call a PEG Pricing Model; the model can be seen in the picture below. By assuming an EPS CAGR of 12% for AMWD's next full business cycle, typically 3-5 years, we arrive at an implied price per share of $155. The market justifies a price per share of $30.70 with the TTM EPS of $.22. I believe $1.11 per share for FY 2014 is very reasonable with the direction and growth strength the housing market has shown in the previous 2 years.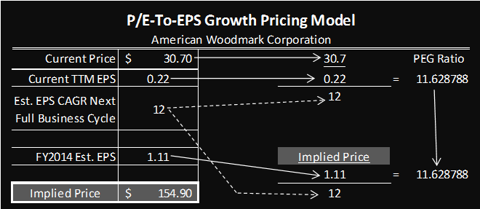 Click to enlarge
The point is not the $154.90 per share. The point is my belief that AMWD is undervalued and that there is value to be unlocked in with the current growth potential. When comparing Estimated EPS Growth relative to Estimated EBITDA Growth, AMWD again offers more value than AMWD's peers.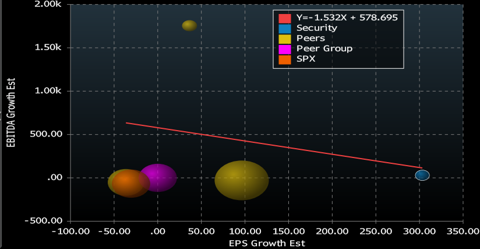 Click to enlarge

Click to enlarge
To eliminate many of the assumptions that are involved with using a standard Discounted Cash Flow Analysis, I will use a Reverse Discounted Analysis. A reverse DCF uses values that are currently known and derives a growth percentage. That growth percentage should then be used to compare to the estimated growth percentages to determine if the equity is over-valued or under-valued. The data used for the assumptions was taken directly from Bloomberg while using a Bloomberg Terminal. With the current price of $31.77 (as of close on 4/8/13), the market is factoring a Free Cash Flow growth rate of 39.21%.

Click to enlarge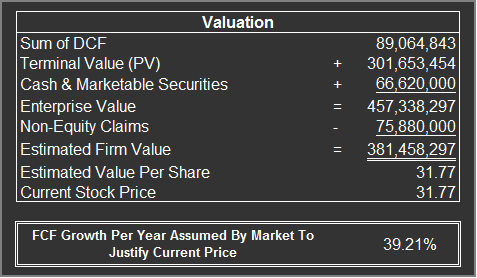 Over the past 10 years (FY03 - FY12) EBITDA and FCF have a good correlation. By using the Regression Analysis offered by Microsoft Excel, there is an R-squared of .5945 with a P-value of .009. This indicates that there is a relationship between EBITDA and FCF that is statistically significant. As we learned above, EBITDA is forecasted to grow 110%, I strongly believe FCF will grow with higher velocity than the 39% FCF growth assumed by the market. As we just learned in the paragraph above, the earnings are forecasted to grow at a much higher rate and thus, Free Cash Flows will grow at a high rate.

Click to enlarge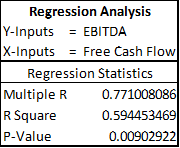 Based on the evidence I have outlined in this analysis, I believe AMWD to be a fundamentally strong company with a high likelihood of outperforming the market in the next two years. With a risk tolerance between 5 and 7 on a scale of 10, I am bullish on AMWD and I recommend AMWD as a buy.
Though I believe AMWD will return Cap Gains to its shareholders, entry point is still key. Below is a graph of AMWD's price over the previous 6 months. The technical indicators I have chosen to utilize are: Residual Strength Index (not shown on graph to minimize space used), Moving Average Convergence/Divergence (MACD), Parabolic Stop-and-Reversal, and 3 Fibonacci Retracements levels above the 50% level.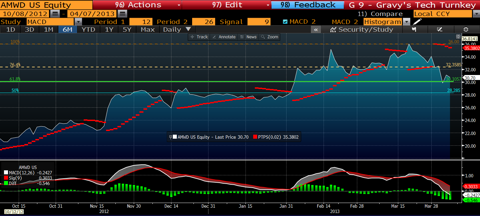 Click to enlarge
The MACD line currently indicates a strong downward divergence from the signal line. Strong divergences are generally followed by convergences. The MACD line is the difference between the 12 period and 26 period exponential moving averages. The signal line is the 9 day exponential moving average of the MACD line. The difference between the MACD and the Signal line is graphed as a green histogram. The strong divergence of the signal line and MACD line shows that the most recent difference of the 12 and 26 period exponential averages are trending with high velocity as compared to the 9 period exponential average of the MACD line (the signal line). This indicates that the market has corrected downward at a pace that is much faster than normal and thus the price is at a higher probability of increasing upward based on the reversion to the mean theory.
The Relative Strength Index is registering a value of 48.29. This suggests that AMWD is neither oversold nor overbought. However, this is on the lower end of the spectrum as a value below 30 is considered oversold and a value above 70 is considered overbought.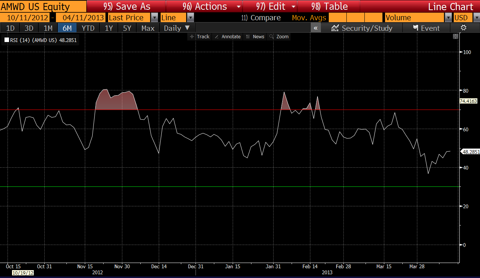 Click to enlarge
The Parabolic Stop-and-Reversal (Parabolic SAR) is currently registering a downward trend. When the price comes into contact with the SAR points, the stock is showing a switch in the direction of price movement. The higher velocity the movement has, the more separated the SAR points will be and larger the divergence between the price and the SAR points. There is a large separation between the price and the Parabolic SAR points. This commonly indicates that the price will trend in the opposite direction or sideways in the near future.
On April 3rd, the price reached a critical Fibonacci level of 61.8% (shown in green) at a price point of $30.10 per share. This price point became a support line for AMWD. According to the Fibonacci Retracements Levels of 76.4% and 100%, the next resistance prices are at $32.36 and $36 respectively.
I think pullback has given a great opportunity for a long-term entry point. However, with a diverging MACD and a downward trending Parabolic SAR, the price could drop below the Fibonacci 61.8% support level of $30.10. If the price does fall through $30.10 by more than 10%, you could be trying to catch a falling knife. I believe that the recent pullback has created a perfect entry point.
Note: All data contained in this report was gathered from Bloomberg Finance L.P. through the use of Bloomberg Professional Software.
Disclosure: I have no positions in any stocks mentioned, and no plans to initiate any positions within the next 72 hours. I wrote this article myself, and it expresses my own opinions. I am not receiving compensation for it (other than from Seeking Alpha). I have no business relationship with any company whose stock is mentioned in this article.