Rite Aid Corporation (NYSE:RAD) had an amazing performance year to date by gaining 52.52%, strongly outperforming the market where the S&P index increased 13.60% as of April 11, 2013. Rite Aid, with a market cap of $1.92B, operates drugstores in 31 states across the U.S. and in the District of Columbia. On April 11, 2013, RAD surged 18.44% after the company reported its second-straight quarterly profit and first annual profit in six years.
Management Call
Rite Aid's Q4 results were driven by solid front-end same-store sales growth of 0.3%, increased profitability from new generics and a strong 3% increase in same-store prescription count. The results were impressive as Walgreen (WAG) was back in the ESI network for the entire quarter. The company also achieved a new all-time company record for a full-year adjusted EBITDA.
Operation Improvement and Customer Satisfaction
The company had converted nearly 800 stores to wellness format, with nearly 1,300 Wellness Ambassadors working in these stores and providing a higher level of customer service. The management also indicated that new ESI patients were retained due to excellent services. RAD also earned the top position among major drugstore chains for the American Customer Satisfaction Index and its score had increased by 3%.
Improved Financial Health
For fiscal 2013, the management had improved financial health by reducing the company's net debt by $250 million. By reducing debt and increasing adjusted EBITDA, the company had improved its leverage ratio and had extended the maturity of nearly all its debt to 2017 and beyond through refinancing. More financial flexibility is expected for RAD.
Management Strategy
The management will continue the same initiatives that have fueled its improved performance, such as wellness+ customer loyalty program, wellness store remodels, and the Wellness Ambassador initiative. The company will continue to expand the role of pharmacists and pharmacy teams and offer Medication Therapy Management, providing individual counseling to patients with complex prescription therapies
Fundamentally, Rite Aid will be compared to its competitors in the industry of pharmaceutical retailers, including Walgreen Company and CVS Caremark Corporation (NYSE:CVS), as seen from the table below.
| | | | | |
| --- | --- | --- | --- | --- |
| | Rite Aid | Walgreen | CVS Caremark | Industry Average |
| Market Cap | $1.92B | $46.11B | $71.10B | N/A |
| Revenue Growth (3 Year Avg.) | -0.2 | 4.2 | 7.6 | 5.5 |
| Operating Margin, %, ttm | 1.1% | 4.8% | 5.9% | 5.2% |
| Net Margin, %, ttm | -0.7% | 2.9% | 3.2% | 2.8% |
| ROE, ttm | 0 | 12.4 | 10.2 | 11.3 |
| P/E | -9.0 | 21.4 | 18.8 | 36 |
| Forward P/E | 14.2 | 14.1 | 12.7 | 14.3 (S&P 500's Avg.) |
Source: Morningstar
RAD's negative revenue growth (three-year average) and negative net margin make it a riskier bet as compared to WAG and CVS. RAD, with a total cash of $263.64M and a total debt of $6.15B, is highly leveraged financially. However, as RAD continues to improve its balance sheet and adjusted EBITDA, RAD could be poised for a strong turnaround. Below, RAD's price performance and estimated EPS will be compared to WAG and CVS.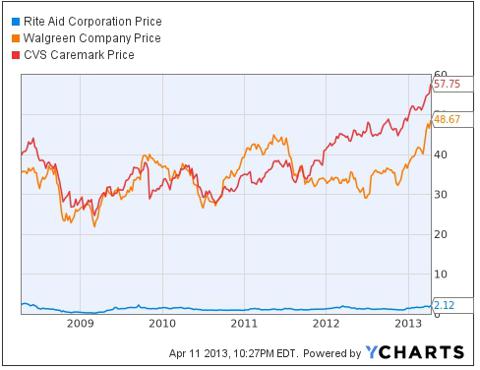 Source: YCharts.com
RAD had been underperforming in 2012 comparing to WAG and CVS. RAD started to pick up, outperforming WAG and CVS with an impressive 52.52% gain YTD, whereas WAG was up 33.20% and CVS advanced 20.53%.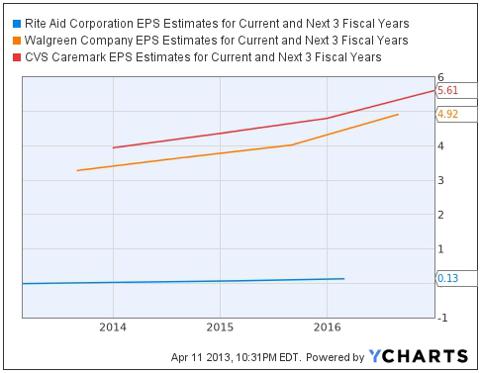 Source: YCharts.com
All three stocks are expected to have EPS gain for the next three fiscal years. RAD is expected to reach $0.13 EPS by fiscal 2016.
Technically, RAD is on the long-term uptrend since December, 2012. RAD had broken through its long-term uptrend resistance in the last trading day, as seen from the chart below.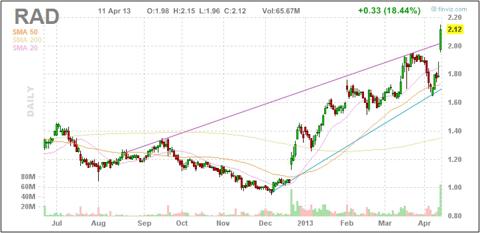 Source: Finviz.com
Bottom Line
RAD continues to improve its bottom line, and a profitable fiscal year is significant for RAD. WAG is expanding its supply agreement with AmerisourceBergen Corp. (NYSE:ABC) and made its aggressive move with Alliance Boots. On the other hand, CVS, with its integrated pharmacy model, continues to be fundamentally solid and trades at a lower Forward P/E. RAD still has a tough battle ahead with these strong competitors. Nonetheless, if RAD continues to improve its EPS, more substantial upside is expected.
Note: Investors and traders are recommended to do their own due diligence and research before making any trading/investing decisions.
Disclosure: I have no positions in any stocks mentioned, but may initiate a long position in WAG, RAD over the next 72 hours. I wrote this article myself, and it expresses my own opinions. I am not receiving compensation for it (other than from Seeking Alpha). I have no business relationship with any company whose stock is mentioned in this article.