By Jay Peroni
Even in a slow economy in recent years, one high-end furnishings company has delivered strong dividends and impressive returns, building on a winning streak of more than four decades.
Innovative furnishings, especially involving sleep technology, are no longer just a fad, and because homes, offices and hotels constantly need new furniture and carpeting, the furnishings industry has bucked the downward trend experienced by many retailers.
One company in particular has thrived.
With a recession in full swing in 2008 and 2009, one would think this company would have fallen on hard times -- but it produced positive returns in those two years as the demand for furnishings did not slump along with the economy. A stream of product improvements and innovations in sleep technology have helped this furnisher stay relevant and profitable.
Founded in 1883, Leggett & Platt (NYSE: LEG) has not only stood the test of time -- it has thrived during turbulent periods. Diversification has been key to its success, with 20 different business units, more than 18,000 employee-partners and 130 facilities in 18 countries.
The company focuses on hospitality products, bedding manufacturing machinery, wiring and store fixtures. Leggett & Platt operates in four distinct segments:
Residential furnishings: Leggett & Platt is an industry leader in bedding accessories, carpet cushions and mattress springs.
Industrial materials: The company is also the leading U.S. producer of steel wire and specializes in shaped wire, coated wire and erosion control products.
Commercial fixtures and components: Leggett & Platt makes fixtures and point-of-purchase displays for retail outlets and components of office furnishings.
Specialized products: Leggett & Platt also makes a variety of other products, such as automotive seating support and comfort systems, quilting and sewing equipment, and wire-forming equipment used in bedding and vehicles.
For 2012, Leggett & Platt's earnings per share (EPS) from continuing operations was $1.46, a record for the company. Analysts recently raised their EPS forecasts for 2013, to between $1.50 and $1.75 per share. That's because of expected sales of $3.75 billion to $3.95 billion, reflecting revenue growth of 1% to 6%.
Improved operating margins helped Leggett & Platt post strong bottom-line results in the fourth quarter of 2012, with earnings surging more than 45% from the same quarter the previous year, to 32 cents per share.
Last year also marked the fifth consecutive year that Leggett & Platt beat the S&P 500, with an average annual gain of 19.7%, compared with 14.6% for the S&P. On Feb. 28, Leggett & Platt increased its annual dividend for the 42nd consecutive year, a compound annual growth rate of 13%. Take a look at its stock's performance since 2009: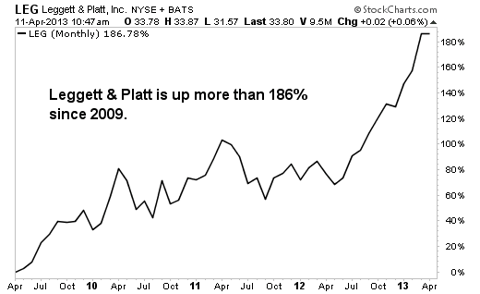 Leggett & Platt is in the midst of a three-part strategic plan announced in late 2007 to divest itself of low-performing businesses and focus on improving margins and returns, with the goal of annual top-line growth of 4% to 5%. However, strategic acquisitions have also been a focus for Leggett & Platt, which enhanced its industrial materials portfolio last year with its purchase of Western Pneumatic Tube Holding, a leading provider of aerospace components.
Compared with its competitors, Leggett & Platt has enjoyed a higher return on equity (15.5% compared with 11.6%) and net margins (6.7% versus 4%). Its forward price-to-earnings ratio of 20.1 is in line with its competitors, but its 3.5% dividend is more attractive than the 2.5% industry average.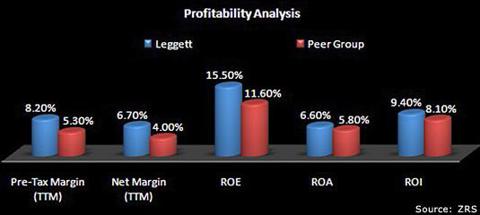 Risks to consider: Competitive pressures could make it difficult for Leggett & Platt to implement new strategies, and intense regional competition makes it difficult to stand out. The company has done well, but changes in consumer preferences and budgets can change at a moment's notice.
Volatility in raw material prices is also a significant risk that could affect Leggett & Platt's margins. The company depends on steel, which is currently slumping but remains susceptible to high volatility. ''Finally, a quarter of Leggett & Platt's sales are made overseas, which exposes the company to currency fluctuations and political and economic risks. Even faced with these risks, however, Leggett & Platt still looks like a solid choice with its strong dividend and track record of steady growth in good and bad economies alike.
Buy Leggett & Platt at up to $35 a share. With a 3.5% dividend, solid strategy and strong growth, the company could climb to $40 to $45 a share within the next 12 months on the steady demand for home, office and hotel furnishings.
Disclosure: I have no positions in any stocks mentioned, and no plans to initiate any positions within the next 72 hours. I wrote this article myself, and it expresses my own opinions. I am not receiving compensation for it. I have no business relationship with any company whose stock is mentioned in this article.