The cloud computing market is expected to grow to $177 billion over the next two years, and in turn, many companies will be looking to capitalize from this bubble. For those unfamiliar, cloud computing is the use of computing resources (hardware and software) that are delivered as a service over a network (typically the Internet). Mainframe computing from around the 1970s was replaced by client-server computing architecture in the 1980s and 90s, but by the time the Internet flourished, the world found a need to centralize the storage of data again. In recent years, this necessity of centralization has created a cloud computing bubble.
Consumers may be more familiar with cloud service offerings. This includes Google Drive, offered by Google (NASDAQ:GOOG), SkyDrive by Microsoft (NASDAQ:MSFT), Box.com, and Dropbox.
Here are some other ideas for investing in cloud computing that investors should consider:
1. Oracle Corporation - (NASDAQ:ORCL)
Oracle Corporation is an American multinational computer technology corporation with headquarters in Redwood City, California. The company specializes in developing and marketing computer hardware systems and enterprise software products - particularly its own brands of database management systems. Oracle is the third-largest software maker by revenue, after Microsoft and IBM.
The Fundamentals
Oracle benefits from the growth in cloud demand and could reap the dividends in the future. Although the most recent quarter was disappointing, Oracle is introducing SPARC M5 and T5 servers, which the company claims is 10x faster than older models. Thomson Reuters currently recommends a buy of Oracle and EPS growth is expected to continue in uptrend in subsequent years.


Furthermore, Oracle has shown revenue growth every year for the past four years, which has led to an operating income increase of 13.9% in the last year alone. Oracle's growth margin of 80.37% is in the 80th percentile of the Software & Programming industry and their operating margin of 38.44% ranks them in the 98th percentile in their respective industry. Management does a tremendous job at efficiently reinvesting its earnings, as Oracle has return on equity of 24.39%.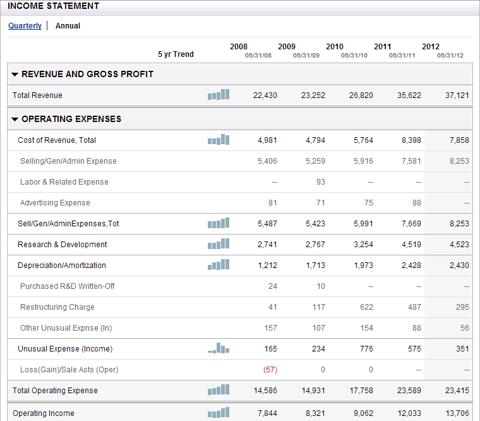 The Bottom Line
Fundamentally, the company is as solid as they come, and has tremendous potential upside for any value investor. With new products being developed and the cloud computing craze gaining momentum, I would not be surprised in the slightest if this company shows outstanding growth in the next five years. Definitely keep an eye on this stock.
2. Cisco Systems, Inc. - (NASDAQ:CSCO)
Cisco Systems, Inc. is an American multinational corporation with headquarters in San Jose, California, that designs, manufactures, and sells networking equipment. The networking giant grew through acquisitions, including 11 in 1995-1996 alone. The company is turning its focus on SDN or Source Defined Networking. UBS argued that innovation in hardware will happen through SDN, as performance, latency, and resiliency are elements that will improve.
After a huge run during the technology boom, Cisco has been fairly quiet as it has traded in a range for most of the last decade. Currently, Cisco has come off of lows from this range and may be continuing higher. Analyzing the price trend and its strength can be done using key simple moving averages.
As seen in the daily price chart below, Cisco is trading around its rising key averages, which signal neutral to bullish price action in the near term. Additionally, SmartConsensus and Thomson Reuters both recommend a buy of Cisco.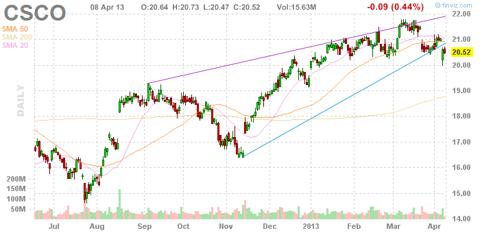 The Fundamentals
Cisco's gross margin of 61.03% ranks in the 92nd percentile in the communications equipment industry. The operating margin is even more heralded, ranking in the 98th percentile. Despite the recessionary period of 2007-2009, Cisco has shown very positive revenue growth in recent years and increased operating income by an outstanding 31.3%. With over $48 billion in cash and only around $16 billion in debt sitting on the balance sheet, the financial health of this company is more than okay right now. What matters is how efficiently the company is utilizing its investment base of $40 billion. With a market cap of $109.5 billion, there is sufficient economic moat around this company and unless it messes up its own business, it should come out stronger by 2015.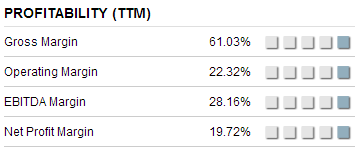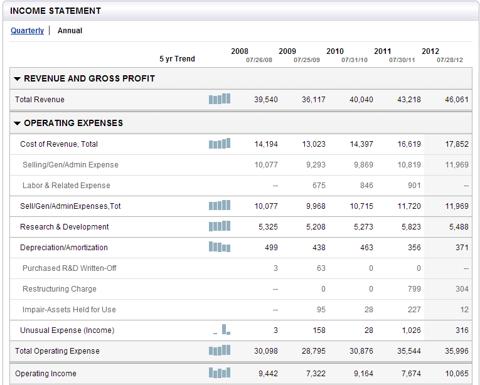 The Bottom Line
With speculation that Cisco could be making a move to buy Alcatel-Lucent (ALU), investors should be pleased to hear that the company is constantly seeking out growth initiatives. Cisco's recent acquisitions, which includes paying $141 million in cash for Cariden and another $1.2 billion for Meraki suggests that the company will leave no stones unturned to produce growth. Keep an eye out for this stock, as it has serious potential to cash in on the cloud computing era.
3. Amazon.com, Inc - (NASDAQ:AMZN)
Amazon.com, Inc. is an American multinational electronic commerce company with headquarters in Seattle, Washington. The world's largest online retailer started as an online bookstore, but soon diversified, selling DVDs, CDs, MP3 downloads, software, video games, electronics, apparel, furniture, food, toys, and jewelry. The company also produces consumer electronics - notably the Amazon Kindle e-book reader and the Kindle Fire tablet computer - and is a major provider of cloud computing services. Its business model has made it extremely easy for consumers to purchase just about anything at a nice discount.
This cloud computing giant, which now sells practically everything for consumers, also sells AWS (Amazon Web Services). This allows companies ranging from all sizes (small to large) to rent hosted computing and storage. The company is extending its reach by bundling content through Amazon Prime, and reaching more users by selling tablet device hardware almost at-cost.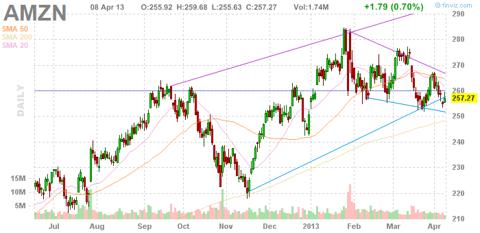 The 200-day moving average is rising, indicating a bullish trend, and the current stock price is 22.6% below its one-year target estimate of just over $315.
The Fundamentals
Fundamentally, Amazon is by far the weakest out of the three stocks listed herein. While total revenue has increased every year, operating income has been on a slight decline over the last few years, going from 862 million to 676 million in 2011 and 2012, respectively. Earnings per share is expected to dramatically increase in subsequent years, which can be mainly attributed to the expectation that Amazon will hop on the cloud computing train.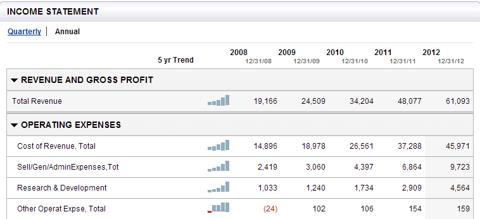 Traffic on Amazon has been poor over the past three months - relatively speaking. Over the past three months, page views have declined 14.46 percent, page views-per-user have declined 20.17 percent, time-on-site has declined 19 percent, and the bounce rate has increased 18 percent. Bounce rate refers to the percentage of people who visit one page and leave. All the numbers for the past three months are worrisome. However, once again, they only act as a small clue.
There are other headwinds that Amazon is currently dealing with, which include:
Heavy spending on warehouse expansion and R&D
Profit declines
Increased competition in the tablet space
Forward P/E of 71.94
All that said, the third-party platform is still growing 40 percent year-over-year, and with e-retailing growing by the day, Amazon is still in a good position.
The Bottom Line
While Amazon may not be as fundamentally solid as some value investors would like, it still has serious potential growth in the cloud computing market share. As the cloud computing continuum continues to flourish, investors should consider the aforementioned stocks in future months, as they will be impacted in one way or another by the cloud computing bubble. With positive analyst estimates, and serious upside, these stocks are terrific options for any trader trying to spot a trend and a deal.
Note: The data and charts herein were sourced from etrade.com, Finviz.com and YCharts
Disclosure: I have no positions in any stocks mentioned, and no plans to initiate any positions within the next 72 hours. I wrote this article myself, and it expresses my own opinions. I am not receiving compensation for it (other than from Seeking Alpha). I have no business relationship with any company whose stock is mentioned in this article.