Whether you are new to dividend investing or you are a seasoned pro, it's likely that your main goal is to build a long-term portfolio that generates consistent income over time with as little volatility as possible. That said, over the next few weeks we will continue publishing our 10-part series which should help you build your own 6% DIY Dividend Portfolio for 2013.
In part 1, we highlighted the investment plan and strategy for the portfolio and parts 2-10 will highlight each sector in the S&P 500, including high-rated stocks within each sector that you should consider for your portfolio. Below is a schedule of the entire series. Please make sure to "follow" us so that you will be notified when each new article is published.
Energy
At the end of the day, the Energy sector has underperformed the S&P 500 over the past 5 years. In addition, the sector has the second highest annualized standard deviation (32.5%) of any sector in the broader index over the past 5 years and it has had some pretty wild swings (see chart below). The abnormal price swings are primarily due to the fact that the sector has more relative exposure to fluctuations in commodity prices than most sectors do. That said, the sector offers some very compelling investment opportunities for DIY Dividend investors.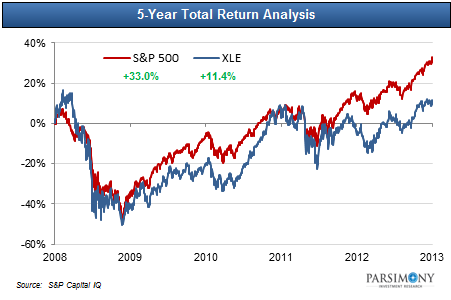 Below is a list of our top-rated dividend stocks in the Energy sector. Note that our composite rating ranges from 0 (lowest) to 99 (highest).

While the Energy sector in general has underperformed, each of these top-rated stocks have significantly outperformed the sector as a whole, averaging a 5-year total return of 227%! In addition, these stocks have an average dividend yield of 4.6% and an average beta of 0.53. The tables below highlight some of the key data points that we analyze when ranking our dividend stocks.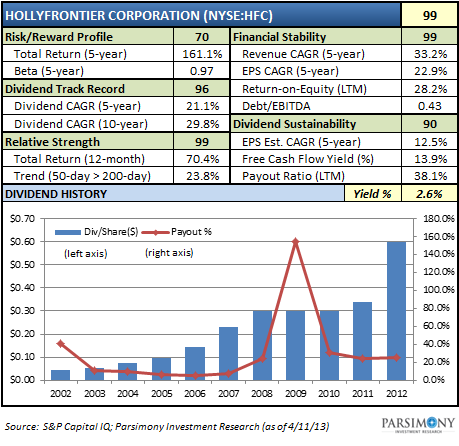 HollyFrontier Corp. (NYSE:HFC) has very high ratings for Dividend Track Record (96), Financial Stability (99), and Dividend Sustainability (90), which makes it a great candidate for a long term dividend portfolio. In total, the company has declared 8 special dividends in the last 18 months…in addition to increasing its regular dividend 5 times (raising it a total of 300%) over this period. Combined with its special dividends (which have been very consistent due to its LP and GP interests), HFC's actual dividend yield is north of 6.5%!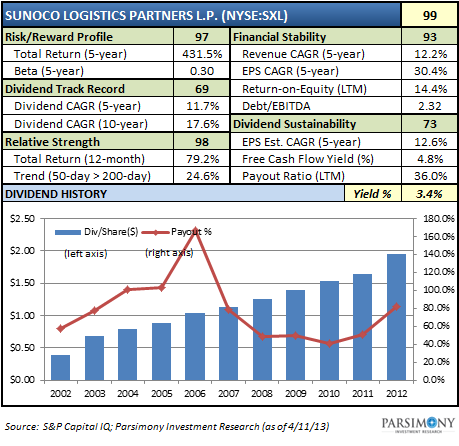 Sunoco Logistics (NYSE:SXL) has increased its dividend at a compound annual rate of 12% over the past 5 years and the company has delivered shareholders an astounding 430% total return over that period. In addition, SXL has increased its dividend for 31 consecutive quarters, which is impressive in itself. There's no question that this stock deserves its high overall rating.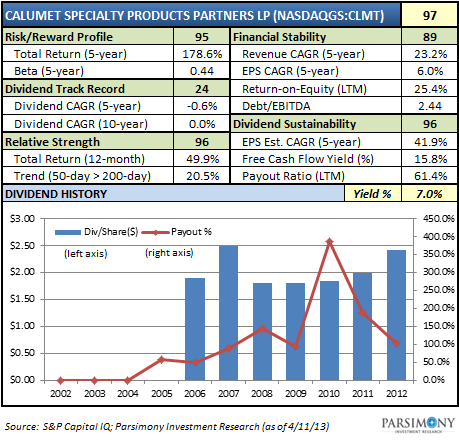 Despite having a short dividend history (as the company went public in 2006), Calumet Specialty Products (NASDAQ:CLMT) has the potential to be a great long-term dividend stock. The company has high ratings for Financial Stability (89) and Dividend Sustainability (96) as well as a very nice current dividend yield of 7.0%. Since cutting its dividend in 2008 (due to a hedging mishap), CLMT's distributions have stabilized and the company has increased its dividend in 8 of the past 9 quarters.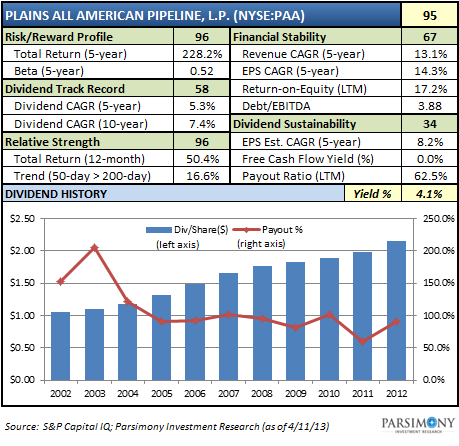 Plains All American (NYSE:PAA) has increased its quarterly distribution to limited partners in 33 out of the past 35 quarters and consecutively in each of the past 14 quarters. Large cap diversified MLPs (like PAA) are very "utility-like" in that they tend to deliver stable and consistent income in any market environment. PAA has a very nice dividend yield (4.1%) and the company has delivered shareholders a 228% total return over the past 5 years!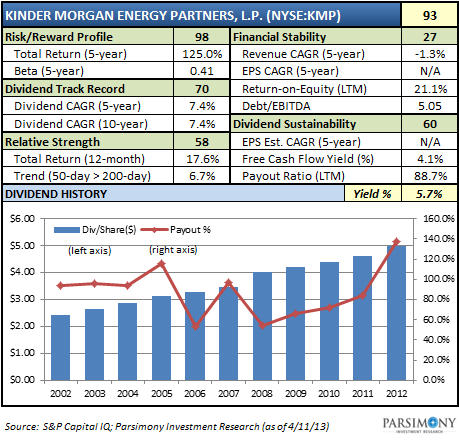 Kinder Morgan (NYSE:KMP) has increased its dividend at a compound annual rate of 7.4% over the past 5 years, while delivering shareholders a total return of 125%. In addition, the company has a low beta (0.41) and it had a relatively small maximum drawdown (28.0%) during the recession (which is why its Risk/Reward Rating (97) is so high). Also, the stock has a very attractive dividend yield of 5.7%.
Conclusion
Any DIY Dividend Portfolio should include several stocks from the Energy sector. The key takeaway here is that many of the broader sectors have sub-industries that perform much better than the sector as a whole. This is part of the reason why we developed the Parsimony rating system. If you rank all of the stocks in a sector against their peers on a consistent basis, it becomes clear which companies are the strongest and which offer the best investment opportunities going forward.
Disclosure: I am long HFC, KMP. I wrote this article myself, and it expresses my own opinions. I am not receiving compensation for it (other than from Seeking Alpha). I have no business relationship with any company whose stock is mentioned in this article.