Over the past few months, Endologix (NASDAQ:ELGX) has received four new product approvals from the U.S. Food and Drug Administration that open new segments of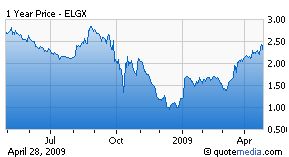 the Abdominal Aortic Aneurysm (AAA) market and improve the ease-of-use of its entire product portfolio. The company is financially strong and on the verge of becoming operating cash flow positive in the current quarter and profitable by the end of 2009 or early in 2010.
Endologix's products address a large and growing market. The world-wide market is over $700 million and is growing at 9% CAGR. Aortic aneurysms are age related with over 2 million older Americans affected and 200,000 new cases diagnosed annually, resulting in approximately 60,000 procedures being performed each year. The treatment of an AAA is not elective and is therefore immune to economic conditions. At some stage, the aneurysm becomes too large to be ignored and requires immediate attention or a rupture and almost certain death will occur.
We are initiating research coverage on Endologix with a Strong Buy Rating and a $4.50 Price Target based on the stock selling at 3.0X its projected 2010 revenues of $65.0 million, discounted at 10%.

Disclosure: The author does not have any equity positions in the stocks mentioned here or in the full report.