Isis Pharmaceuticals (ISIS), based in Carlsbad, California, is a leader in something called "antisense technology." With approximately 1,600 patents issued globally, Isis Pharmaceuticals is the owner of one of the largest antisense and RNA patent estates in the pharmaceutical industry. The company has developed a drug discovery platform based on RNA-targeting as opposed to traditional protein targets. Isis Pharmaceuticals is building an impressive pipeline of more than 28 drugs that utilize this technology to treat diseases such as cardiovascular diseases, metabolic disorders, severe and rare diseases, and cancer.
Other smaller pharma companies developing RNA interference/RNAi and antisense drug applications include: Tekmira Pharmaceuticals (TKMR), Sarepta Therapeutics (NASDAQ:SRPT), Alnylam (NASDAQ:ALNY) and Bio-Path Holdings (NASDAQ:BPTH). But Isis Pharmaceuticals was the first antisense player to date to receive regulatory approval back in 1998 for its antiviral drug Vitravene, and more recently, this January, Isis and Genzyme, a Sanofi company (NYSE:SNY), received FDA approval for its drug Kynamro to treat inherited cholesterol disorder.
Kynamro, the first systemic antisense therapy to receive regulatory approval, was an important validation of Isis' deep antisense pipeline. Homozygous familial hypercholesterolemia (HoFH), the condition that Kynamro was approved to treat, is relatively rare, ocurring in 1 in a million births. Despite the limited patient population and competition from Aegerion's Juxtapid (NASDAQ:AEGR), analysts still estimate Kynamro's peak market opportunity to be in the $200-400 million range. Part of the reason for the revenue opportunity - the high price. Sanofi's Genzyme unit has set a price for Kynamro of $176,000 year. This is actually cheaper than Juxtapid, which runs $235,000-$295,000 year, depending on the patient. The side-effect profiles are also different, perhaps favoring Juxtapid. But Kynamro has the marketing power of Sanofi/Genzyme behind it to help drive sales.
On its earnings call, the company predicted that 2013 was going to be a year of "substantial growth and maturation for Isis." Already in 2013, the company has received a $25 million milestone payment from Genzyme and a $7.5 million milestone payment from GlaxoSmithKline (NYSE:GSK). With the commercial launch of Kynamro, a maturing pipeline of drugs, and more near-term opportunities for partnership revenue, 2013 is setting up to be a strong year of revenue growth for the company.
On February 28, the company reported a narrower than expected loss of $.03 per share, which was $.20 better than the Zack's consensus estimate. Revenues fell 38.6% year over year to $19.9 million, but this was also higher than the Zack's $16 million consensus estimate.
On April 8th, Isis Pharmaceuticals, Inc. announced that they have formed an alliance with Roche to develop treatments for Huntington's disease (an inherited brain disorder) based on Isis' antisense technology and Roche's "brain shuttle" technology developed to better penetrate the brain. Presently, there is no effective treatment or cure for the disease, and current treatments, such as Valeant's (NYSE:VRX) drug Xenazine, only focus on reducing the severity of some disease symptoms.
About 30,000 Americans have Huntington's disease. A similar prevalance of 1/10,000 is believed to occur in the major countries in Europe. If all patients with the disease were prescribed a treatment, at a modest cost of $20,000 per patient, the total market opportunity could be as much as $4.2 billion across the patient population. Despite the challenges that lay ahead, the announced partnership with Roche is yet another validation of Isis' antisense drug delivery platform.
Isis Pharmaceutical does indeed have an impressive drug pipeline and some big strategic partners.
Pipeline
Drug
Target
Partner
Phase
CARDIOVASCULAR
KYNAMRO™
ApoB-100
Genzyme
Phase III
ISIS-APOCIIIRx
ApoCIII
-
Phase II
ISIS-CRPRx
CRP
-
Phase II
ISIS-FXIRx
Factor XI
-
Phase II
ISIS-APOARx
Apo(a)
-
Phase I
ISIS-FVIIRx
Factor VII
-
Preclinical
SEVERE & RARE
KYNAMRO™
ApoB-100
Genzyme
Approved
Alicaforsen
ICAM-1
Atlantic
Phase II/Named Patient Supply
ISIS-TTRRx
TTR
GSK
Phase III
ISIS-SMNRx
SMN2
Biogen Idec
Phase II
ISIS-APOCIIIRx
ApoCIII
-
Phase II
ATL1103
GHr
ATL
Phase II
ISIS-GCCRRx
GCCR
-
Phase I
ISIS-AATRx
AAT
GSK
Preclinical
ISIS-PKKRx
PKK
-
Preclinical
METABOLIC
ISIS-PTP1BRx
PTP-1B
-
Phase I
ISIS-GCCRRx
GCCR
-
Phase I
ISIS-GCGRRx
GCGR
-
Phase I
ISIS-FGFR4Rx
FGFR4
-
Phase I
ISIS-DGAT2Rx
DGAT2
-
Preclinical
CANCER
Custirsen
clusterin
Teva/OncoGenex
Phase III
ISIS-EIF4ERx
eIF-4E
-
Phase II
OGX-427
Hsp27
OncoGenex
Phase II
ISIS-STAT3Rx
STAT3
AstraZeneca
Phase II
ISIS-AZ1Rx
Undisclosed
AstraZeneca
Preclinical
INFLAMMATION AND OTHER
ISIS-CRPRx
CRP
-
Phase II
ATL1102
VLA-4
ATL
Phase II
EXC 001
CTGF
Pfizer
Phase II
iCo-007
C-raf kinase
iCo
Phase II
Plazomicin
Aminoglycoside
Achaogen
Phase II
XEN701
Undisclosed
Xenon
Preclinical
ISIS-GSK3Rx
Undisclosed
GSK
Preclinical
Source: Isis Pharmaceuticals Company Website
Strategic partnerships are critical to Isis' future success. The company's partnership strategy has enabled it to build a broad product pipeline with its annuity of license fees, milestone payments and royalty payments. The other advantage of this strategy is that development expenses are limited and it allows the company to focus on research and development.
Biogen-Idec
Isis formed three new strategic alliances with Biogen-Idec (NASDAQ:BIIB) to develop and commercialize antisense drugs for severe and rare neurologic diseases. In total, the three alliances are valued at up to $1.2 billion.
AstraZeneca
Isis formed a strategic alliance with AstraZeneca (NYSE:AZN) to discover and develop antisense drugs against five cancer targets. The agreement comprises $31 million in upfront and near-term payments, including a $25 million payment Isis has received followed by a $6 million payment Isis is eligible to receive in the second quarter of 2013 assuming the research program is continuing. Isis is also eligible to receive milestone payments, license fees and royalties.
GlaxoSmithLine
Isis and GlaxoSmithKline are pursuing an accelerated development plan for ISIS-TTRRx. As a result, Isis received a $2.5 million upfront payment and a $7.5 million milestone payment. Isis is also eligible to earn an additional $50 million in pre-licensing milestone payments.
Roche
Isis and Roche (OTCQX:RHHBY) formed an alliance for Huntington's disease. Roche will make a $30 million upfront payment to Isis. Total payments related to license fee and pre- and post-licensing milestone payments are potentially $362 million, including up to $80 million in potential commercial milestone payments.
Other Partnerships
Isis benefited as its partners advanced RNA-based technologies and products incorporating its technology.
Isis received $2.7 million from Alnylam as a result of Alnylam's licenses that included Isis' patents.
Isis received $1.3 million from Pfizer triggered by Pfizer's decision to advance EXC 001 into a Phase 2 study.
The company's partnerships with GlaxoSmithKline and Biogen-Idec have thus far generated more than $2 billion in cash payments to Isis. The company expects to end the year with over $325 million in cash on the balance sheet. Likely, the company will pursue additional strategic partnership opportunities given its growing number of mature programs.
Stock Price
So how has all this positive news flow translated to the stock's price year-to-date, and is there still near-term opportunity for upside?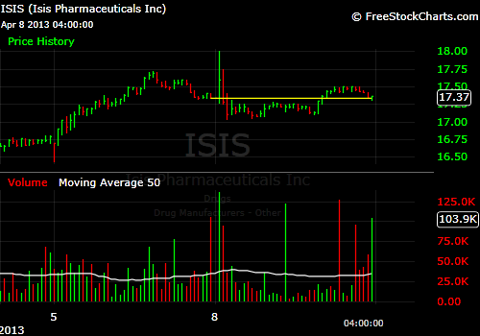 The stock traded off late last year and dipped below $8 share on safety and competitive concerns related to Kynamro. But since the drug was approved in January, the stock has moved from $14 and moved up to test the $18 level. The stock is up more than 66% year-to-date versus only 17% for the AMEX Biotech Index (BTK). However, in the absence of earnings, if Isis' stock is going to move higher, it needs more strategic partnerships such as the one announced today. Isis Pharmaceuticals is a Jim Cramer, CNBC "Mad Money" mention and one of his favorite picks in the biotech space. Prior to today's announcement, Cramer stated on April 3's show that he would wait for a pullback before buying shares.
Despite the favorable terms of the recent Roche partnership, the announcement did not really move Isis Pharmaceutical stock - it traded up only 3 cents a share. However, with yet another lucrative strategic partnership deal inked for the company, on the heels of an important FDA approval, "antisense" may be starting to make sense as an investment opportunity.
Disclaimer
The opinions expressed above should not be construed as investment advice. This article is not tailored to specific investment objectives. Reliance on this information for the purpose of buying the securities to which this information relates may expose a person to significant risk. The information contained in this article is not intended to make any offer, inducement, invitation or commitment to purchase, subscribe to, provide or sell any securities, service or product or to provide any recommendations on which one should rely for financial, securities, investment or other advice or to take any decision. Readers are encouraged to seek individual advice from their personal, financial, legal and other advisers before making any investment or financial decisions or purchasing any financial, securities or investment related service or product.
Information provided, whether charts or any other statements regarding market, real estate or other financial information, is obtained from sources, which we and our suppliers believe reliable, but we do not warrant or guarantee the timeliness or accuracy of this information. Nothing in this article should be interpreted to state or imply that past results are an indication of future performance.
Disclosure: I am long AEGR. I wrote this article myself, and it expresses my own opinions. I am not receiving compensation for it (other than from Seeking Alpha). I have no business relationship with any company whose stock is mentioned in this article.