Bank of America (NYSE:BAC) shares have been in a strong uptrend and this coincides with the significant rally for the S&P 500 Index (NYSEARCA:SPY). However, nothing goes up forever, and even as Bank of America shares and this market seem to shrug off bad news with ease, I think some issues will eventually come home to roost. It would not be surprising to see bank stocks rise and stay strong into earnings season and then perhaps pull back once earnings are reported. This pattern has occurred in the past and with the gains most bank stocks have seen, a post-earnings drop seems likely this time as well. There are a number of macro and company-specific reasons for a pullback in BofA shares, so let's take a look at both, starting with the macro issues: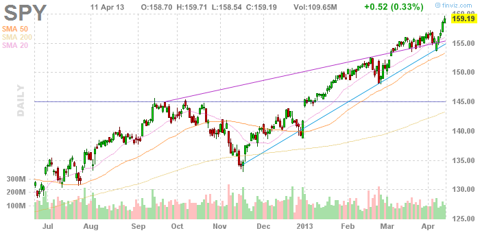 1) As the chart above shows, the market is simply overbought now. Yes, you could have said that a day ago, a week ago or more, but eventually something is likely to create a pullback. While the bulls have been enjoying this rally and can claim they were right, the problem is that the higher the market goes, the bigger the next correction might be. The S&P 500 Index is now extended well above the 50- and 200-day moving average and the same can be said for BofA: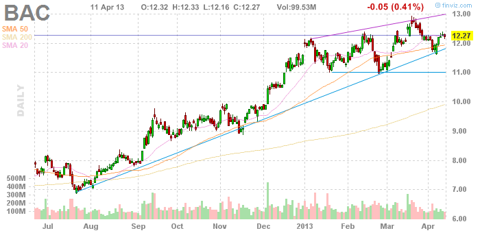 2) As the chart above shows, Bank of America shares are also extended. The stock trades above the 50-day moving average of about $11.89, and well above the 200-day moving average, which is around $10 per share. In a market correction or banking sector sell-off, BofA shares might be heading back towards the $10 level, which is the 200-day average.
3) A recent CNBC article points out that in 2013, big bank stocks have gained nearly 10% on average, although this sector has started to trail in the past month. The article details concerns that Goldman Sachs (NYSE:GS) has for the banking sector after the big recent gains, and it states:
Goldman took down earnings forecasts for some of the industry's
biggest players, cutting Morgan Stanley by 17 percent, Bank of America by 15 percent and dropping Citigroup, which it actually says it still likes, by 13 percent.

"The past few years have shown that bank stocks gain over 10 percent in 1Q only to lose 9 percent in 2Q when out-year estimates start to decline," Goldman said. "With 1Q earnings likely to be weak, we see the risk that history repeats itself with the start of another negative (earnings) revision cycle."
For the first quarter of 2013, Goldman Sachs is expecting banks to
report a contraction in loan growth, and lower profits in capital
markets since merger and acquisition deals declined in March. There
were also fewer initial public offerings in March when compared to
prior months. Since Merrill Lynch is owned by Bank of America, this
slowdown could hurt profits.
4) Guidance for BofA and other big banks could also be disappointing. There have been some recent signs of weakness in the economy, and that could come into focus when earnings are released. The budget sequester in March could start to impact the economy soon but there are already signs of an economic slowdown. The March unemployment report was particularly weak and the March ISM on services sector activity showed the lowest level of growth in seven months.
5) On top of all of these factors, the markets are soon coming up against the old adage, "sell in May and go away." Many investors and traders like to cash in and take profits before going on vacation. With gains of about 10% for the S&P 500 Index, many hedge funds, traders and other investors might be content to take gains in BofA and other stocks soon and go away for vacation. That's why this stock could be poised to pull back to about $11 or so, in the coming weeks.
Here are some key points for BAC:
Current share price: $12.28
The 52-week range is $6.72 to $12.94
Earnings estimates for 2013: $1
Earnings estimates for 2014: $1.30
Annual dividend: 4 cents per share, which yields .3%
Data sourced from Yahoo Finance. No guarantees or representations are made.
Disclosure: I have no positions in any stocks mentioned, and no plans to initiate any positions within the next 72 hours. I wrote this article myself, and it expresses my own opinions. I am not receiving compensation for it (other than from Seeking Alpha). I have no business relationship with any company whose stock is mentioned in this article.
Disclaimer: Hawkinvest is not a registered investment advisor and does not provide specific investment advice. The information is for informational purposes only. You should always consult a financial advisor.