On Thursday, April 11, Weyerhaeuser (NYSE:WY) declared a $0.20/share quarterly dividend, which represents an 18% increase from its prior quarterly dividend of $0.17/share. In the wake of Weyerhaeuser's dividend increase I wanted to examine several of the catalysts behind my decision to establish a long-term position in this viable income play.
Shares of WY, which currently possess a market cap of $17.29 billion, a P/E ratio of 44.66, a forward P/E ratio of 22.49, and a dismal PEG ratio of 8.93, settled at $31.71/share on Thursday. One of the things to point out for growth investors is the fact that shares of WY are actually 8.23% higher since January 1st of this year.
For those of you who may be considering a position in Weyerhaeuser, from an income perspective, shares of WY currently possess a forward yield of 2.52% ($0.80) and a fairly high payout ratio of 87.00% (which due to the fact the company has chosen to be taxed as a real estate investment trust or REIT).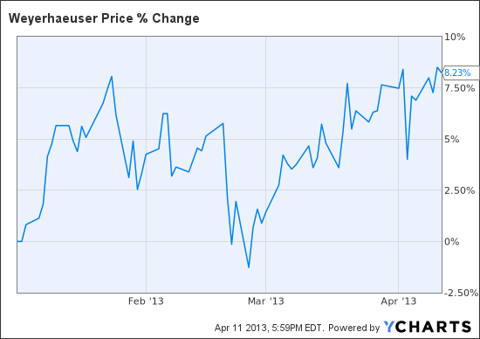 WY data by YCharts
In my opinion, there are several catalysts to consider when it comes to Weyerhaeuser, and they are the recent increase in year-over-year lumber projections and the outlook for its first-quarter EPS results, which are set to be released on April 26th.
Lumber Demand: The outlook for Lumber demand actually looks quite positive for the remainder of 2013 and well into 2014 and according to TimberProcessing.com, which notes, "With the return of a demand-driven wood products market in 2012 - due to rapidly increasing housing starts in the U.S. - it is now forecast that lumber and panel prices will move to new highs in 2013 and record highs for lumber in 2014," lumber REITs such as Weyerhaeuser should perform quite nicely.
Steven Chercover of D.A. Davidson also agrees that the bullish sentiment surrounding the lumber sector as it relates to Weyerhaeuser. He recently noted that "Weyerhaeuser is sensitive to housing in three of its four business segments: real estate, wood products and ultimately timber, the logs it harvests and converts. The more homes built, the more lumber is needed."
The company is considered to be very bullish on its 2013 outlook concerning housing starts. Weyerhaeuser's management predicts, "the sector will top 1 million units, comprising of 675,000 single-family homes and 335,000 multifamily units, a total which would be about 30% higher than in 2012." If, in fact, the sector does produce one million units and the demand for lumber demonstrates a rise of 30% in year-over-year production, don't be surprised if revenues and subsequent dividends also follow suit when it comes to Weyerhaeuser.
Q1 EPS Outlook: After reviewing the company's Q4 2012 earnings presentation, investors can see that expectations for Q1 2013, across all four of the companies segments, look very promising. Weyerhaeuser's Q4 presentation notes that shareholders should expect the following performance in each segment of the company, and I've also added my opinion in terms of each segments estimated performance:
Segment

Q1 2013 - Outlook

Estimated Performance

Excluding dispositions of non-strategic timberlands, expect 2013 Q1 earnings to be comparable to 2012 Q4 ($131 million EBIDTA).

-In Q4 the company's Timberlands segment produced $131 million in EBIDTA, I expect to see an EBIDTA range of $131.2 - $133.1 million for Q1 2013.

-If harvest volumes can continue to generate higher fees as was the case in Q4 a comparable performance is seemingly realistic.

Expect 2013 Q1 earnings to be significantly higher than 2012 Q4 ($71 million EBIDTA).

-In Q4 the company's Wood Products segment produced $71 million in EBIDTA, I expect to see an EBIDTA range of $84.6 - $88.2 million for Q1 2013.

-The company's mediocre Q4 was chalked up to a slower season; expect that variable to be a non-factor in Q1.

Expect 2013 Q1 earnings to be lower than 2012 Q4 ($99 million EBIDTA).

-In Q4 the company's Cellulose segment produced $99 million in EBIDTA, I expect to see an EBIDTA range of $86.2 - 90.1 million for Q1 2013.

-Operational issues hindered sales volume for the company's liquid packaging board products during Q4, this has now been resolved.

Expect a slight profit from single-family homebuilding operations in 2013 Q1 ($91 million EBIDTA)

In Q4 the company's Real Estate segment produced $91 million in EBIDTA, I expect to see an EBIDTA range of $91.1 - 93.3 million for Q1 2013.

-Q4 included $16 million in single-family closing, if we see an increase of 5%-10% during Q1 the $91 million in expected EBIDTA could be surpassed.
Conclusion: When it comes to those who may be looking to establish a position in Weyerhaeuser, the heightened demand for lumber coupled with the company's Q1 2013 EPS outlook compared with current EPS estimates could set the course for what has the potential to be a very promising next 12-24 months.
Disclosure: I am long WY. I wrote this article myself, and it expresses my own opinions. I am not receiving compensation for it (other than from Seeking Alpha). I have no business relationship with any company whose stock is mentioned in this article.