After a precipitous climb in the Month of March, major U.S. stock indexes including the Dow Jones Industrial Average (NYSEARCA:DIA) and the S&P 500 (NYSEARCA:SPY) have recently reached record highs. The big questions remains: will the climb continue or is the U.S. stock market about to take a historic plunge?
Many signs point to a plunge for the Dow Jones Industrial Average and major indexes rather than a continued climb. If history is ever a good indicator of forthcoming events, it is absolutely imperative that we pay attentions to these signs, and prepare for the worst. Here are a few reasons why the Major U.S stock indexes could see declines in the coming months.
Sell in May, Go Away
Regular readers of the StockTraders Almanac are familiar with the adage, "Sell in May and go away". This dogma is based on the fact that the period between October and May is the time of year when most gains are made in the stock market, with the five-month period of May through September being negative or flat. This trend is based on a number of factors, one of which is the fact that the stock market often sees a "January rally" and that can easily continue to build up as optimism carries into the Spring months. However, when the stock market gets to lofty levels and the month of May arrives, many investors and fund managers like to take profits by cashing in on the big gains. Fund managers and individual investors also like to limit risk exposure before summer because they don't want the stress of being as fully invested before vacation time. Additionally, markets typically see much lower trading volumes since many traders and investors are on vacation between the June to August timeframe.
Weakening economic fundamentals
The impact of the budget sequester is now being illustrated by the recent jump in unemployment claims, as well as the disappointing payrolls reports from ADP and - most recently - the closely-watched non-farm payrolls report from the Bureau of Labor Statistics on April 5th which was an unadulterated disaster.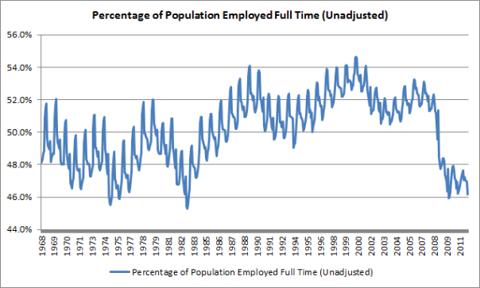 The chart above says it all. It shows the number of people working full time as a percentage of the overall population. The government's seasonal adjustment has been removed.
As Dean Baker of The Guardian points out, a strong winter prefaced a dismal spring for job creation in the past few years. So let's not set off fireworks for employment growth just yet.
Irrational Exuberance
Former Fed Chairman Alan Greenspan coined the phrase in a speech in December 1996, just a week after a sustained Dow winning streak ended that year. Even bond guru Bill Gross, who refers to Greenspan as a friend, wrote in his March investment outlook that irrational prices are on the rise. In recent months, Consumers have had excessive bullish sentiment - driving the Indexes to nominal highs. But I think we are all competent enough to understand that the market will not increase forever, and if these "experts" keep reiterating that it will, it could do exactly the opposite of what their intentions were - driving it further.
Bond Market Warnings
Goldman Sachs (NYSE:GS) is the latest big Wall Street institution to sound the alarm about a potential bond market crash. Although bond-market dynamics are sophisticated and complex, the argument against bonds boils down to these simple points:
Interest rates are near all-time lows, which mean that the prices of bonds and bond funds, which go the opposite direction of rates, are extremely high right now.
Nevertheless, investors have piled into bond investments over the past several years, accepting lousy guaranteed returns in exchange for the near-certainty that they won't lose any principal.
Corporations and other borrowers have been issuing huge amounts of bonds into the market, raising cash and refinancing their debt to take advantage of low rates before the opportunity to get cheap financing disappears.
In the past month, rates have started ticking upward, and further rate rises -- which many see as inevitable -- would send bond fund prices down.
Experts have been calling for a bond-market crash for many years, and so far, their cries have fallen on deaf ears. With more signs pointing to a healthier economy, though, rising rates look like they're getting closer.
Conclusion
Ultimately, nobody can say with absolute certainty that they know the market is going to have a precipitous decline, but as I iterated in the aforementioned paragraphs, history has always been a great predictor of the future. We must pay attention to these fundamental indicators and prepare ourselves for what could be a devastating fall in markets around the world.
Disclosure: I have no positions in any stocks mentioned, and no plans to initiate any positions within the next 72 hours. I wrote this article myself, and it expresses my own opinions. I am not receiving compensation for it (other than from Seeking Alpha). I have no business relationship with any company whose stock is mentioned in this article.