As someone pretty heavily bullish on Intel (NASDAQ:INTC), it has been tough for me to see the continued reports of weakness in the PC space. Many people believe that the weakness is simply due to the fact that the PC is a mature market and that upgrade cycles are lengthening, while others blame the lack of creativity and inventiveness in the PC ecosystem, and yet still others believe that it's actually Microsoft's (NASDAQ:MSFT) fault vis-a-vis Windows 8. I believe that this characterization is pretty unfair, and I would like to walk you through my thought process on why Windows 8 isn't ready to be classified as a failure...yet.
The People Want Touch!
According Intel's Kirk Skaugen (head of PC Client Group) at its latest developer forum (and keep in mind that Intel probably does more consumer testing/surveys than any other company on the planet), customers love touch as an input method, as shown here: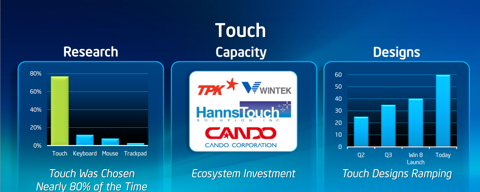 Click to enlarge
Furthermore, during his keynote, Mr. Skaugen noted that the majority of PCs being sold at US retail today were actually touch-enabled. Quite frankly, given the fairly conclusive evidence that consumers are demanding touch, it would have been absolutely foolish for Microsoft to not make its flagship OS platform touch capable.
So What's The Problem, Doc?
I see three major headwinds to Windows 8 adoption in the near term:
While the case for upgrading a, say, 4-5 year old PC is pretty clear (see Pat Moorehead's fine article), the macroeconomic environment is still pretty bad, which contributes to the lengthening PC upgrade cycle.
There needs to be further emphasis on "convertible" and "detachable" form factors. There is certainly a

wallet share shift towards tablets (although interestingly 7" ones rather than 10"), which means that the PC vendors need to deliver significant value per PC unit sold by having these devices be both great tablets and great PCs. Right now, battery life is still inferior on these hybrid devices, and the screens are almost uniformly lousy (compared to many tablets which have better battery life and superior screens...at the expense of performance).

Businesses - which make up a good chunk of PC sales - are probably cutting back on buying PCs as Bring Your Own Device ("BYOD") is becoming a much more popular concept within organizations these days. Whereas in the past, people would have both a company laptop as well as their own personal machines, today these workers may be just bringing in their own laptops and/or tablets.
As the macroeconomic environment improves, #1 becomes less of a problem, and as the convertible "2 for 1" designs become better (it is my view that tablets and PCs converge - it's just a question of whether it's because Android moves up or Windows moves down), Microsoft's Windows based products could see a nice uptick. #3, on the other hand, may be a problem for both Microsoft and Intel if people are choosing to simply bring in their iPads/Android tabs.
Conclusion
People want touch, and Windows 8 has thankfully arrived in time to still be relevant going forward. While business adoption may take some time, I believe that better, slimmer, and longer battery life devices will help to turn the tides in the consumer space back towards Microsoft's favor. Further, Windows 8 tablets based on Intel's latest "Bay Trail" chip as well as to a lesser extent AMD's (NYSE:AMD) upcoming "Temash" should further help. It's too early to write Windows 8 off as a flop, but we will know the "truth" either way as we exit 2013.
Disclosure: I am long INTC, MSFT, AMD. I wrote this article myself, and it expresses my own opinions. I am not receiving compensation for it (other than from Seeking Alpha). I have no business relationship with any company whose stock is mentioned in this article.