High-yield investments options have been all the rage with many seeking bond alternatives to boost income needs. However, investors should not forget exchange traded funds that track well-established, solid dividend stocks.
For example, the Vanguard Dividend Appreciation ETF (NYSEARCA:VIG) tracks an index of companies that have raised dividends in the last 10 straight years. The fund includes component holdings that are most likely to provide sustained growth, leaning toward large names with a global footprint. VIG has a 0.13% expense ratio.
"The fund's index provider, Mergent, weeds out firms that fail its financial strength screens," Samuel Lee, an ETF strategist at Morningstar, said in an analysis of the fund. "The result is quality rather than a high yield. Whereas many dividend-focused funds concentrate in smaller value companies, this fund shades slightly toward growth."
Sector allocations include basic materials 7.4%, consumer cyclical 12.2%, financial services 6.3%, telecom services 0.1%, energy 10.5%, industrials 25.5%, technology 4.5%, consumer defensive 26.5%, healthcare 5.4% and utilities 1.6%.
Top holdings include Wal-Mart 4.2%, Cocoa-Cola 4.0%, Procter & Gamble 3.9%, PepsiCo 3.9% and Chevron 3.8%.
"These are companies with sustainable business models and rock-solid balance sheets," Lee said in a Wall Street Journal article.
While VIG has a 2.17% dividend yield, similar to that of the Vanguard S&P 500 ETF (NYSEARCA:VOO), the dividend ETF has outperformed the S&P 500 ETF on a total return basis, with less volatility, over the past five years.
"We see VIG as a way to take advantage of the strong long-term track record of investing in dividend-paying stocks, without as many of the pitfalls," Greg Peterson, investment research director at Ballentine Partners, said in the article. "It's a more defensive way to play blue-chip stocks."
Vanguard Dividend Appreciation ETF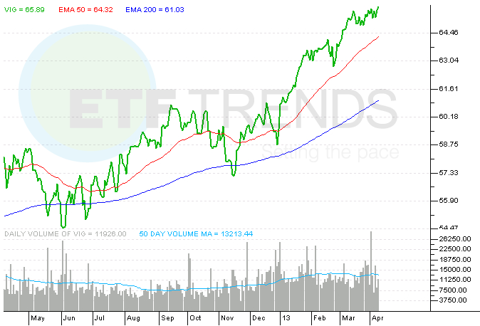 Max Chen contributed to this article.
Disclosure: I have no positions in any stocks mentioned, and no plans to initiate any positions within the next 72 hours. I wrote this article myself, and it expresses my own opinions. I am not receiving compensation for it. I have no business relationship with any company whose stock is mentioned in this article.